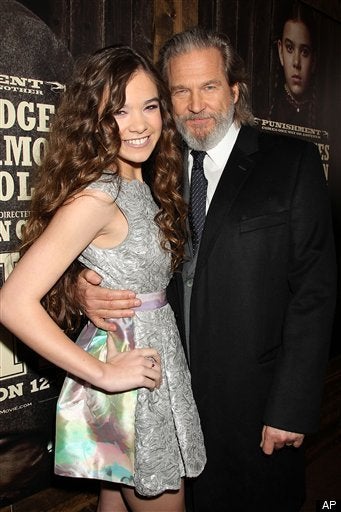 Jeff Bridges may have his name on the marquee, but he thinks Hailee Steinfeld is the true star.
Bridges spoke with MovieLine.com about their Oscar-nominated film, 'True Grit,' and the leading man spoke glowingly about his 14-year old tough talking co-star.
"Just as a person, she has a real sweetness and a generosity of spirit, and I think a lot of that, to a large degree comes from how she was raised," Bridges said. "Most kids who are 13 or 14 years old are really chomping at the bit to start dating and getting in cars and all that stuff. And Hailee doesn't seem too eager to be older than she is. She's really appreciating her age. And in a very odd way, that makes her more mature."
Both Bridges and Steinfeld are nominated for Academy Awards, and Bridges things it's well deserved in Steinfeld's case.
"It was a very difficult role, I think, for any actor at any age. She got her tongue around those words, and she made it look easy. But that was a lot of studying and a great work ethic to come up with that," Bridges continued. "All the skills -- or talents, I guess -- that actors wish they had, she's got them in spades."
Both Bridges and Steinfeld were also nominated for Screen Actors Guild Awards on Sunday night; Bridges lost out to Colin Firth, while Steinfeld, in the Best Supporting Actress category, was bested by Melissa Leo.
The actor also raved about the co-directors of 'True Grit,' the Coen brothers, whom he has worked with before.
"I mean, they did The Big Lebowski, which also has a fond place in my heart. They are masters. I don't think it gets any better than the Coen brothers," Bridges said. "They're the guys, you know? They really know what they're doing, and they make it look so damn easy, as a lot of masters do."
Calling all HuffPost superfans!
Sign up for membership to become a founding member and help shape HuffPost's next chapter