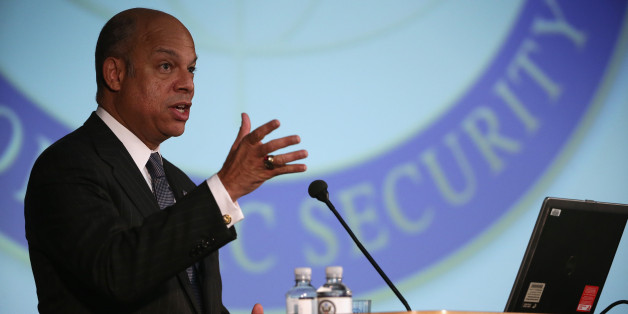 WASHINGTON -- In his first appearance before Congress since the president announced plans to extend deportation relief to millions of undocumented immigrants, Homeland Security Secretary Jeh Johnson will argue on Tuesday that the new policies are not just lawful, they are a "common sense" approach to help his agency better enforce immigration law.
President Barack Obama announced last month that he would make a number of changes to immigration enforcement policies, the largest of which is a new program that will allow undocumented parents of U.S. citizens and legal permanent residents to stay and work, if they have been in the country for at least five years and meet other requirements. Obama will also expand an existing program that grants relief to undocumented immigrants who came to the U.S. before they turned 16. In total, the new policies could help up to 5 million people.
"The reality is that, given our limited resources, these people are not priorities for removal -- it's time we acknowledge that and encourage them to be held accountable," Johnson plans to tell the House Committee on Homeland Security at a Tuesday morning hearing, according to prepared remarks. "This is simple common sense."
Republicans were outraged by the president's move, and have floated everything from legislative efforts to block it to lawsuits or impeachment. The House GOP conference is meeting on Tuesday to discuss how it will respond, and conservatives have already drafted legislation to block Obama's actions. Some plans include attempting to tie measures that block the program to a must-pass funding bill, which could threaten another government shutdown. Rep. Michael McCaul (R-Texas), chairman of the House Committee on Homeland Security, issued a statement after the president's announcement saying Obama's action was "unconstitutional and a threat to our democracy." In other words, Johnson will be in the lion's den.
His prepared remarks argue that Obama's executive actions promote border security, public safety and accountability, along with helping to rebuild the Department of Homeland Security's relationship with local law enforcement. The secretary will cite executive actions on immigration by Republican Presidents Ronald Reagan and George H.W. Bush, both of whom enacted their own relief for groups of undocumented immigrants.
The administration has argued that the president's new relief for undocumented immigrants will allow DHS to focus on high-priority offenders, like people who crossed the border illegally this year, convicted criminals and national security threats. According to the prepared remarks, Johnson will tout the improvements in border security over recent years, but also to acknowledge that more could be done. He plans to say that part of the executive actions will include new strategies to police the border.
"These actions are designed to send a clear message: In the future, those who attempt to illegally cross our borders will be sent back," he will say.
Johnson also plans to encourage Congress to pass immigration reform.
"The president views these actions as a first step toward the reform of our immigration system and he continues to count on Congress for the more comprehensive reform that only legislative changes can provide," he plans to say, according to the prepared remarks. "In the meantime, we will use our executive authority to fix as much of our broken immigration system as possible."
Calling all HuffPost superfans!
Sign up for membership to become a founding member and help shape HuffPost's next chapter
BEFORE YOU GO
PHOTO GALLERY
Mitch McConnell & Alison Lundergan Grimes