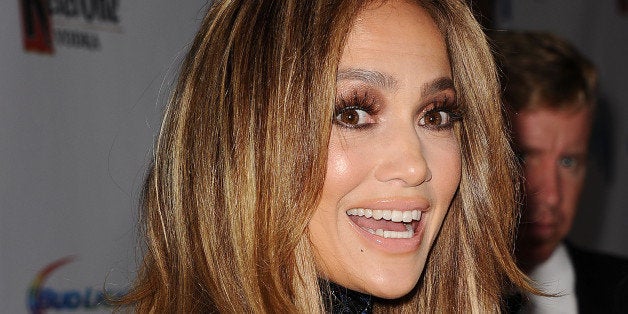 Jennifer Lopez was so well known for her derrière that she was rumored to have had it insured for anywhere from $27 million to a whopping $1 billion. Today, the 44-year-old actress' behind has taken a backseat to other stars, but in a interview on May 2 with Australian radio station 2dayFM, Lopez said she does "whatever it takes" to keep herself in shape, as long as that doesn't include plastic surgery.
Asked if she would ever consider getting butt implants when she's older should her bottom lose its shape, the singer, who has a song called "Big Booty" on her new album, totally shut the idea down.
"No. I can't do it. I can honestly say that's a big no," she said. "You know, I've always been quite an athlete, and when I was young I used to run track and do tennis, everything. So so for me, it's always about getting out to the gym or getting outside, or whatever it takes to just kind of keep it together."
Lopez said she'll stick to eating healthy and working out, adding that while you "don't have to go crazy, you don't have to be a fanatic," it's all about upkeep. "Little by little as opposed to letting it get away and then having to pull it all back with a knife," she said. She's too "terrified" of surgery to even think about undergoing any kind of cosmetic procedure.
REAL LIFE. REAL NEWS. REAL VOICES.
Help us tell more of the stories that matter from voices that too often remain unheard.
BEFORE YOU GO
PHOTO GALLERY
Jennifer Lopez Through The Years