Frida Kahlo is the famed Mexican surrealist who, between her birth in 1907 and death in 1954, graced the world with a mine of impassioned autobiographical artworks, coupling the deepest of truths with the wildest of fantasies. Not to mention, the artist maintained a pretty spectacular garden, where domestic space and the jungles of the imagination became eternally tangled.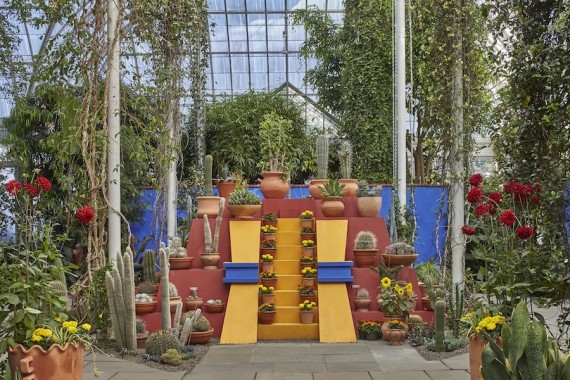 An evocation of the pyramid at the Casa Azul, Photo by Robert Benson
Jenny Holzer, born in 1950, is a contemporary New York-based conceptual artist, known for her poetic (and political) projections of scrolling text messages, casting razor-sharp ideas onto public spaces. In 1990, she represented the United States at the Venice Biennale, and was awarded the Golden Lion for her work. Along with artists like Barbara Kruger and Cindy Sherman, Holzer is one of the notable critical feminist artists to emerge in the 1980s.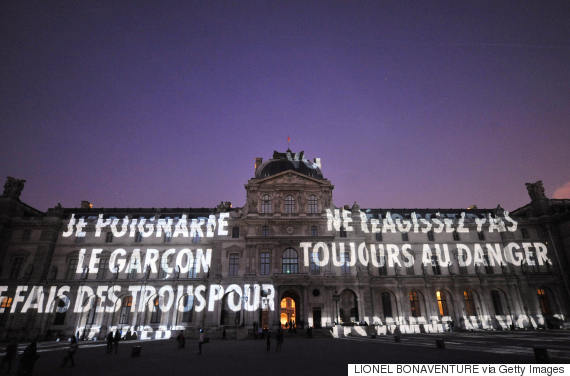 They're an unlikely artist duo, yet for the next four nights, these two decisive women artists will each intensify the other, as Holzer's text illuminates Kahlo's ongoing garden-centric exhibition at the New York Botanical Garden (NYBG).
This summer at the NYBG, Kahlo is queen, with a comprehensive exhibition transforming the Enid A. Haupt Conservatory into a precise replica of Kahlo's garden and studio, featuring 14 original Kahlo paintings inspired by the lush plant life.
Holzer's textual intervention will take over the facade of the conservatory, flooding the building-cum-canvas with text culled from Kahlo's diary, verses from female Mexican poets, as well as excerpts from Octavio Paz's work. (The nature-centric words of the Nobel Prize winning Paz are also dispersed throughout the NYBG grounds as part of a poetry walk.) Holzer's text selections are inspired by the exhibition itself, specifically touching on Kahlo's relationship to Mexican culture and the natural world.
Holzer's works will be on view from June 10 through June 13, 2015, after hours, part of what's known as the Garden's Frida al Fresco evenings. The viewings will take place between dusk and 10 p.m. at the New York Botanical Garden. "Frida Kahlo: Art, Garden, Life" will continue until November 1, 2015.
REAL LIFE. REAL NEWS. REAL VOICES.
Help us tell more of the stories that matter from voices that too often remain unheard.
BEFORE YOU GO