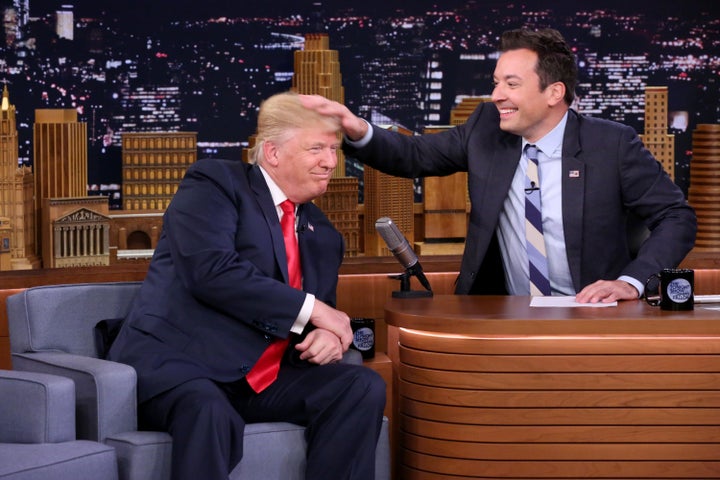 Four months after the hair tousle seen 'round the world, /www.huffingtonpost.com/news/jimmy-fallon/"}}">Jimmy Fallon will get another chance to take on /www.huffingtonpost.com/news/donald-trump/"}}">Donald Trump when he hosts the 74th annual Golden Globe awards in Beverly Hills on Sunday night. 
In September, Fallon was widely criticized for his non-confrontational approach to an interview with Trump on "The Tonight Show." Instead of challenging the reality-TV-star-turned-politician about the dangerous rhetoric he used throughout his campaign, Fallon took a softball approach.
He asked to play with Trump's much-discussed head of hair and laughed a lot.
Ahead of his Golden Globes hosting gig, the comedian explained his philosophy going into the award show ― he wants the ceremony to feel like a "party" ―  and how he plans on incorporating the now-president-elect into his time onstage. 
"If I hit somebody, it's a very subtle hit, and everyone's in on the joke," he told The Hollywood Reporter. "I want to make sure everyone's laughing and having a good time. And I'm hopefully going to book the people in this crowd the next week, so I'll be edgy, but it's all in good fun, and I know how far I can take it."
Fallon clarified that no one in the room should be nervous about what he'll say. However, considering how close the Golden Globes show is to the inauguration, Trump, he says, is absolutely fair game.
"The whole night won't focus on [Trump], but it will be a week before the inauguration, so it will be on everyone's mind," he said. "It's the first and maybe the last party that we'll have in 2017."
Calling all HuffPost superfans!
Sign up for membership to become a founding member and help shape HuffPost's next chapter
BEFORE YOU GO
PHOTO GALLERY
Jimmy Fallon's Hilarious Late-Night Guests