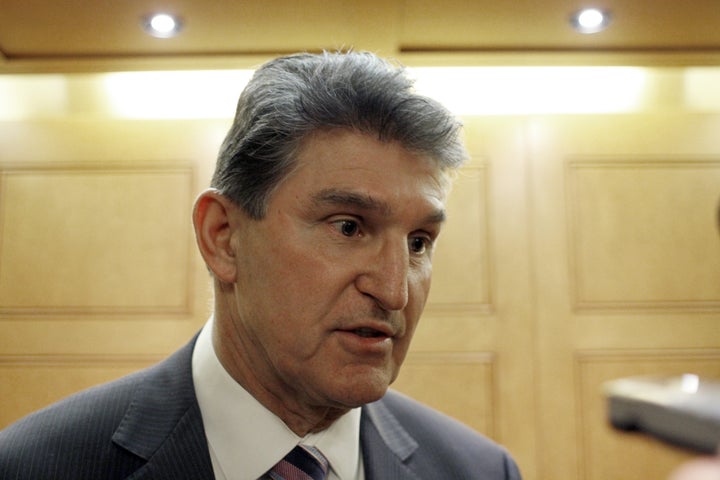 Newly-elected Sen. Joe Manchin (D-W.V.) was missing in action on Saturday as the Senate voted to repeal Don't Ask, Don't Tell -- a military policy preventing gay service members from serving openly.
Manchin, the only member of his party in the chamber to oppose lifting the ban, reportedly was tied up in his home state while his colleagues were on Capitol Hill. The Charleston Gazette reports on his absence:
In an e-mail to the Gazette-Mail, Manchin spokeswoman Sara Payne Scarbro said the senator and his wife, Gayle, had "planned a holiday gathering over a year ago with all their children and grandchildren as they will not all be together on Christmas Day."

"While he regrets missing the votes, it was a family obligation that he just could not break," Payne Scarbro said. "However, he has been clear on where he stands on the issues."
Senate GOP aides noted that Manchin could have booked a seat on a United flight leaving Dulles airport at 5:40 p.m. that would have landed in Charleston at 7:16 p.m., possibly in time to make an evening party.
Manchin cast a vote against a procedural motion to advance repeal legislation earlier this month. The West Virginia Democrat does not support the DREAM Act, which also received a vote in the Senate on Saturday.
Manchin's no-show sparked criticism from the Republican side of the aisle. "I'm sure that most senators, as well as the hundreds of staffers who had to come to work today, would have rather been at a Christmas party like Joe Manchin," explained Brian Walsh, communications director for the National Senatorial Campaign Committee, according to the Gazette.
"But perhaps in Joe Manchin's world today was a win-win," Walsh reportedly said. "Not only was he able to skip work and party but he was also able to avoid voting on two very sensitive political issues."
Calling all HuffPost superfans!
Sign up for membership to become a founding member and help shape HuffPost's next chapter