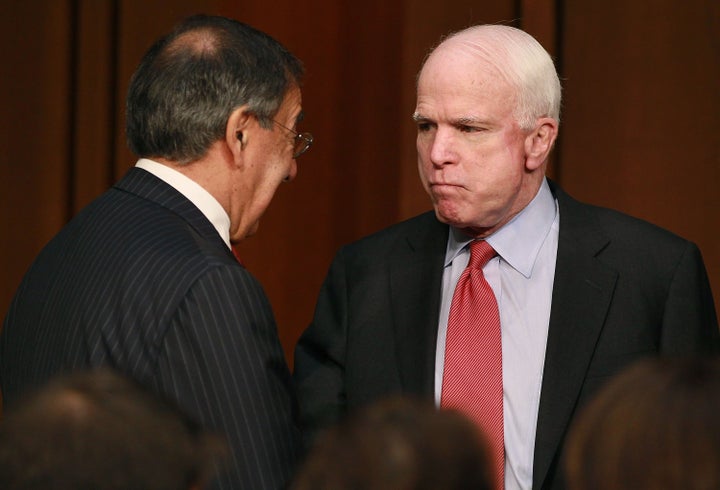 Sen. John McCain (R-Ariz.) seized an opportunity this week to take a shot Time columnist Joe Klein, who is perhaps his most prominent media nemesis.
Klein's latest work, a piece called "Where is the Love?" that focuses on how Mitt Romney's campaign has dealt with the media this election cycle, gets top billing in this week's issue of Time.
McCain, however, was not impressed, and more than happy to write a brief and biting review of the column in a tweet Monday:
The Huffington Post's Michael Calderone reports on the article by Klein, who has had something of rapport with Romney in the past:
This time around, however, Time wasn't as lucky. Joe Klein, who wrote this issue's cover story, didn't get to fly around with Romney while working on it. Klein had tough words for how the campaign is handling media access.

"It's an idiotic strategy," Klein said. "Because usually what politicians do is to do big profile-y sort of interviews at the front end of a campaign and then close off access at the end."

Klein said that Romney gave him "great access when pushing universal health care in Massachusetts," a subject he wrote a column about at the time. Klein said he expected Romney to talk to him for this piece, especially since "he and I had not a bad relationship in the past and I thought he's the smartest, most mainstream of these Republican candidates, and Time is a pretty mainstream publication."
Klein has been an outspoken critic of McCain over the past few years, taking aim at the senator both during and after his failed presidential campaign. McCain appeared to refer to Klein as an "idiot" once in 2009, after Klein advised him to "be quiet" on the issue of Iran.
In a column late last year following McCain's vocal opposition to the repeal of "don't ask, don't tell" and the Dream Act, Klein unleashed on the senator, blasting what he described as a crude shift in ideology and personality:
I used to know a different John McCain, the guy who proposed comprehensive immigration reform with Ted Kennedy, the guy -- a conservative, to be sure, but an honorable one -- who refused to indulge in the hateful strictures of his party's extremists. His public fall has been spectacular, a consequence of politics -- he "needed" to be reelected -- and personal pique. He's a bitter man now, who can barely tolerate the fact that he lost to Barack Obama. But he lost for an obvious reason: his campaign proved him to be puerile and feckless, a politician who panicked when the heat was on during the financial collapse, a trigger-happy gambler who chose an incompetent for his vice president. He has made quite a show ever since of demonstrating his petulance and lack of grace.
For now, however, Klein isn't giving an answer to McCain's jab. In an email to Politico's Ben Smith, Klein wrote, "I don't think this requires a response from me."
REAL LIFE. REAL NEWS. REAL VOICES.
Help us tell more of the stories that matter from voices that too often remain unheard.