Anyone expecting a chastened and subdued Johnny Manziel was likely disappointed with what they saw on Saturday. On the other hand, those eager for the return of Johnny Football got exactly what they wanted.
After serving his half-game suspension, Manziel ran his mouth and the Aggies' offense with all the swagger that made him a national sensation as a freshman. The 20-year-old quarterback tossed three touchdown passes, took off on several mazy scrambles and delivered a few memorable taunts to his opponents as No. 7 Texas A&M rolled to a 52-31 win over Rice.
After converting a 3rd-and-7 situation with an 8-yard rush in the third quarter, Manziel appeared to taunt an Owls defender by indicating that he would not be signing any autographs for him. Manziel was sidelined for the first half after committing what the NCAA and Texas A&M deemed "an inadvertent violation regarding the signing of certain autographs."
One play after the apparent "No autographs for you!" gesture, Manziel fired a 23-yard touchdown strike to wide receiver Mike Evans. After the conversion of the extra point, A&M led 38-21. The Heisman Trophy-winner celebrated that score with what looked like a money counting gesture.
WATCH: Manziel celebrates touchdown with "money counting" gesture
After firing another touchdown pass to Evans in the fourth quarter, Manziel fired his mouth at the Owls' defenders again. He was hit with a 15-yard penalty for unsportsmanlike conduct and forced to hand the ball back over to A&M starter Matt Joeckel for the remainder of the rout.
"That wasn't very smart, Texas A&M coach Kevin Sumlin told ESPN on the field after the game. "That's why he didn't go back in the game either. You would hope at this point, you'd learn something from that. We're still working on that. He wasn't going back in the game no matter what was happening."
Before You Go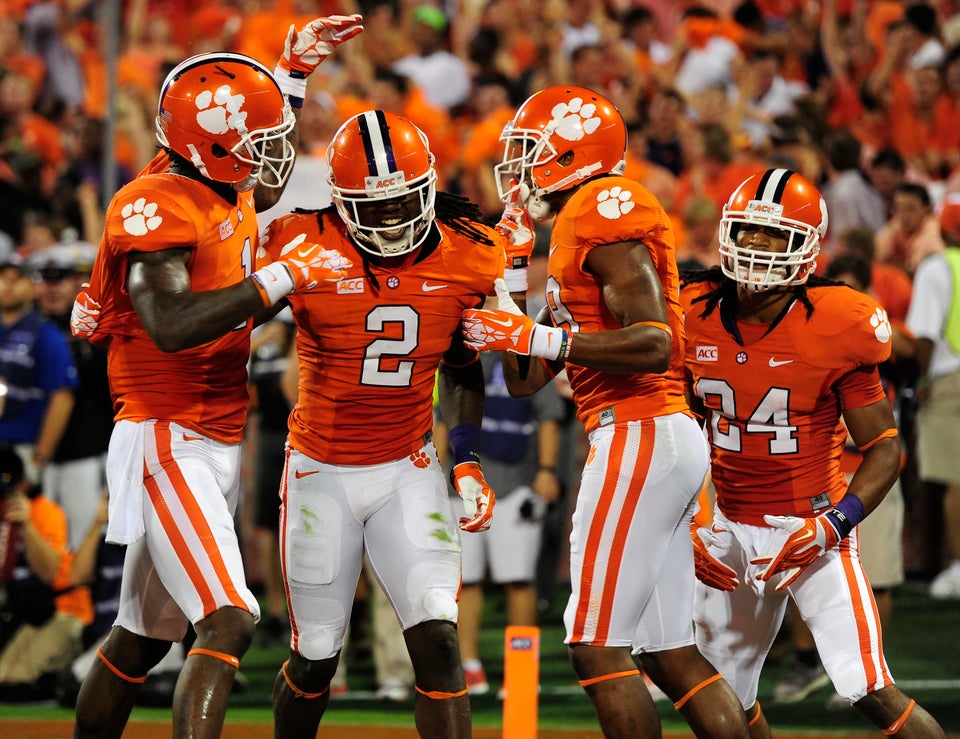 PHOTOS: College Football Week 1
Popular in the Community