WASHINGTON -- As of Thursday morning, Sen. Rob Portman (R-Ohio) was among just 34 senators who had not signed on as a sponsor of a new 9/11 health and compensation bill.
But by nighttime that had changed, and the Ohio Republican and former Bush administration budget director became the 67th senator to back a bill that would make permanent the health and compensation program for 9/11 responders, which began to expire this year.
All it took was a visit from a firefighter dying from 9/11-linked cancer, a dozen other responders, and Jon Stewart.
"His chief of staff just called me and said he was going on the bill," said John Feal, the founder of the FealGood Foundation advocacy group, calling from his car on the way home from a day lobbying lawmakers with the former host of The Daily Show.
Portman's conversion didn't exactly come easy.
Responders visited his office on Wednesday and felt like they were not treated very well. They tried again Thursday with Stewart and did better, visiting with Portman's chief of staff.
But it took tracking the senator down in the hallways beneath the Capitol building -- and a very awkward 20-minute conversation -- to bring him on board.
The reason it was so awkward is that Portman declined repeated invitations during the talk to sign onto the bill, and offered the sorts of rationales that sounded very familiar to the firefighters and police officers who were making the pitch. They've heard the same things from dozens of lawmakers who declare they'll never forget 9/11, but can't overcome whatever problems they have with passing a bill to permanently care for ailing responders.
"You know, I'm a budget guy, a member of the budget committee, and a former budget director, so we, our general approach is we have to find pay-fors, which is hard to find," Portman told Ray Pfeifer, a former firefighter with stage-four cancer who used his motorized wheelchair to catch up to the senator.
"Pay-for" is Congress-speak that refers to how a measure will be funded without adding to the deficit.
"Well, there was a pay-for, and [Majority Leader Mitch] McConnell took us off," Pfeifer answered, referring to news that McConnell nixed a potential agreement earlier this week.
"Really?" answered Portman, who went on to decline Pfeifer's request to at least put out a statement supporting the bill, if not become its 67th sponsor.
Pfeifer had sped ahead to corner the Ohio Republican because Stewart and the responders weren't there yet, and he kept him occupied till the others arrived.
The senator didn't make an excuse and flee, and got to hear Stewart and the responders explain why they didn't buy the "pay-for" argument when Congress routinely adds things it wants to the deficit -- and while it's weighing a massive tax break package that would add hundreds of billions in red ink to the nation's financial ledger.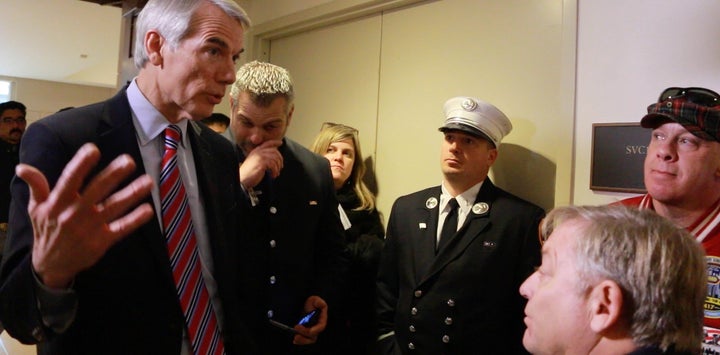 "I need an adult to explain to me how we can find pay-fors when they need them, but we don't want to find a pay-for for people like Ray who's dying of stage-four cancer," said Feal.
"We've got to find a pay-for, that's the answer," said Portman, although he didn't pull one out of his budget-minded head just then.
"I think everybody's at the end of their rope, and justifiably so," said Stewart. "It's sort of shameful for them to be let down by their own government when they went down there [ground zero] without any question whatsoever."
Portman repeated that he would back the bill if it got a funding stream, although he said it was up to McConnell and other leaders to find one. It remained unclear at the end of the day what the funding would be, but McConnell had pledged to move the 9/11 bill forward.
Portman apparently had a talk with McConnell later. And now he's sponsor number 67.
"I think Sen. Portman finally understood the importance of putting human life before politics," Feal said. "I think he was finally not shielded from us by his staff, and he could put a human face to the devastation caused by 9/11. He saw the light, and hopefully it will draw others to that light."
"It feels good at the end of the day," Feal said.
Watch a lightly edited clip of the awkward discussion above.
Michael McAuliff covers Congress and politics for The Huffington Post. Talk to him on Facebook.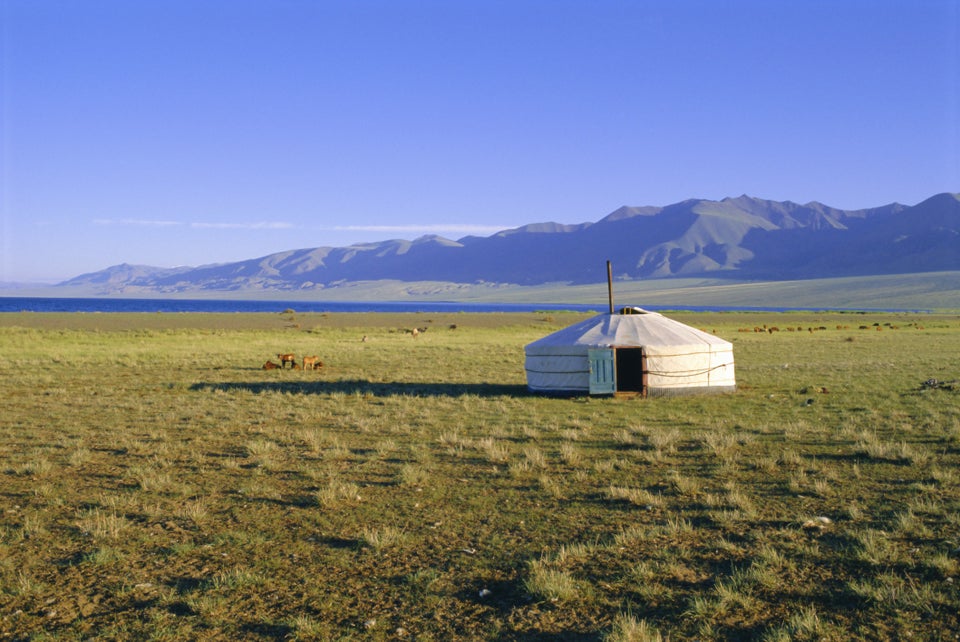 7 Things You Didn't Know About Jon Stewart
Popular in the Community