Jenna Wortham's voice is like palo santo, clearing out all the negative energy in the room to make space for positive learning, unlearning, healing.
Her words — in The New York Times Magazine and on her podcast with Wesley Morris, "Still Processing" — offer wisdom needed in an age when bigots feel emboldened. As a writer for the magazine, she explores "how technology relates to humans," she reminds listeners of her podcast each week.
But Wortham, a Virginia-born journalist who has gotten the nod of approval from Beyoncé via flowers and a handwritten note (!!!), uses her platforms as nourishment for those who often go underrepresented and unheard, especially black people, LGBTQIA people and women. Her work goes beyond cultural criticism. It's a salve for the marginalized.
Wortham spoke to HuffPost about her voice, her journey to journalism, practicing self-care in the Trump era and cultivating community with her platform.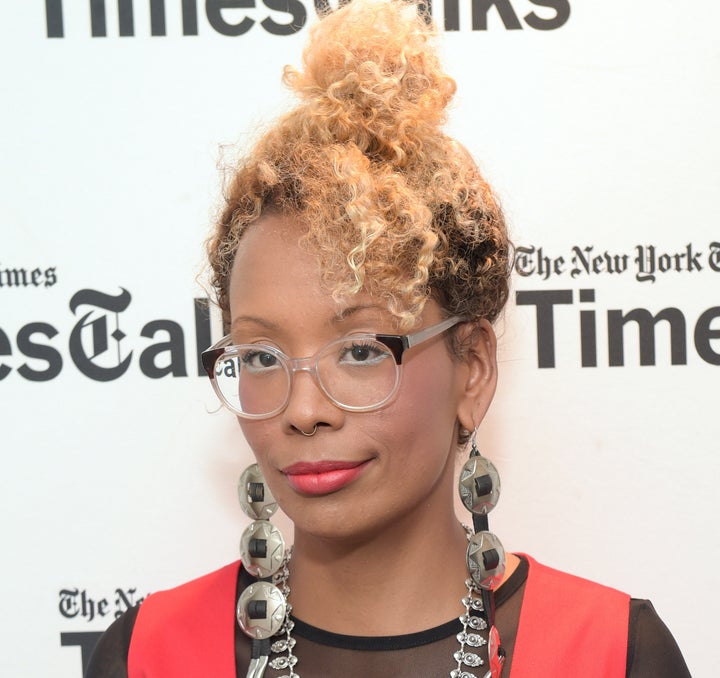 How has Pride Month been for you so far? How do you celebrate Pride in general?
This has been a really fun, fun Pride so far. I've been in community, in conversation more. In years past, I always prioritized being in queer spaces and especially queer [people of color] spaces for my socializing, but I think I've been trying to show up and be at events, too, that feel like they're contributing to more of a sense of wellness. So, like, being at events in conversation or being at Pride-specific workout events just trying to sort of foster and create community that's not just about a nightlife space.
How has your work with "Still Processing" helped kind of build this larger sense of community and safe space that you were just talking about?
Well, it's kind of been an unintended effect, right? I think we started the show thinking we would just be two cultural writers and critics in conversation for The New York Times. We were one of the first original podcasts under the new NYT audio team, and so that was just our goal, which was to make a cultural podcast. But I think because of our identities and our intersectionalities, we wound up gravitating towards topics that were interesting to us, which tend to be about race and gender and sexuality, and it seems it functions on a couple of vectors for our listeners. One vector — which is the least interesting to me but also I'm happy that it exists — is that it feels very educational for some people who don't have access to this perspective. I get that a lot, like, "Thank you for teaching me about these identities. I didn't know."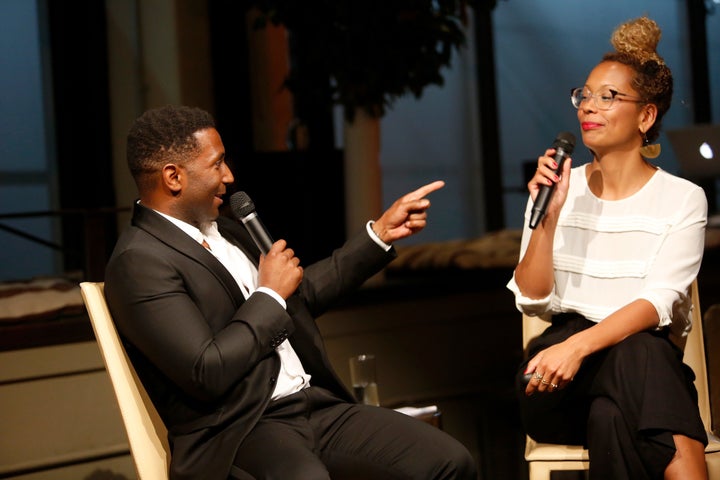 The other thing is we end up being a space for people who are following along with the culture but don't quite know what to make of it get to tune in and hear us talk in a really candid way that might not make it into our writing. And to get that additional input and perspective from us about what we think about what's happening in the world and the U.S. The third thing, which is the most exciting thing, is a lot of the feedback I get from the show is just, like, "Thank you so much for your visibility. For just being two queer black people who work at a place like the Times and have views and also can go deep and go high and go low and go broad and go small and go macro and go micro." And it makes me feel really seen, and I think that's the thing that always surprises me, but it's the reason I became a journalist and a writer in the first place. I wanted other people to see themselves — not through me, though. I wanted to share stories and write about people that helped other people who maybe felt marginalized or unseen know that they weren't alone.
How did you know that you wanted to work in journalism, especially since you studied biology in college?
One of my roommates had taken a seminar called Grassroots Publishing, and the teacher was amazing, and we just made a magazine every semester, and I just took that class every year. Or as much until I graduated, basically, and got really familiar with magazine production, and so I was like, "This is what I love." Working in a team of like-minded people. Everybody was woman-identified. It just felt really right, and when I got out of school, I moved to San Francisco and continued to intern and was just trying to figure out how to make it work.
I wound up at Wired. It felt really like a good fit because it was a really nice intersection of my interests in medicine and arts and humanities. And just cool cultural stuff and tech, and the internet had always been a huge part of my expression and just my life. And being at a place where they were really interested in the culture and the internet really spoke to me, and so I was hired as a research intern, and that's how I learned essentially how to put stories together.
I also felt really drawn to the profession for the reasons I said, which is, I remember reading magazines growing up and feeling so electric when I saw someone that looked like me or offered a way of being. I think now we live in an era where there's so many portals into humanity via social media, and even our television and films and books are getting better. I mean, they're a lot better than they were when I was a kid, so I think I was really starved back then for representation and the images that helped me understand myself. So I was really committed to somehow being a vehicle for that.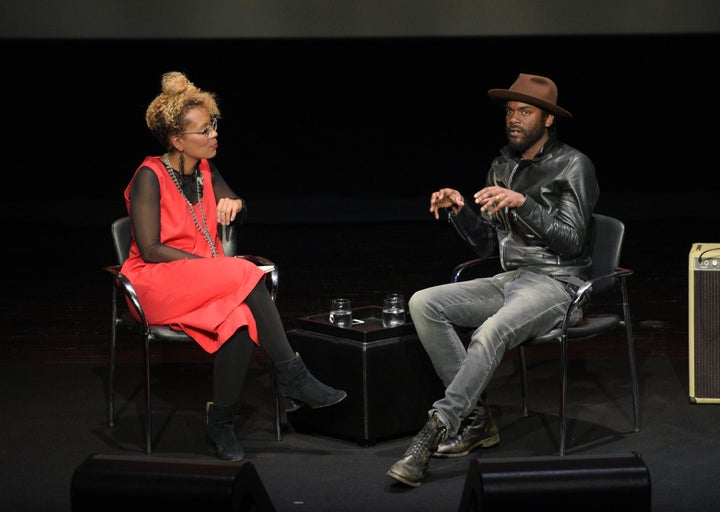 What's your take on the evolution of representation of black queerness in pop culture right now?
I feel really excited about the way queerness is in discussion and in conversation right now. I was giving a lecture at a middle school recently about identity, and kids as young as 10 are thinking about "Am I gender fluid? Am I bi?" And I think that is a product of the visibility that we feel, so it is impactful. Even at the level that it's happening right now, if that makes sense. I think I take for granted a little bit how much has changed even in the last two years, right? I think we're having conversations that we weren't even having a year ago. I also think there's something about — there's certain types of queer sexuality that have been more acceptable and been more prioritized and felt more sheltered publicly than others. So things are happening at their own pace and at their own timing.
I think I just feel really, really, really into how much we're talking about gender more than sexuality. I think gender is the binary that really, really, really needs to be interrogated. Even the idea of pronouns in general. Some people may not even want to have any pronouns attached to them, and I think those are the complications that are also really exciting me too, because I'd like to be in a place where we can shift those expectations. It just all feels really revolutionary and really radical and really, really, really exciting.
It's funny, a question we always get on the podcast or when we're doing live events is "Why does pop culture matter? Why should we care about any of this?" Well, it drives the national conversation, and it does help recenter norms and re-establish boundaries and explode ideas and explode boundaries. I really feel it happening so strongly. You know, when I was at this middle school, I was really mindful of just addressing everyone as a person or a human. Just making no real judgments about their gender presentation, no matter what they were wearing, and it felt really exciting. That feels new to even me as a human who is living very much in this world, just these expectations of what we know about anyone's gender and sexuality based on how they present is really, really profound.
I do think there has been a subtlety to the spectrum of nonwhite, queer identities across TV and across movies and across music that I find to be really, really remarkable and more exciting to me than I thought it would be. I think it's actually the deftness and casualness of identities like pansexuality and gender neutrality just emerging as norms is really, really maybe even more impactful than — you know, I'm thinking a lot about that Ellen [DeGeneres] cover, the Time cover where she was like, "I'm gay!" That was amazing for that moment, but what actually may be more impactful for us right now, because we are so marginalized, is just a normalcy ... how important it is for things to be just, "Hey, this is what it is."
It really helps me also further my own understanding of myself. My own sense of identity is not fully formed. I'm still kind of in a process as well.
"I wanted to share stories and write about people that helped other people who maybe felt marginalized or unseen know that they weren't alone."
As a queer black woman in Trump's America, how do you practice self-care?
Every day. From the moment I wake up to the moment I go to sleep. I think I've had to take a really hard look at my life and think about what my priorities are and acknowledge that I am superhigh functioning but that doesn't necessarily mean that ... just because I can hold a lot at one time doesn't mean I necessarily should or that I have to.
I think the asks are really high on us right now because everybody wants an answer to that question and everybody's trying to figure out what our experience is like. I think practicing refusal and understanding boundaries and not being afraid to disappoint people — those are all really hard things. Especially working in media, where everything feels so urgent and of the moment and ephemeral and there's always this underlying fear — "If I turn down this speaking opportunity, does that mean I won't get another one?" Sometimes that's a risk I have to take.
It's a really hard thing because I want to be in demand, but it doesn't always serve me to do so. I think I've had to be really clear-eyed about my immediate priorities, which are my relationship with Wesley, to ensure the health of the podcast, which is my job, but it is also dear to me for the reasons I expressed earlier because it is so valuable to a number of people that I'm trying to reach. That's a huge priority. I have a book project with Kimberly Drew. Our relationship is as much of the project as the book. So making sure that I spend time with her and that we get to go to yoga together, we get facials, that we sit and have bonding time that's not just business time. It's so important.
I do have to get seven hours of sleep. I do have to exercise three days a week. I have to eat well in order to be well and to show up in full capacity, which is the priority, and it's a priority in terms of the work I'm trying to do because I feel an urgency around all the vectors that my work exists along. But also it's so mission critical for my own survival and for my own coping mechanisms.
It's not even just about Trump's America, although that's a part of it. It's just we're also living in an era where we're getting bombarded with so much information. About good and bad and death and violence, and I think this is the year I'm really acknowledging how porous I am. I'd like to stay open, and I'd like to stay vulnerable, and I'd like to stay soft. That means often receiving more than I can actually process.
Where do you draw inspiration from?
Other than the ocean and Beyoncé? First and foremost, my heart and business partner, Kimberly Drew, who is a generous wellspring of ideas, challenges and unconditional love. My sweet and dear friend Fariha Roisin, who feeds my spirit and soul on the daily. Emergent Strategy by Adrienne Maree Brown, the anime film "Your Name" and the work of Phoebe Waller-Bridge. The Discwoman collective, New Women Space, queer groups Yellow Jackets Collective, bklyn boihood and Papi Juice for branching out into more all-ages, community-oriented events that are more inclusive and occasionally sober. The poets Morgan Parker, Danez Smith, Angel Nafis and Tommy Pico for their reverence and interrogation of our culture and this moment. The music of Kamasi Washington, Nils Frahm, Kelsey Lu and Abdu Ali, the photography and writings of my friend Devin N. Morris, the podcast "Food 4 Thot" and these incredible shirts. The meditation podcasts of Tara Brach and the astrological guidance of Chani Nicholas. Black Girl in Om saves me on the daily. Friends who donate time, energy and resources to the Audre Lorde Project and UndocuQueer movements. Tamara Santibañez, artist and writer, for her work in independent publishing, especially the forthcoming Sexiness: Rituals, Revisions and Reconstructions. The work of Toi Scott to queer herbalism.
What does a queer future look like to you?
My friend Arabelle Sicardi recently screenshotted me the following lines from a book called Radical Dharma, and the following lines struck me as particularly resonant for this question. "Bored to death and frustrated with this habituation toward the supremacy of whiteness. We've been in this station a long time. It is clear now. There is no train other than those that take us backward. There is no deliverance. We are not going anywhere. It's time to stop waiting. It is time to connect some other way, turn to each other, turn the station into a new homestead and find new ways to imagine progress, practice new protocols of connection."
For LGBTQ Pride 2018, HuffPost is highlighting 30 different cultural influencers who have shifted the narrative when it comes to queer issues and whose work has contributed to building a more inclusive and equitable future for us all.
#TheFutureIsQueer is HuffPost's monthlong celebration of queerness, not just as an identity but as action in the world. Find all of our Pride Month coverage here.
Popular in the Community