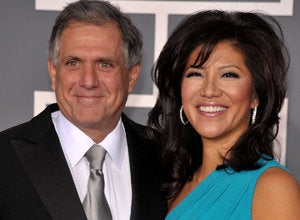 "Early Show" co-host Julie Chen announced this morning that she and husband CBS President/CEO Les Moonves are expecting their first child in October.
Chen, who also hosts "Big Brother," said she is beginning to show and that "it wasn't a big Sunday at the buffet table."
She is due October 4, but she promises she will not be taking maternity leave from "Big Brother" (as the Post reported).
Moonves has three grown children from his marriage to Nancy Wiesenfeld Moonves, who he divorced in 2004 after a 26-year marriage.
Popular in the Community