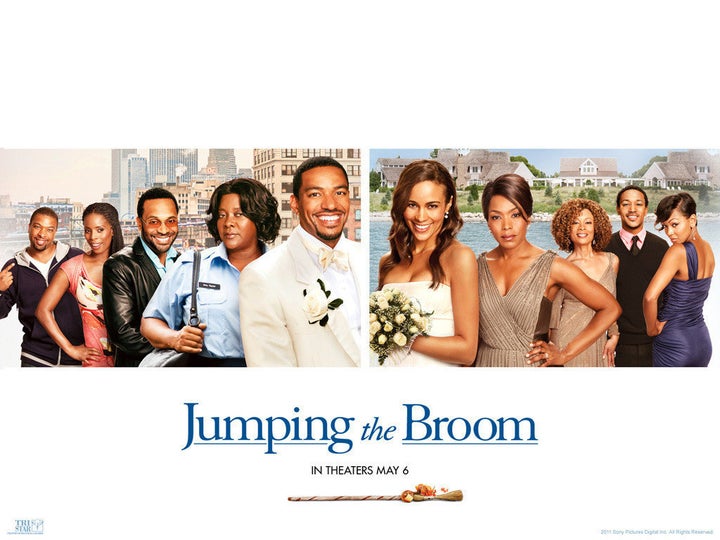 By Adelle M. Banks
Religion News Service
(RNS) Dallas megachurch pastor Bishop T.D. Jakes has produced his third movie, Jumping the Broom, a romantic comedy set against class divisions that opens Friday (May 6), starring Angela Bassett and Loretta Devine.

Jakes, who plays Rev. James in the film and served as producer, talked about its discussion of sex, family feuds and forgiveness. Some answers have been edited for length and clarity.
Why did you decide to make a movie about an African-American couple and the challenges they faced as they got ready to walk down the aisle?

I think it's very, very important that we begin to hone in on issues that we often don't talk about. We all have to fight through the practical application of day-to-day living.
The movie doesn't seem to be a "Christian film," but does it reflect insights you've gained as a pastor?

Through counseling for 35 years, you begin to find out that ultimately the only glue that really holds a family together is their ability to be able to forgive each other. I think the common theme in the movie is a message of forgiveness, which is congruent with Scripture.
How do you mean?

Jesus teaches us to forgive over and over again. One of the things that happens in the movie is families running into situations where their love is being challenged. They have to learn to forgive. I think families have lost a sense of forgiveness. When they find problems, they just walk away.
The film opens with the female lead in her underwear. Why did you decide to include sexual content in the movie?

The story shows a woman who has made a decision to change her lifestyle from being a fairly promiscuous person to a person who has made a vow of abstinence. The contrast in her life is what testimony is all about. You can't show somebody that Jesus is the answer if you can't show the before and the after. And we were able to achieve that without showing any nudity at all.
As you've screened the movie, have you gotten any criticism from clergy for the film's frank discussion of sex?

Considering the divorce rate that we're seeing in the world and even more rampant in the church, I think the clergy have welcomed a discussion that promoted marriage and abstinence in a humorous way that is entertaining. I think they understand that we are losing a battle while at times being extremely prudish in our inability to discuss it at all. The message of abstinence is congruent with Scripture; the images are as simple as a J.C. Penny catalog.
Some have criticized church-produced movies as too sanitized. Are you trying to move away from that?

When people don't see themselves on the screen, regardless of what the issue is, it doesn't ring authentic. I think you can show real people without being vulgar and without having a rating that locks out our younger people. Our younger people need to have this conversation.
Where's the line between showing a character's religious side and hitting moviegoers over the head with a Bible?

I've learned over the three movies that people don't go out on Friday night to be preached to. You have to show faith is an element that is planting a seed without necessarily trying to reap the harvest at the same time.

The title Jumping the Broom comes from a slave tradition. Do you use it at your church or at weddings where you officiate?

From time to time. Many African-Americans choose to reflect on their heritage and identity, much like the Jewish couple might step on the glass. It's totally a matter of choice.
You play the role of the marrying minister in the movie. Do you prefer producing or acting?

To be honest, my playing the role was a last-minute decision. Being able to walk on the stage and do a little bit of acting was fun, but my focus is really on producing.
How does this film compare to your other movie, Woman, Thou Art Loosed, which addressed domestic violence?

I have learned that serious subjects require comedy to make them more palatable on the screen. The art of the movie is to be comedic with the characters and yet serious about the subject.