Before we discuss the President of Congo's call for peace before justice, consider this. Eastern Congo is a mess. The military situation is so complex that spreadsheets are necessary to keep militias, commanders and alliances in perspective. The names are unpronounceable, unreadable, often misspelled, and it is no wonder writers are forced to simplify. In that regard, let's review. The situation in Congo since the December 2009 passage by the United Nations Security Council of Resolution 1906 has changed considerably. Rwandan rebels (FDLR), ex-CNDP troops, uncontrolled Congolese Army (FARDC) cadres and other renegade armed groups continue to be accused of armed ambush, robbery and illegal tax collections, kidnapping for ransom, looting of vehicles, rape, torture, mutilation and other crimes against what one internal UN document terms "the downtrodden locals." New alliances among war criminals have coalesced, desertions have increased from all armies, and foreign influences are ramping up. Rwandan police uniforms are being shipped to rebels and there is also reason to believe that Ugandan General Gadi Ngabo is ready to move against Kinshasa.
A reliable UN source today said, "General Gadi claims to control 10,000 troops in Petit-Nord. Neither Bosco Ntaganda's forces (FARDC) will stop nor will they fight against Gad's men, Bosco confirmed." The source added, "Only a go-ahead is being awaited to jointly fight Kabila's government." This would be a stunning turn of events, since Kabila's government has allowed Ntaganda to operate with impunity in the Kivus.
There is also word that Gadi has moved his headquarters from Runyoni to Virunga Park and that Ntaganda will do the same.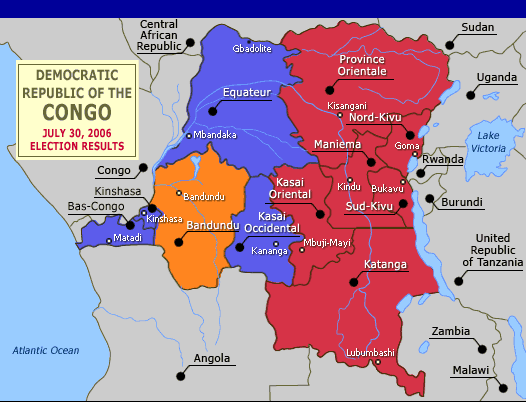 To zoom on reference map click here.
There has been no mainstream follow-up on a recent Voice of America broadcast, in which, as the self-proclaimed leader of the newly formed Patriotic Front for the Liberation of Congo, General Gadi Ngabo said he would pick up the mantle of former Congolese renegade army general Laurent Nkunda. Nkunda was ousted from his leadership position in the CNDP during a coup orchestrated by Bosco Ntaganda in January 2010--a coup accomplished with significant support from former enemies President Paul Kagame of Rwanda and Kabila. Gadi was based in Kampala, Uganda, is Ntaganda's cousin, and has reportedly joined forces with Emmanuel Msengiyumva who deserted from the Congolese army (FARDC) in anticipation of new fighting. At issue is anger at Kabila, who has not delivered on anything, including paying his army.
This all began with Kimia II. In a nutshell, the much-maligned 2009 Kimia II operation ended after nine months of criticism and investigations by human rights groups. United Nations troops had been complicit in the targeting of civilians by rebel forces and the regular Congolese army. The lists of atrocities are too numerous and sickening to mention here, but suffice it to say it has been documented here on the Huffington Post's Congo Page. The new year offered an opportunity for a new set of military ops, dubbed Amani Leo, that generated hope for a fresh start.
That hope has been pummeled into oblivion with a statement by Congolese president Joseph Kabila, as reported by the UK Guardian, explaining why the government of DRC has placed Bosco Ntaganda, a war criminal wanted by the Hague, in charge of troops in eastern Congo. "Because we want peace now, Kabila said. "In Congo, peace must come before justice."
The Mission de l'Organisation des Nations Unies en République Démocratique du Congo (MONUC's) Alan Doss has said that the UN wants nothing to do with Ntaganda and is not working with him. Human Rights Watch has said that MONUC has allowed Ntaganda to operate with impunity and has stood by while civilians became soft targets. In a briefing to the Security Council in December, Doss seemed to be saying his hands are tied.
The Council is aware, however, of the dilemma faced by MONUC, which is inherent in the mandate that enjoins us to give the highest priority to the protection of civilians, while at the same time working with the FARDC, which includes elements that have been responsible for human right violations, to disarm groups such as the FDLR that have been a constant threat to the people of Eastern Congo for over a decade. There is no easy answer to this dilemma and we are looking towards the Council for clear guidance in this respect.
Kabila's form of "peace" has come at the expense of untold thousands of rape, torture and murder victims, while FARDC's Ntaganda lives in luxury with a parallel government administration, smuggling precious timber from Virunga's forests, exacting illegal taxes, and running his own petrol stations in Goma. For simplicity, we will refer to Ntaganda as "Bosco." His other nickname is the "Terminator."
The promise was that Amani Leo would reduce and or limit the influence of Bosco, who has established his own government administration in Masisi territory.
So, where, really, is the UN in all of this? Formal United Nations resolutions are a curious mix of verbiage. The resolutions will "request," "decide," "determine," take note," "recognize," and, in a burst of hubris, "demand" actions.
In that regard, the UN "decided" to extend the deployment of MONUC until May 31, 2010. It seems that Kabila is insistent that MONUC leave the country so he can get on with a big party he has planned for a June celebration of Congo's independence from Belgium. The UN left itself some wiggle room and stated that it "intends" to authorize the extension of the world's largest peacekeeping force of 19,815 military personnel, 760 military observers, 391 police personnel and 1,050 personnel of formed police units for an additional twelve months in May.
In the meantime, the UN "demands:"
That all armed groups, in particular the Forces Démocratiques de Libération du Rwanda (FDLR) and the Lord's Resistance Army (LRA), immediately cease all forms of violence and human rights abuse against the civilian population in the Democratic Republic of the Congo, in particular gender-based violence, including rape and other forms of sexual abuse; and Demands that the Government of the Democratic Republic of the Congo, in furtherance of resolution 1888 (2009), immediately take appropriate measures to protect civilians, including women and children, from violations of international humanitarian law and human rights abuses, including all forms of sexual violence.
No wonder Kabila wants MONUC out. I believe Hillary Clinton "demanded" the same civilian protection from Kabila as she stood toe to toe with him in August 2010. Let's be reasonable here. The President of Congo has his motorcycle collection to protect--a collection that was described by the New York Times.
What's the rape and torture and burning alive of many thousands of women and children got to do with anything? What has JUSTICE got to do with anything, for God's sake? Kabila wants "peace," after all. A stray bullet might mar the finish on one of his bikes.
Is Bosco now Kabila's biggest worry? It seems beyond belief that Kabila could not apprehend Bosco if it were in his interest to do so. What is more likely is that either Kabila is waiting to see how the new alliances shake out in the Kivus, hoping that someone will oust Bosco for him; or the presence of Ugandan General Gadi on Congolese soil, the involvement of Heritage Oil along the Uganda/Congo border, and Bosco's parallel administration show that Bosco is too big of a threat to challenge. It is very curious that Voice of America gave so much airtime to Gadi and his ambitions. Could it be the Heritage Oil/Uganda connections? Stay tuned and ask yourselves how the US stands to gain from all of this.
A report received from a UN security informant offered this new command structure for Bosco's Patriotic Front. The list was taken directly from a copy of Bosco's plans on a meeting agenda. They are: Brigadier General Bosco Ntaganda; United States resident King Kigheri V; Ugandan Brigadier General Gad Kanamaharagi,; Ugandan Colonel Ali Muvunja; Bosco's relative Colonel Zimurinda; Colonel Innocent Kabundi, a sector commander of Kalehe; and Colonel Mugisa.
Mugisa has been a fellow officer with Bosco since Ituri, where the warrant was issued in 2004 for Bosco's arrest by the Hague. The combination of these players assures Bosco's control over the entire arms cache of the CNDP, according to well-placed UN informants.
Other informant's reports coming out of the Kivu Provinces for the last month have been so fluid that militia leadership, desertions, and alliances seem to be changing on a day-to-day basis. However, sorting through this Pandora's Box, there are a few unreported items that are extremely interesting. One account (corroborated by two sources) indicates that Rwanda is pulling strings with Ntaganda's parallel administration, including new uniforms from Rwanda. MONUC's internal weekly security report from the week of January 11, 2010 documents the flow of Rwandan police uniforms into Bosco's organization.
Agents of the CNDP parallel administration in and around Tongo (65 km north of Goma) reportedly received new uniforms from Rwanda, with similar clothes reportedly worn by CNDP agents in Kitchanga. In addition, according to PNC in Matanda (near Osso farm) the integrated ex-CNDP PNC in Kibabi (12 km south of Bihambwe) under the command of Colonel Zaboloni has recently received new Rwandan police uniforms.
In 2008, Zaboloni was in control of Mayi-Mayi troops. A separate report says Bosco has been seen in one of the new uniforms.
If all of this were not enough, here are few other snapshots from the February 7 weekly security report to help make your head spin:
Reports reveal that there is "little reported confrontation between FARDC and FDLR," (not surprising, since they are in collusion) while security concerns focused on the reported activity of PARECO and FDLR in south Lubero Territory, where several attacks on villages were reported. Mayi-Mayi PARECO elements apparently plundered the villages of Kaviru (13 km west of Lubero) and and Ngane (45 km west of Butembo) on January 31. The following night, Ngahati (3 km from Muhangi)) was attacked, reportedly killing one civilian. Two men were mutilated for resisting extortion.
Activities of armed groups and inter-ethnic differences continue to be reported in various territories of the province and in Masisi. Land disputes among communities (Hutu, Tutsi and Hunde) have intensified, and "ethnic hatred" has spread throughout North Kivu province, where each ethnic group is in the process of organizing its own militia "for self-protection purposes and financial gain." The same tribal issue was raised when "the president civil society of North Kivu issued a declaration accusing the National Minister of Higher Education, Mamba Mashako, for preferentially appointing Hutus to academic posts in the province to the detriment of other North Kivu ethnic groups.
In the provincial capitol of Goma, armed robbery and harassment are common "in sensitive areas of the city such as Mabanga, Keshero, Katoyi, Birere, and Majengo Quarters." Local police were deployed to dismantle all the wooden shops that reportedly are used in daylight hours as telephone booths and at night as brothels and/or lodging places for street children. "All the wooden structures are being demolished by the police under the auspices of the mayor of Goma."
In some areas, the civilian population is finally taking matters into their own hands. In Sake (a town), "locals took to the street and demonstrated against humanitarians, accusing them of hiring people from Goma to carry out relief related tasks in Masisi in lieu of employing idle youth from the beneficiaries. The issue is being discussed between humanitarians and the civil society of Sake." In a separate incident:
An ex-CNDP solder burglarized into the house of Mr. Bahati Benoit and killed him on the spot. Following this assassination locals took to the street and demonstrated their anger by attacking two FARDC solders who where rooming around the area and snatched one Radio and one grenade from them. FARDC solders retaliated by opening fire in the air as they successfully dispersed the furious crowd and recuperated their seized items. The same demonstrators walked down the hills to Sake where policemen quelled them.
In a curious attack on the humanitarian organization, CARITAS. MONUC offered this report:
MILOBS reported on 12 January of an incident in the NGO Caritas-run camp in Masisi centre. The camp for former CAAGs saw a tense situation among the 108 children as they accused the staff of Caritas of physical abuse. Some children tried to take NGO staff members hostage and one angry child tried to steal a weapon from a PNC element present on site. The latter fired in the air in order to disperse the children. NK Brigade indicated that the incident was also triggered by Hutu children who perceived Hunde children being favoured by the Caritas staff. MONUC is following-up.
The ethnic tension is evident in this report, but the words "physical abuse" required a follow up call to Caritas, which had this statement:
There was trouble at the former child solider camp as described after a Caritas staff member who was popular was moved elsewhere. During the problems, two Caritas staff were found to be drunk and disorderly on duty. They were immediately disciplined and removed from their posts. No physical abuse of the camp residents took place or is alleged.
There is a lesson to be learned here. All information coming out of Congo is suspect. But it is not easy for journalists to follow up on all of it.
Since this is beginning to sound more and more like a description of the third circle of hell, the latest information concerning the eruption of the Nyamulagira volcano revealed that lava fountains continue to spread, but the speed of the flow toward the main road axis of Goma-Sake has decreased. That is the good news.
Finally, the Chinese have offered more economic support for Kabila's peace without justice initiative. No surprise there, as China has been steadily increasing its influence in both Rwanda and DRC and is training troops in Congo. Call it the elephant in the room or the anaconda in the chandelier, China bears watching for human rights violations and will likely provide more heat than the Nyamulagira volcano in the coming year.
Popular in the Community