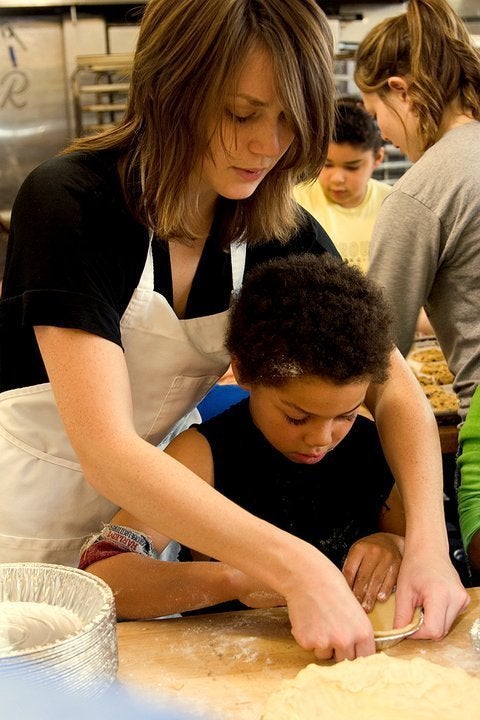 It turns out star chefs like Alice Waters (Chez Panisse, Berkeley) and Ferran Adria (El Bulli, Costa Brava) have more in common than dining rooms people travel the world to eat in. They're both fans of the Sprouts Cooking Club and have worked with Sprouts' founder, Karen Rogers.
Sprouts is a nonprofit headquartered in California's Bay Area that aims to teach kids of all socioeconomic backgrounds the basics of healthy cooking and better living. By providing access to teachers (from volunteer counselors to the world's best chefs), the cooking club offers youth a window into a world of nutrition to which they would normally not have access.
Operating on a scholarship model, Sprouts budgets 10 percent of its revenue towards discounting and gifting cooking courses to those who are unable to pay the class fees (which Rogers says cover overheard costs, such as insurance). The number of students who have received discounts and scholarships is well over 100, and Rogers said that last summer, over 65 percent of students were awarded scholarships.
"That way we're able to create a program that includes everyone, not just ambitious parents of means," Rogers said, adding that partnerships with the Berkeley Unified and Oakland Unified School Districts have been essential in spreading the message and ensuring that the program has a steady stream of eager students.
Though it's hardly half a decade old, the organization has already racked up some impressive accomplishments. Rogers and company have traveled twice to France, and this year Sprouts will be taking 10 to 13 young students to Spain, where they'll meet with Ferran Adria, widely considered one of the most talented chefs on the planet.
For Rogers, the trips are a way of widening the young students' perspectives on food and showing them where food actually comes from.
"We will be cooking with top local chefs, making our own cheese, going to goat farms and taking trips to vineyards for the parents and guardians we are taking along," she said. Sprouts also has its own garden, which it uses to further educate students on the importance of using real, natural ingredients.
Also key to Sprouts' success is a five-year partnership with Whole Foods, which has donated ingredients and given Sprouts free reign in its commercial kitchens. Rogers was able to work with both the organic-friendly grocer and Kaiser Permanente to organize a healthy cooking series that spread across the Bay Area, with events from Napa to San Mateo.
Some of the lessons offered by Sprouts are quite simple. One may be surprised by the lack of "real food" knowledge in America, Rogers noted. Sprouts also works with the Seneca Center, offering cooking lessons for youth who come from abusive or troubled backgrounds. "Some of these kids talk to me about what they eat, and a lot of them live off of donuts or Jack in the Box -- or their favorite meal is macaroni and cheese from a box," Rogers said. "One child had never seen an eggplant before."
Rogers said she knows how she can help abate this American crisis: "The most important thing is that we are serious about the objective, which is teaching children how to cook and appreciate real food."
WATCH: Get an inside look at the Sprouts Cooking Club
Related
Popular in the Community