The Getty Foundation has singled out 10 architectural landmarks from the 20th century worth preserving, from Frank Lloyd Wright's Robie House in Chicago to Le Corbusier's apartment and studio in Paris to Jørn Utzon's Sydney Opera House. The new campaign, Keeping it Modern, aims to maintain some of recent history's epic feats of building and design by offering sizeable grants to the foundations charged with looking after them. Getty recognizes these foundations as upholding models of conservation for the modern age.
This year, the Getty Foundation staff was responsible for choosing the inaugural grantees -- eligible buildings needed to "be significant, publicly owned, and serve a public function," and proposed conservation plans could not focus on rebuilding. Going forward there will be juried competitions to determine the winners.
Check out a list of the 10 modern architectural landmarks worth conserving for future generations below:
1. Paimio Sanatorium, Finland

Paimio Sanatorium by Alvar Aalto in Finland (Wikicommons)
Designed by Finnish architect Alvar Aalto, the Paimio Sanatorium was created between 1930 and 1933, and was intended to function like a "medical instrument" that would, according to the Getty, "contribute to the healing of tuberculosis, paying close attention to hygiene and patient comfort." It is no longer used as a health care facility, so the structure's conservation plan aims in part to explore new uses for the remote building -- it's located in a pine forest. (Grant: Alvar Aalto Foundation, $180,000)
2. Eames House, United States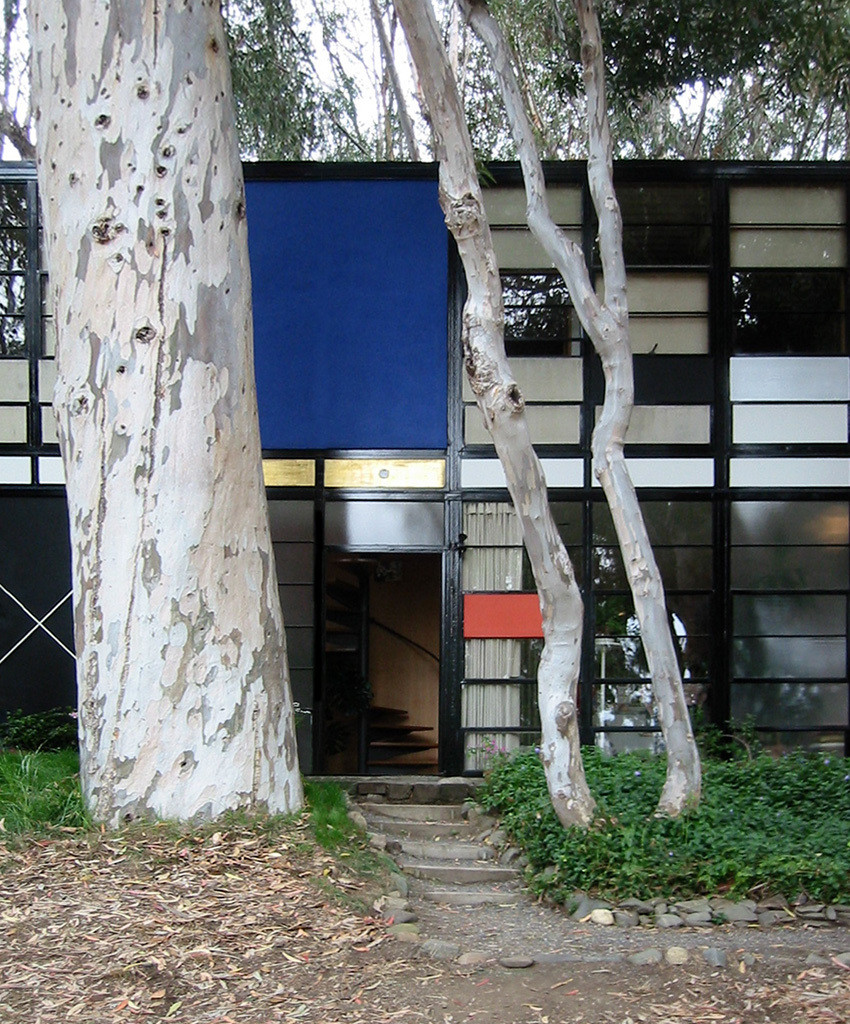 The entry door to the Eames house (Wikicommons)
The Eames House, built by renowned design duo Charles and Ray Eames, is a stunning fixture in Pacific Palisades, California. The married couple painstakingly imagined nearly every detail of the home, modifying it over the nearly 40 years they lived there (from 1949-1988). "It was also known as Case Study House No. 8, because it was commissioned by Arts & Architecture magazine as part of a program challenging architects to design progressive but modest homes in Southern California that demonstrated what life could be like in the modern age," The New York Times' Sarah Amelar describes. (Grant: Charles and Ray Eames House Preservation Foundation, Inc., $100,000)
3. Le Corbusier's Apartment and Studio, France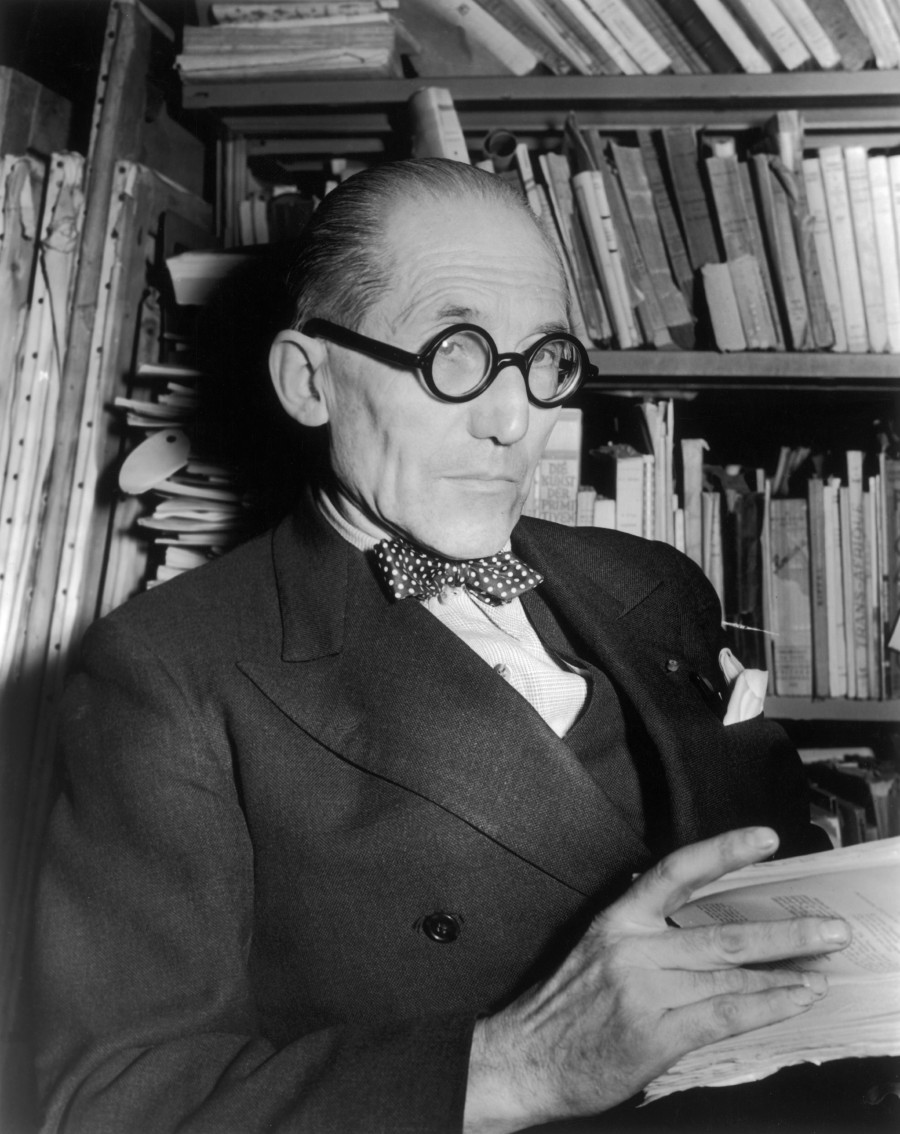 The French architect posing in his Paris apartment on March 21, 1947, before leaving for New York to study designing plans for the U.N.'s headquarters. (Photo by Keystone-France/Gamma-Keystone via Getty Images)
Le Corbusier designed an apartment complex in Paris, France in the early 1930s, and he ended up taking over the top two floors for his own apartment and studio. He lived there until his death in 1965. Charles-Édouard Jeanneret-Gris, aka La Corbusier, is known as one of the pioneers of modern architecture in general, so it's fitting his building made the cut. The conservation plan intends to document the changes that have occurred inside the space in order to develop a new restoration scheme. See more expansive photos of the apartment here. (Grant: Fondation Le Corbusier, €147,000)
4. Robie House, United States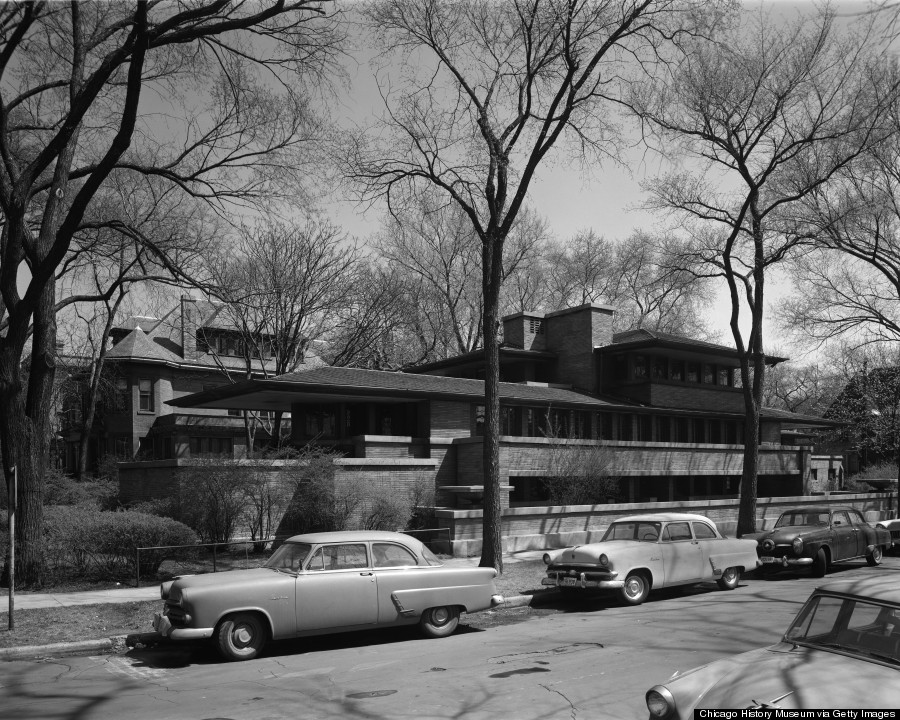 View of Frank Lloyd Wright's Robie House, completed in 1910, Chicago, IL, 1956. (Photo by Hedrich Blessing Collection/Chicago History Museum/Getty Images)
Chicago's Robie House is one of the most well known examples of Frank Lloyd Wright's beloved Prairie Style architecture. Built in 1908-1910, the brick and glass haven is just as modern on the outside as it is in the inside. (Grant: Frank Lloyd Wright Trust, $50,000)
5. Miami Marine Stadium, United States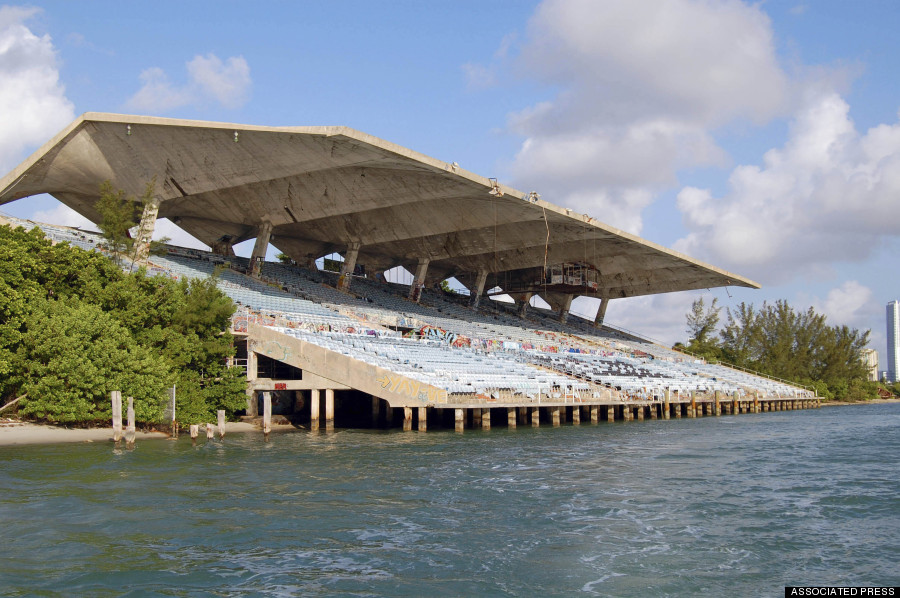 This undated photo provided by Friends of Marine Stadium shows Miami Marine Stadium on Key Biscayne, an island east of downtown Miami. Architectural experts both in Miami and around the world say the 6,566-seat Miami Marine Stadium is a significant modernist structure -- and the move to preserve it is not a joke. (AP Photo/Friends of Marine Stadium, Rick Bravo)
Miami Marine Stadium, designed by Cuban American architect Hilario Candela in 1962, is a recognizable structure that sits on the city's waterfront like a precarious piece of oversized origami. Once a boat racing venue, the stadium closed in 1992 after Hurricane Andrew. "As a result of many years of disuse, the building faces two interrelated conservation challenges: the structural integrity of and surface damages to the concrete, as well as extensive graffiti." The graffiti has attracted artists from around the country who've taken a shining to the present state of the landmark. (Grant: Friends of Miami Marine Stadium, $180,000)
6. Museum of Architecture in Wrocław's Centennial Hall, Poland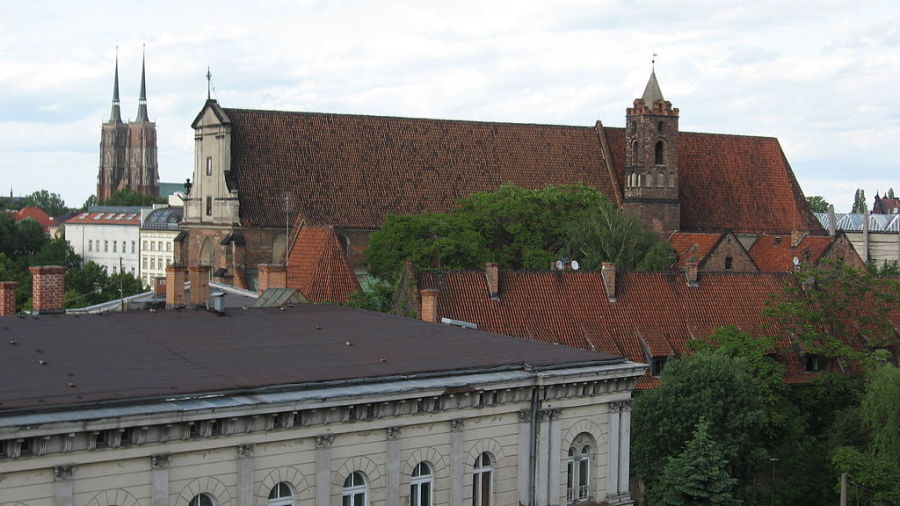 Museum of Architecture in Wrocław (Wikicommons)
German architect Max Berg designed the Museum of Architecture in Wrocław's Centennial Hall to celebrate the 100th anniversary of Napoleon's defeat at the Battle of Leipzig. Completed in 1913, the building was then the "largest reinforced concrete structure in the world" with the "biggest freestanding dome ever." (Grant: Museum Architecture in Wrocław, $200,000)
7. Salk Institute for Biological Studies Campus, United States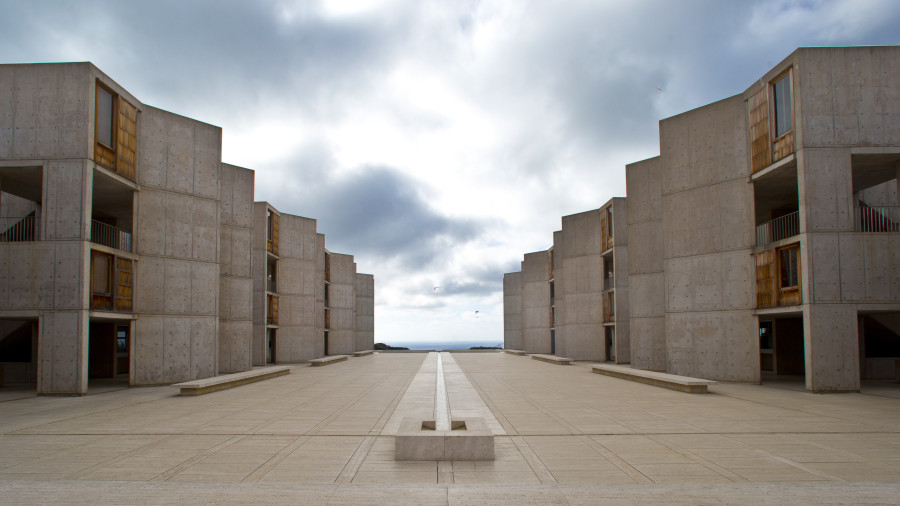 The Salk Institute, designed by world renowned architect Louis I. Kahn, above the Pacific Ocean and adjacent the glider port and the University of California San Diego. (AP Photo/Lenny Ignelzi)
Architect Louis Kahn is the man behind La Jolla, California's Salk Institute for Biological Studies. He worked in close contact with Dr. Jonas Salk, the campus' namesake, to create a tranquil center for science and academic exploration. The conservation plan takes note of the site's unique materials: pozzolanic concrete, unfinished teak, lead, glass, Cor-Ten steel left to weather and rust, and stainless steel/nickel alloy. (Grant: The Salk Institute for Biological Studies, $200,000)
8. Sydney Opera House, Australia

Sydney Opera House (Getty)
This is probably the most well-known item on the list. Designed by Danish architect Jørn Utzon and constructed between 1959 and 1973, the Sydney Opera House has become the cultural symbol of Australia. This conservation plan is proactive: it will include a comprehensive study of the concrete elements of the building. (Grant: Sydney Opera House Trust, $200,000)
9. Max Liebling House, Israel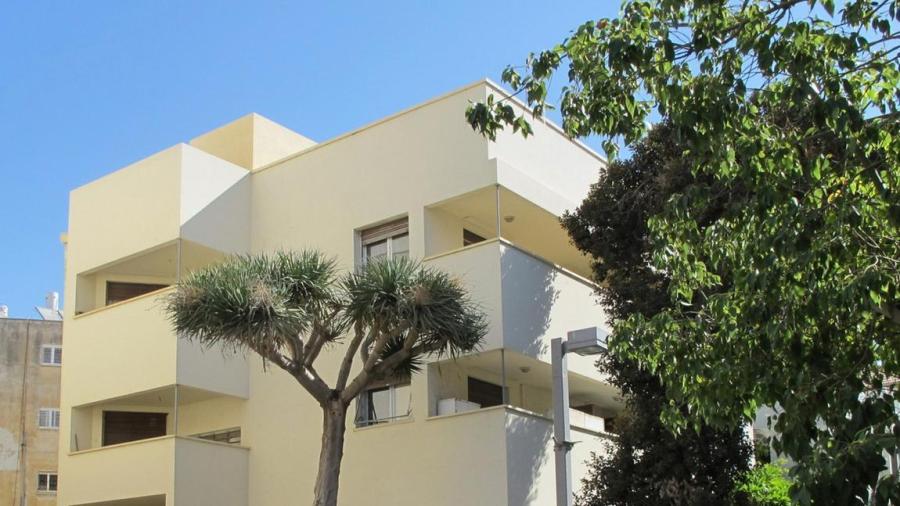 Dov Karmi's Max Liebling House in the White City of Tel Aviv. (G. Lindlar / J. Paul Getty Trust)
Did you know that Tel Aviv is home to nearly 4,000 Bauhaus structures, and is the largest concentration of modern movement buildings in the world? The 1936 Max Liebling House is one of them, imagined by Israeli architect Dov Karmi. (Grant: Tel Aviv-Yafo Foundation, $130,000)
10. Tunghai University's Henry Luce Memorial Chapel, Taiwan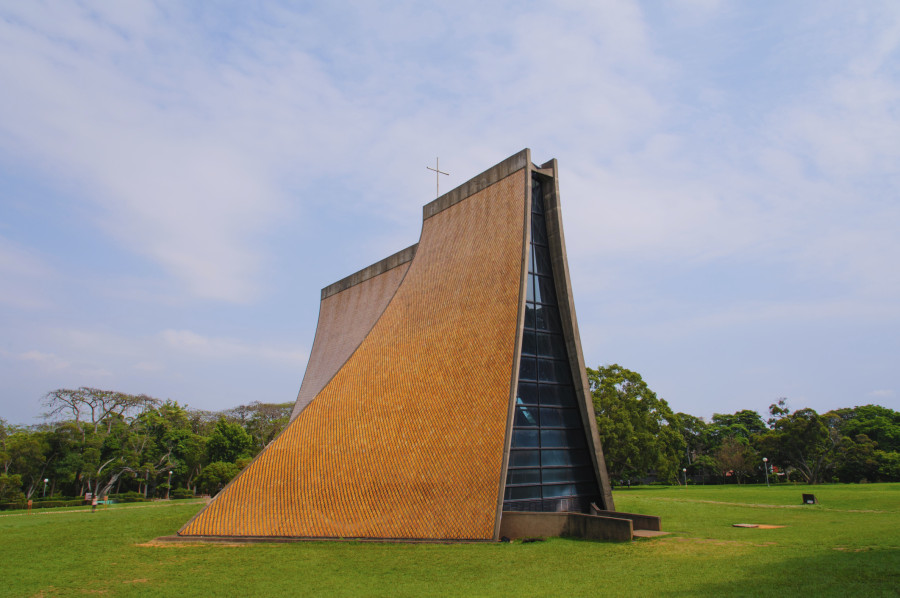 Tunghai University (Getty)
The I.M. Pei-designed chapel dates back to 1962, and was completed with the help of artist C.K. Chen in 1963. Combining the functionality of modern design with the traditional swooping lines of older Chinese architecture, the building was meant to be made from wood, but ended up being constructed using in situ cast concrete. "A Getty grant will be used to create a comprehensive conservation plan for the chapel, the first ever for a modern movement building in Taiwan." (Grant: Tunghai University, $175,000)
Calling all HuffPost superfans!
Sign up for membership to become a founding member and help shape HuffPost's next chapter
BEFORE YOU GO
PHOTO GALLERY
10 Architectural Landmarks You Have To Visit Before You Die