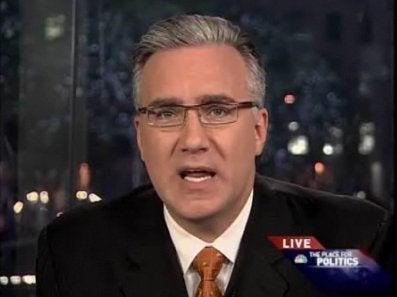 Olbermann smacked down the Post report, explaining that Matthews was talking to "a Pennsylvania acquaintance" about a speech he was to give in Gettysburg, that Matthews does not want to be on any list of possible Russert successors, and that Olbermann "[doesn't] even consider [himself] qualified" for the position.
Watch (full comments below):
Keith Olbermann's full response to the Page Six item:
As we mourned Tim Russert yesterday in Washington, a Pennsylvania acquaintance of Chris' came up to him and said, 'You should be on the list to succeed him.' Chris said he didn't want to be on any such list. He changed the topic immediately. He asked this Pennsylvania man, who is not his agent — no agent would be crass enough to bring up such a topic now or there — for advice on a speech Chris is to give at Gettysburg, PA next week. What he should say. How he should approach it. The speech.

As for myself, not only have I never threatened to quit if I don't get Tim Russert's job. Not only have I not vied for it. Not only has the subject not even come up between me and anybody who will be involved in this sad task. Not only did the Post make this up. Not only is the very subject of Tim Russert's job not appropriate now, as anyone with a shadow of a heart would understand, but I don't even consider myself qualified for it.
Support HuffPost
The Stakes Have Never Been Higher
Related
Popular in the Community