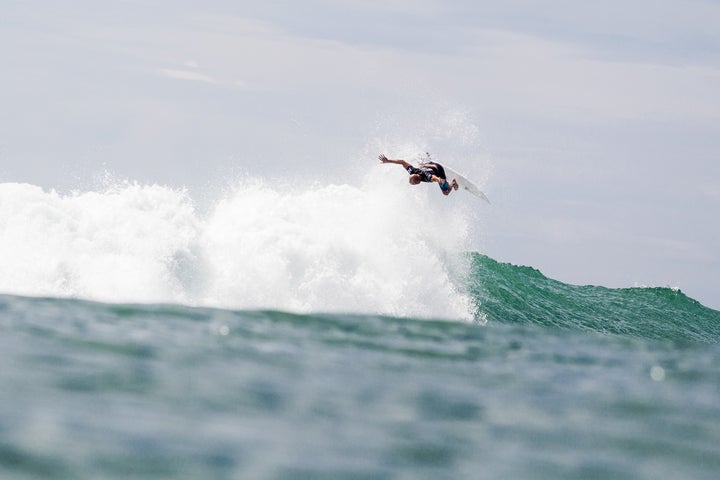 Nope. The 43-year-old isn't even close.
During his Saturday heat at the 2015 Hurley Pro at Trestles surf contest, Slater pulled off an insane aerial maneuver that has surfers everywhere scratching their heads in disbelief. 
As seen in the video below, Slater goes for a wave early in his heat and launches himself off the lip of the wave, while rotating in the air. He disconnects  while spinning with it and lands on his stomach in the white wash. 
Then, in one quick and fluid motion, Slater grabs his board, places it underneath him, pops back up and continues surfing the latter part of the wave where he snaps a few turns and even executes a backside 360 -- all like it's no big deal.
The World Surf League judges considered the wave incomplete since Slater did not land on his feet after the aerial. He eventually lost the heat to Mick Fanning.
"Surfing is not gymnastics," a surf blogger wrote on The Inertia. "It's an extreme sport where you go for the craziest shit you can think of and try to ride out."
 Slater, however, didn't take things so seriously.
 As for the low score, Slater brushed it off.
Watch Kelly Slater's full ride and Aquaman-like skills in the video below.
PHOTO GALLERY
Surfing In Hawaii
REAL LIFE. REAL NEWS. REAL VOICES.
Help us tell more of the stories that matter from voices that too often remain unheard.