 In 1990, actor Ken Wahl seemed to have it all: A starring role on a critically acclaimed TV show; Emmy nominations; a Golden Globe best actor award; magazine covers, including a "Sexiest Man on TV" citation from US Magazine (a title that he still reacts to with a cringe); movie offers from top directors; and women mobbing him wherever he went.
Oh, and more money than a working class high school dropout could ever dream of, money that he shared freely. Wahl was so generous with family, friends -- and even hard-up strangers -- that he earned the nicknames "Santa Claus" and "Elvis" on the set. Yet shortly thereafter, at the very height of his fame, he lost this fortune, along with his health, and fell into relative obscurity almost overnight.
What happened to Ken Wahl, and what is he doing now? Intensely private and tired of being "misquoted and misrepresented" in the media, he has avoided publicity over the past few decades, making exceptions only for significant causes he feels passionately about. In 2010 he made headlines for offering his Golden Globe as a reward for information on a horrendous case of animal abuse, a kitten glued to a Minnesota highway and left to die; and last year he lent his name and contributed voice-over commentary for the documentary Saving America's Horses, which exposes how American tax dollars are being spent to slaughter horses for foreign profit. "Horses are as much a symbol of our country as the bald eagle," he says, "They helped build our country, and most Americans would be disgusted to learn the truth."
I was able to speak to Wahl recently for a rare interview, to shed some light on a life with more twists and turns than any movie script, as well as the charitable causes that are spurring him back into the public eye: Disabled war veterans and animal rescue, two causes he considers a perfect match.
By his own account, he was never comfortable with the Hollywood lifestyle, and a more reluctant star would be hard to find. In 1978, when he trekked from Chicago -- where he had been pumping gas for a living -- to California with $300 in his pocket, he was more interested in making a little fast money for his family than attaining the fame sought by most Hollywood pilgrims. He figured he'd give this acting thing a year, cash out if he was lucky, then maybe pursue his real dream, professional baseball.
Fate had other ideas for Wahl. Less than seven months later, this young man who'd never taken an acting class, much less performed in a school play, arrived at the set of The Wanderers for a small part, and instead was cast in the leading role by director Philip Kaufman, who saw potential in the untested newcomer.
If it had only been good fortune and strikingly good looks that landed the Wanderers role, the story might have ended as a Hollywood footnote. But as Kaufman had recognized, Wahl had an innate talent for acting. Suddenly he became a sought-after leading man, appearing in a string of movies, including a co-star stint with Paul Newman (Fort Apache, The Bronx, 1981), who became a lifelong friend and advocate. (Newman once even wrote a letter to the manager of the Chicago White Sox on Wahl's behalf to request a tryout.)
But it was his starring role as the angst-ridden undercover operative Vinnie Terranova in the Wiseguy series (1987-90), a crime program that was groundbreaking in many ways, that he is best remembered for. While garnering critical praise for his portrayal of a conflicted federal agent, he also achieved pop idol status, requiring a phalanx of bodyguards to keep away rabid female fans.
He left the program in 1990 to pursue an increasing number of movie offers (not fired, which Wahl says was falsely reported), and by the time of his 1991 divorce, from former Penthouse Pet Corinne Alphen, he felt secure enough in his future prospects to cede most of his assets for the supposed benefit of his son, Raymond, at the advice of his trusted accountant and business manager -- a trust he would later regret.
His descent began literally and figuratively in 1992, when he suffered a broken neck and severe spinal column injury. The accident itself, and the way he reported it, did little for his reputation: Although it emerged later that the incident happened when he fell down a flight of marble stairs at the home of Rodney Dangerfield's girlfriend during a romantic dalliance, she begged him to stay silent. He agreed to tell the press, not altogether convincingly, that the injuries were caused by a motorcycle accident, a lie that was rather quickly disproved.
The injury and two subsequent operations -- botched, according to Wahl -- soon left him in chronic pain that made acting virtually impossible; however, at the urging of his business manager, he still accepted and suffered through occasional work through 1996, turning to alcohol to self-medicate the pain. (Eventually, after finding himself virtually penniless in 2009, Wahl filed a lawsuit which stated that the manager, to whom he'd granted power of attorney, had been working in partnership with Wahl's ex-wife since the divorce settlement; according to the suit, they had deliberately concealed the extent of his medical condition so they could keep him working -- and the money rolling in -- during a period when he had been declared disabled, all the while funneling out millions in property and cash intended for his son.)
Adding to the increasing surreality of his life, his talent agent Lloyd Bloom was murdered, execution style, in 1993. Wahl and others contend the murder, never solved, was a mob-related hit, something that reads like a Wiseguy episode.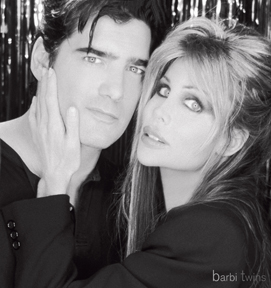 His life took another turn in 1996, when he met Shane Barbi, one half, with sister Sia, of the famous Playboy cover models The Barbi Twins. As it turned out, Shane hated the Hollywood scene as much as he did. As he describes it, "We loved each other in spite of our images." Of course, when the Playboy pinup and "Sexiest Man" actor with the headline-ready names "Ken and Barbi" married in 1997, the news went viral in the tabloids. What wasn't reported was the unglamorous reality of the wedding: they headed incognito to Las Vegas, getting married in jeans and hiking boots, Shane in a white sweatshirt, Ken in a flannel shirt.
The relationship clincher for Wahl had come shortly after they met, when Shane turned down his invitation to attend the Academy Awards because it would interfere with her scheduled volunteer work at an animal shelter. "That was so rare," he relates," in the past I'd dealt with women who were gold diggers, into the glamorous seductive life, the fame, money, premieres. Shane gave up so many opportunities that most women in Hollywood would die for so that she could help animals, walk dogs at shelters -- and not just pose in pictures with animals, but help them hands on."
This commitment to animals definitely spoke to him. "I've never been without an animal," Wahl says. Even as a child he concerned himself with saving animals in peril, to the point where his family called him a "fanatical animal lover." He recalls nursing a bird with a broken wing back to life when he was six, rescuing an injured mouse, and being upset by the cruelty of the circus. As an adult, he belied his tough-guy image by becoming a devoted "cat person" plus a frequent adopter and foster parent to shelter animals, something that he considers both rewarding and therapeutic for his condition.
"Therapy pets have always been known to help the physically and mentally disabled," he says, "But there's much more to therapy if you go and actually save a dog, horse, cat --- any kind of pet -- from death, because it makes you feel connected and contributing, the two things you lose when you get injured and can no longer work because of your disability."
This is where his two passionate causes fit together: A self-described patriot and staunch supporter of war veterans, Wahl was distressed to read of the high suicide rate among returning soldiers. From his own experience, he is convinced that the therapeutic effects of bonding with animals could play a major role in cutting down on PTSD, depression, and suicides among disabled veterans; at the same time, these vets could be providing good homes for the many companion animals who would otherwise face death at "kill shelters." He has now made it his mission to coordinate these two causes. He supports such organizations as Horses for Heroes, but beyond the work of these existing organizations, Wahl sees a need for a larger, coordinated effort, a charity to serve as conduit between veterans and various animal rescues.
And he is stepping up to the plate to do what he can to organize this cause, which seems a perfect use for both his fame and generosity. As Ken Wahl describes it, "I feel like I've found my second calling."
Image: Ken Wahl and Shane Barbi