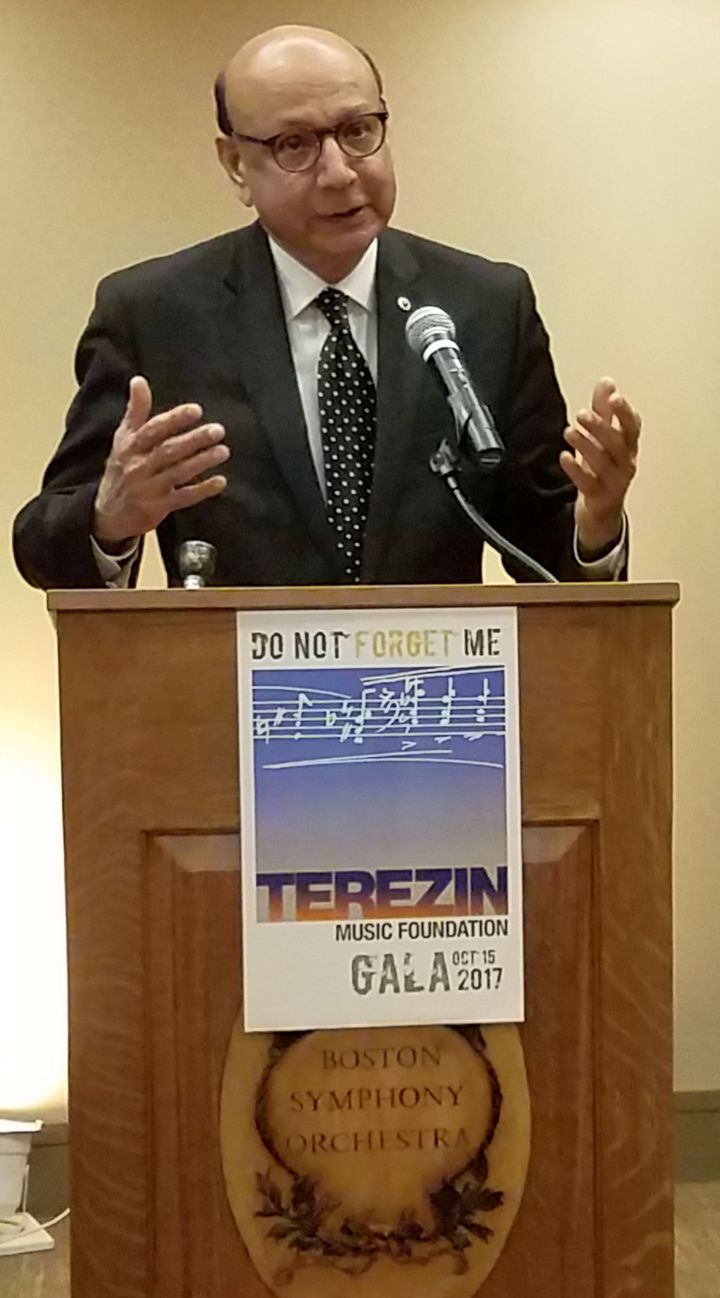 Gold Star father Khizr Khan received the 2017 Terezín Legacy Award at Boston's Symphony Hall on Oct. 15 during "Do Not Forget Me," a musical tribute to composers Gideon Klein, Pavel Haas, Viktor Ullmann, Hans Krása and Ilse Weber. The five, who perished in the Holocaust, were among the artistic community imprisoned at the Terezín concentration camp outside of Prague. Their songs, poems, operas and chamber music, created under unimaginable duress, were largely recovered by the Boston-based Terezín Music Foundation.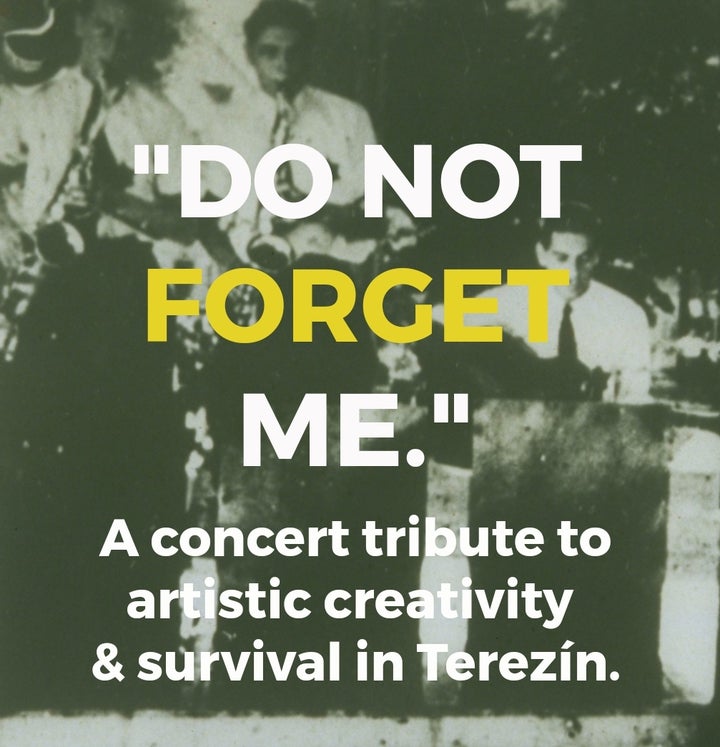 Khan, whose speech last summer critiquing Donald Trump was a definitive moment of the Democratic National Convention, was introduced by Boston mayor Marty Walsh. Mass. State Senator Cynthia Creem, former Mass. Treasurer and Democratic National Committee Chairman Steve Grossman, German Consul General in Boston Rolf E. Schütte, and Honorary Consul of the Republic of Poland in Boston Marek Lesniewski-Laas were also in attendance to support the work of the TMF.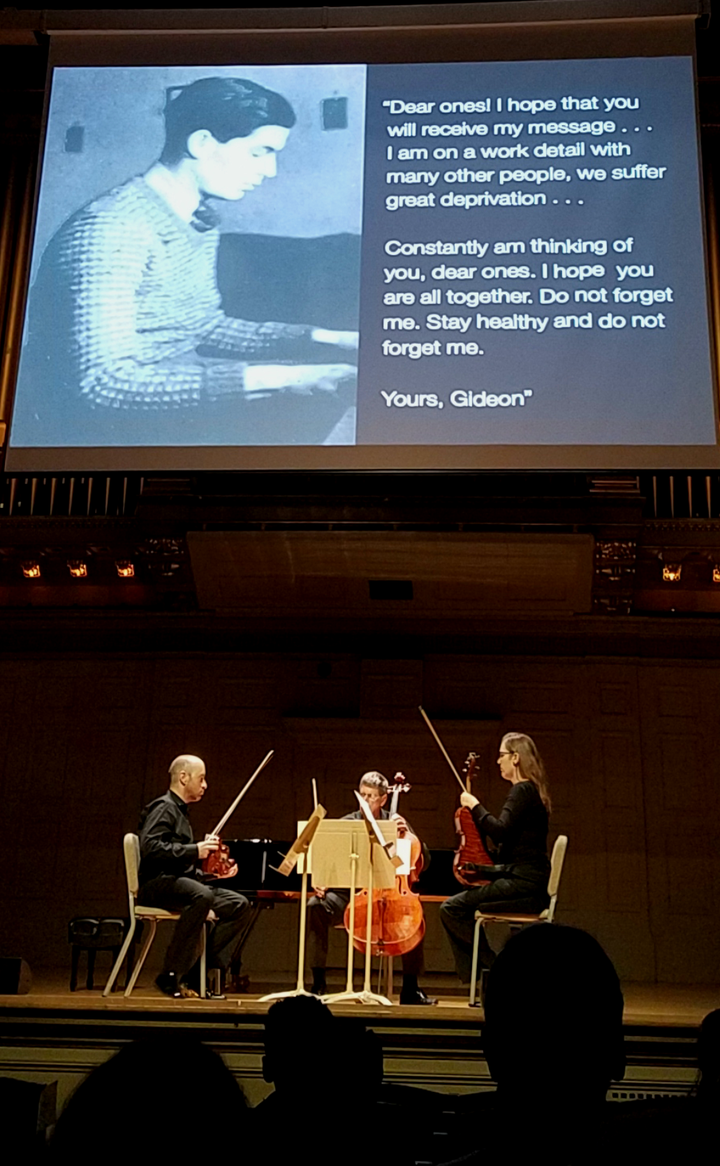 The Boston Children's Chorus sang from Krása's "Brundibar" and were joined by Michael Gruenbaum, who performed it as a child in a Nazi propaganda film. Although they famously and falsely portrayed as an idyllic haven, it was a horrific place where about 33,000 Jews died and 88,000 were confined prior to deportation to death camps. Gruenbaum detailed his experiences there in his 2015 book, "Somewhere There is Still a Sun."

The program, which was conceived of and written by Mark Ludwig, a BSO violist who founded the nonprofit foundation in 1991, was narrated by Jim Braude, an Emmy and Associated Press Award-winning radio and television personality who co-hosts the WGBH public radio program Greater Boston; hosted Broadside: The News with Jim Braude; and contributes to The Boston Globe Magazine.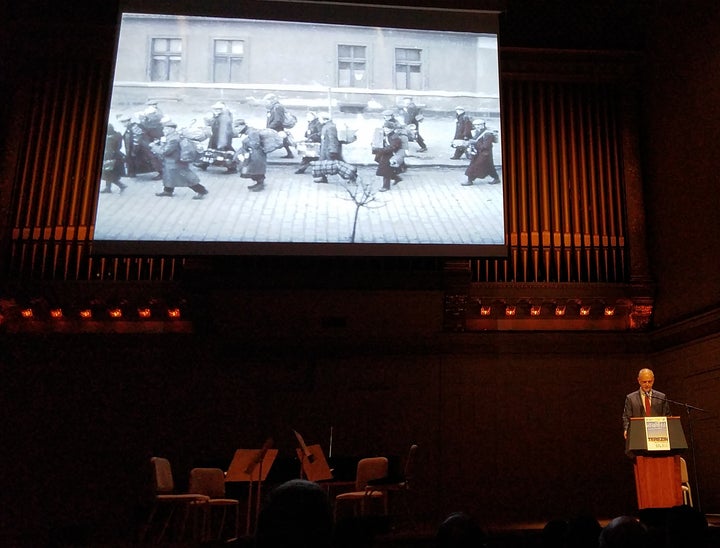 The "Do Not Forget Me" title was taken from a letter Klein wrote, found after he died in 1945 at the Fürstengrube concentration camp. "We suffer great deprivation . . . Constantly am thinking of you, dear ones. I hope you are all together. Do not forget me," he wrote.
Klein's String Trio, performed by the Israeli Chamber Project
Weber's "Emigrant Song" gave children hope at the camp; her songs were performed by Tillemann-Dick with the BCC. Haas' poetry yearned for his wife and child; his songs were sung by Rogers. BSO members performed chamber works by Klein, who was a gifted pianist, composer, and conductor often compared to Leonard Bernstein, and by Ullmann, an Austrian composer, conductor and pianist who had been a standout student of Arnold Schoenberg. Krása's children's opera "Brundibar," which hid a secret theme of resistance, continues to be staged today, and was put into book form by Tony Kushner and Maurice Sendak.
"...the lives and works of prisoners who created remarkable music in the midst of horror, offers insight relevant to contemporary human rights issues," the program states.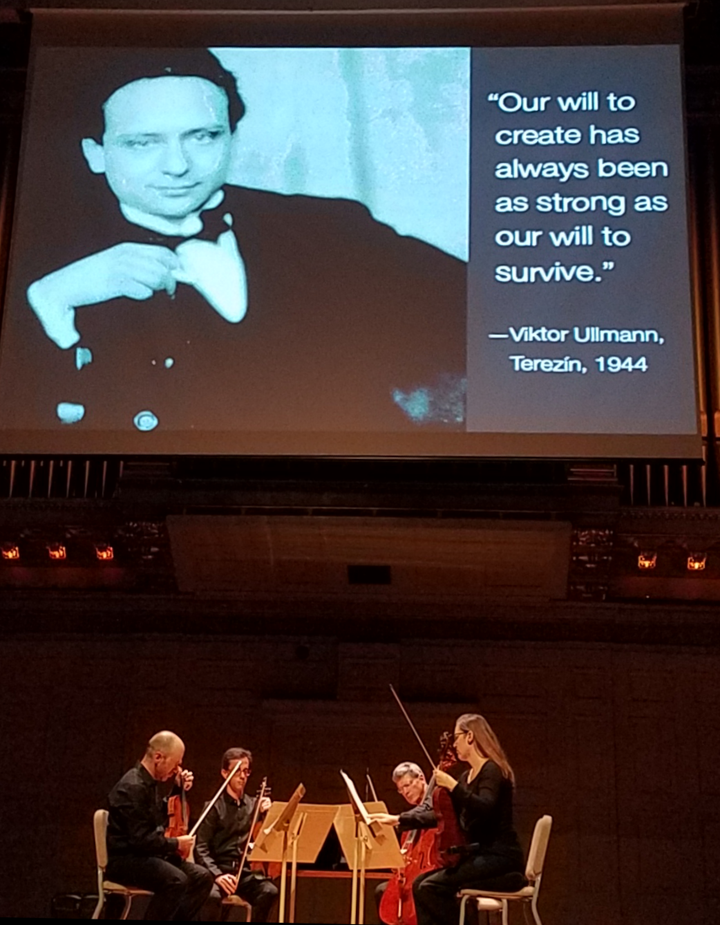 The Terezín Music Foundation produces concerts, music commissions, recordings, written materials and Holocaust education programs. With the support of a Fulbright grant, Ludwig was able to research and uncover the compositions of these imprisoned artists who were cut down in their prime.
"The Terezín artists left a priceless legacy that speaks directly to our challenging times: exquisite music that is a voice against oppression — and confirmation that the creative spirit transcends political and religious borders," wrote Ludwig in the program notes. The choice of Khan echoed this sentiment. "His presence underscores the relevance of the Terezín story to contemporary human rights issues," the press release states.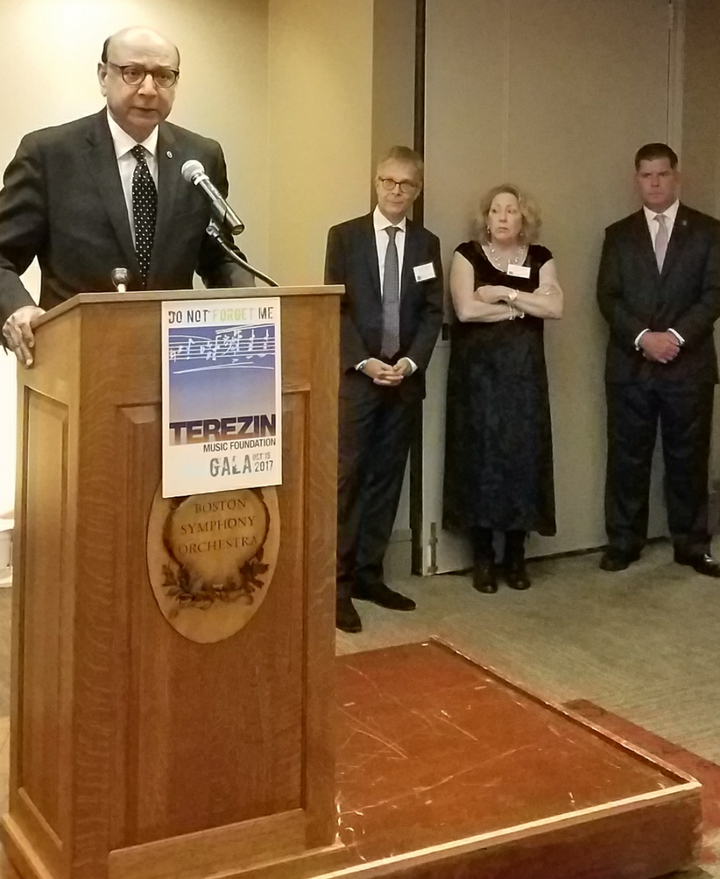 In his remarks, Khan, who lives in Charlottesville with his wife and grandchildren, praised Walsh's leadership in the wake of the August 11-12 white nationalist rally. "I was there on the 10th of August, I was there on the 13th of August, and then, we saw Boston," he said, turning toward Walsh. "We saw your leadership, with amazing inspiration and hope."
An August 19 free speech rally held in Boston was eclipsed by counter-protesters, and dissipated early. Walsh has also been a vocal national leader against President Trump's crackdowns on immigrants, and in his introductory remarks, he stressed that he himself is a first-generation immigrant.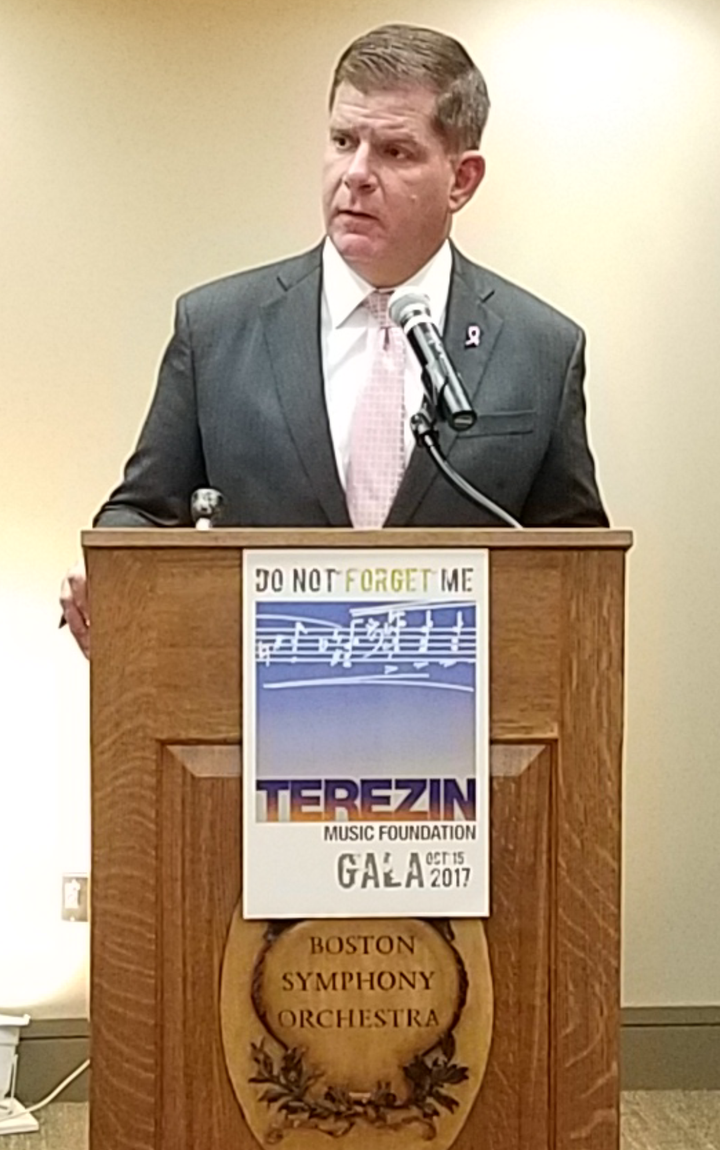 "It's important for us to stand up, and to push love, and tolerance, and fight against hatred and discrimination," he said. "That is not what we stand for in this country."
Walsh told the crowd that many of them, like he himself, were sons and daughters of immigrants, whom, he said, came to this country in order to support their families back home. He introduced Khan as "The man who gave an incredible speech that we will never forget, a speech that was remarkable from his heart." And yet, Walsh added, "We didn't realize how appropriate and how important it was at the time."
Khan assured the audience that our troubled times are temporary. "I am undeservedly standing before you, so humble," he said, as he thanked the assembled "for remaining a beacon of hope for this country."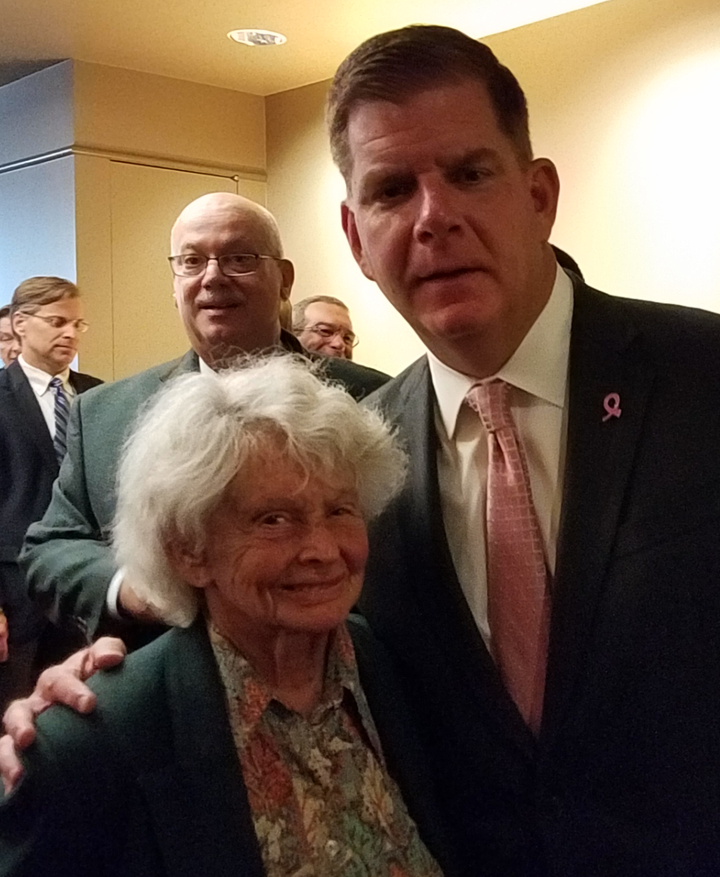 Walsh later chatted with Margot Segall-Blank, who qualified as a gymnast for the 1936 Berlin Olympics but was subsequently barred from participating, and Sam Weinreb, a Czech native who, following the deportation of his entire family while he was at a bar mitzvah lesson, lived on the streets, in prison and at Auschwitz before being rescued by Russians who found him unconscious near a death march. "Every time I meet a Holocaust survivor, I'm just struck by their resilience and their strength, so many years later, and it's no different today, meeting these two special people," Walsh told me.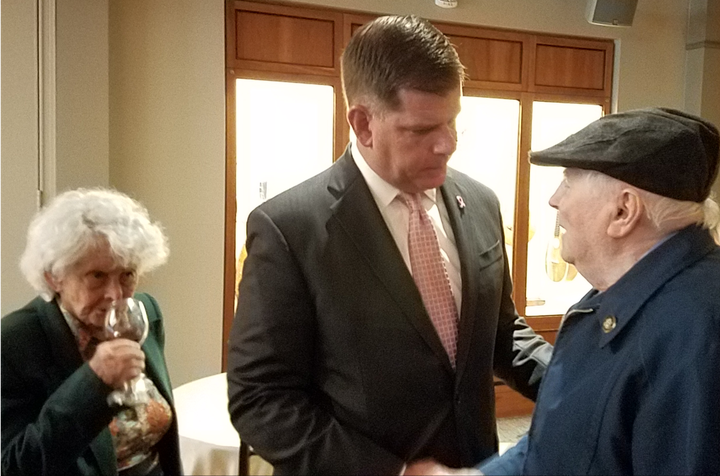 "I spent two years in a jail in Hungary, and then many years on the streets because I was afraid and didn't want that the police should find me," Weinreb told me. "But the saddest thing of all was that I lost my whole family." Holocaust survivor and violinist Jorge Gardos, who hid with his mother in Budapest during the war, was also in the crowd.
"As we learned about each musician, we began to understand the real story and impact of Terezín," said Judi Bohn, who is the Special Projects Coordinator at the Brookline, Mass.-based educational organization Facing History and Ourselves.
"It was hard not to weep when Michael Gruenbaum took to the stage to sing from Brundibar with the Boston Children's Chorus," she continued. "But, it is so important to do more than simply listen to the music. Listening and sharing the stories, and listening to each other. That is remembering."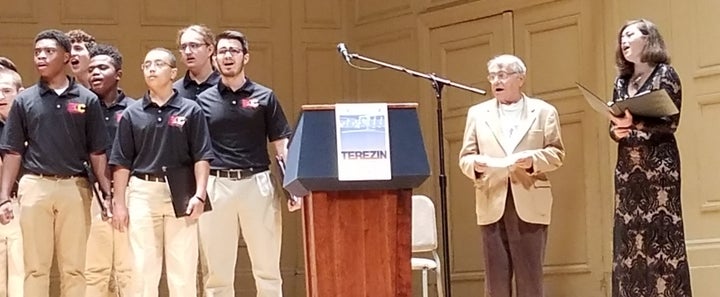 Attendee R. Harvey Bravman told Ludwig that he was moved to tears during the segments with Tilleman-Dick, Rogers and the Boston Children's Chorus. "Being able to hear the music of those great composers while being reminded of their fate was profoundly sad, and profoundly uplifting at the same time," he told Ludwig. "Because of you, we won't forget them." Bravman is the producer and director of "Soul Witness, The Brookline Holocaust Witness Project," a documentary film based on over 80 hours of interviews of local survivors conducted by Holocaust historian Lawrence Langer that were held in a metal closet for nearly 25 years. He recalled that Gruenbaum contacted him after seeing the film with an offer to help with the project.
"I've come aboard late in the effort to bring the voices of survivors to the public consciousness," said Bravman. "Meeting people like Michael and Mark is a byproduct I never expected."
I told Khan that I was at the DNC last summer when I heard him give his momentous and historic speech, and how his immediately stood alone amid a day and evening packed with dramatic remarks. "It was for all of us," he told me.
"Great music-making is about dialogue and about listening, and I think we could use a lot more of that today," Ludwig said at the start of the concert.
"'Do Not Forget Me' tells remarkable stories and reminds us that the longing for freedom is shared by all humanity," he said.
Related
Popular in the Community