WASHINGTON -- The main arm of the political network operated by billionaire conservatives Charles and David Koch raised $126 million in 2014 and distributed millions to more than 20 other groups active in last year's midterm elections.
According to an annual tax filing posted Tuesday on the Freedom Partners Chamber of Commerce website, the nonprofit group gave $87.6 million in grants and contributions to outside groups. It spent $28.5 million on its own activities and paid $13.3 million in salaries for its well-compensated managers.
Freedom Partners Chamber of Commerce, which is registered as a 501(c)(6) trade association, serves mainly as a fundraising portal to distribute money from its 200-plus donors to conservative political groups. As a nonprofit, it's not required to -- and doesn't -- disclose its donors.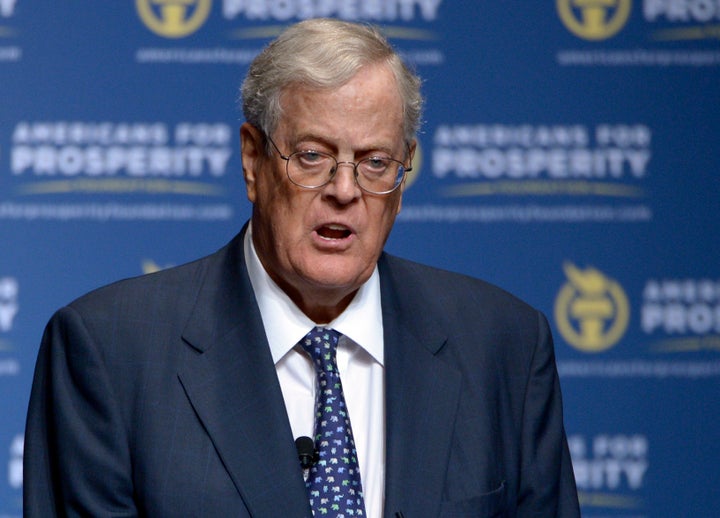 Its ostensible mission, according to the tax form, is to "advance its members' common business interests by advancing the principles of free markets and a free society." But Freedom Partners' money is spread well beyond business advocacy.
Three-quarters of the money Freedom Partners distributed last year went to other groups in the Koch network. Americans for Prosperity, the largest and most active political nonprofit founded by the Kochs, received the most: $22 million. Generation Opportunity, a nonprofit focused on the millennial vote, received $14.2 million. Concerned Veterans for America, a veterans group launched by the Kochs, got $12.7 million. Freedom Partners also sent $9.7 million to the Center for Shared Services Trust, $5.7 million to the Evangchr4 Trust -- which aims to disseminate and apply Biblical principles -- and $2.4 million to the American Energy Alliance.
Outside the Koch constellation of nonprofits, Freedom Partners gave $4.9 million to the National Rifle Association's Institute for Legislative Action -- another seemingly unusual choice for a nonprofit dedicated to advancing business interests.
It also sent more than $1 million to Citizenlink, the political nonprofit arm of the anti-gay marriage and anti-abortion evangelical group Focus on the Family, and $225,000 to the Susan B. Anthony Group, another anti-abortion organization. In the past, the EvangChr4 Trust has sent along all of its money to Citizenlink as well. Last December, David Koch said that he personally is in favor of same-sex marriage and abortion rights, but added that he's "really focused intensely on economic and fiscal issues."
During last year's primary season, Freedom Partners contributed to groups on both sides of the Republican Party's internal battles. It gave $2 million to the U.S. Chamber of Commerce, which tended to support GOP incumbents against primary challengers, and $1 million to the Club for Growth, which funded a number of those challengers. Heritage Action for America, another group advocating for the challengers, received $150,000.
The tax filing resolves one question left over from those primary fights: The Kochs were indeed behind Trees of Liberty, a nonprofit that intervened in the Iowa Republican primary against businessman Mark Jacobs. The $400,000 that Trees of Liberty received from Freedom Partners was part of an effort by the Koch network to help now-Sen. Joni Ernst (R-Iowa) secure the party's nomination, as previously reported by Politico.
Colorado nonprofits that helped defeat then-Sen. Mark Udall (D) in 2014 were also the beneficiaries of Koch funds. Freedom Partners gave $95,000 to IACE Action and $50,000 to the Colorado Women's Alliance.
Both groups worked to counter the Udall campaign's attacks on his opponent, now-Sen. Cory Gardner (R), for his opposition to abortion rights. Udall said during the campaign that Gardner would threaten women's access to birth control, something that Gardner denied. IACE Action ran radio ads criticizing Udall for his birth control comments, and the Colorado Women's Alliance launched a public relations initiative on the issue.
Other beneficiaries of Freedom Partners' funds included American Commitment ($400,000), the Dr. Joseph Warren Institute ($309,400), Americans for Tax Reform ($100,000), the Illinois Chamber of Commerce ($100,000), the Main Street Growth Project ($100,000) and the Ohio Freedom Project ($50,000).
As noted, none of the original donors to Freedom Partners Chamber of Commerce were named. The Kochs' complicated web of nonprofit groups is designed to funnel money into elections while limiting disclosure of donors.
Many of the groups in the network are registered as 501(c)(4) social welfare nonprofits with the Internal Revenue Service. By law, they must spend the majority of their time and funds on their stated social welfare purpose, but they commonly argue that means 49 percent of their resources can go to explicitly electoral activities.
These groups often spend even more targeting candidates through so-called issue ads that stop short of calling for the individual's election or defeat, but manage to paint a politically resonant picture nonetheless. Groups like Americans for Prosperity and Concerned Veterans for America spent millions in the lead-up to the 2014 election on issue ads attacking the most vulnerable Democratic senators.
Non-disclosed spending by political nonprofits, commonly known as "dark money," has surged since the Supreme Court's 2010 Citizens United decision opened the door to unlimited election spending by corporations, unions and wealthy individuals.
Popular in the Community