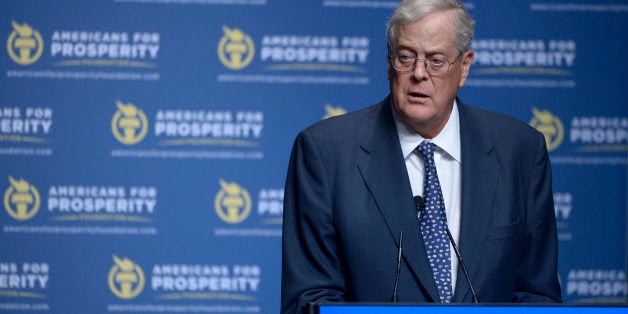 WASHINGTON -- Koch Industries, the conglomerate run by the billionaire conservative funders Charles and David Koch, responded in a cryptic manner to an article in Politico about a newly discovered nonprofit with vast resources connected to the brothers' political empire.
Politico revealed in a story Wednesday that the group Freedom Partners, an obscure nonprofit based in Virginia, raised and spent $250 million in 2012 to fund a number of nonprofit groups that were heavily active in the 2012 election. The story also revealed that Freedom Partners' board members are all connected to the Kochs including Dr. Richard Fink, executive vice president of Koch Industries and the president of the Charles G. Koch Foundation.
The website Koch Facts, set up by Koch Industries to respond to media stories about the political activities of Charles and David Koch, posted a statement on Thursday in response to the article.
"Freedom Partners is a non-profit, non-partisan business league that promotes the benefits of free markets and a free society," the Koch Facts statement reads. "Freedom Partners operates as a 501(c)(6) organization as defined by the Internal Revenue Service."
"According to its website, Freedom Partners has more than 200 members and is governed by a board of directors," the statement continues. "It operates independently of Koch Industries, and educates the public about a broad range of issues."
The response is unlike many other postings on the Koch Facts website because it does not dispute the article. Most of the postings to Koch Facts criticize journalists and politicians writing or speaking about the Kochs' political financing for bias, or label particular reports and statements as inaccurate. In some cases, the site has posted email correspondence with journalists to back up a case.
The Politico article revealed that Freedom Partners operated as a pass-through funding tool for donors within the Koch universe looking to remain doubly anonymous. Because of Freedom Partners' tax status, donors could give unlimited donations to the group anonymously, and then Freedom Partners could bundle those contributions to a series of conservative groups.
The Politico story was based on a draft of a yet-to-be-filed IRS disclosure report provided to the news organization by Freedom Partners president Marc Short.
According to the article, Freedom Partners sent $115 million to the Center to Protect Patients Rights, which operates as a pass-through funder for donors; $32.3 million to Americans for Prosperity, $15.7 million to The 60 Plus Association; $13.6 million to American Future Fund; $3.5 million to the National Rifle Association; $2 million to the U.S. Chamber of Commerce; and $1.5 million to the American Energy Alliance.
The group also gave multimillion dollar donations to less electorally active groups like Concerned Women for America Legislative Action Committee ($8.2 million), Themis Trust ($5.8 million), Public Notice ($5.5 million), Generation Opportunity ($5 million) and The LIBRE Initiative ($3.1 million). State Tea Party Express, Tea Party Patriots and Heritage Action for America all received contributions under $1 million.
Before You Go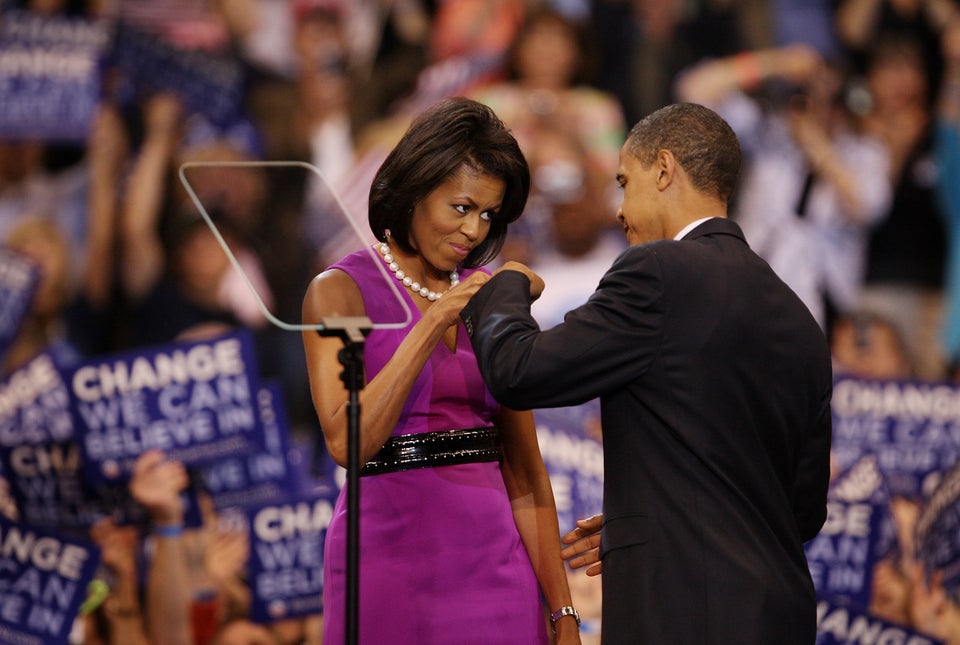 Obama's Fist Bumps
Popular in the Community