Nor is it her latex pants with booty cutouts that has people angrily retweeting her photos. Rather, it's the gilded wheelchair that she posed in for two of photographer Steven Klein's shots.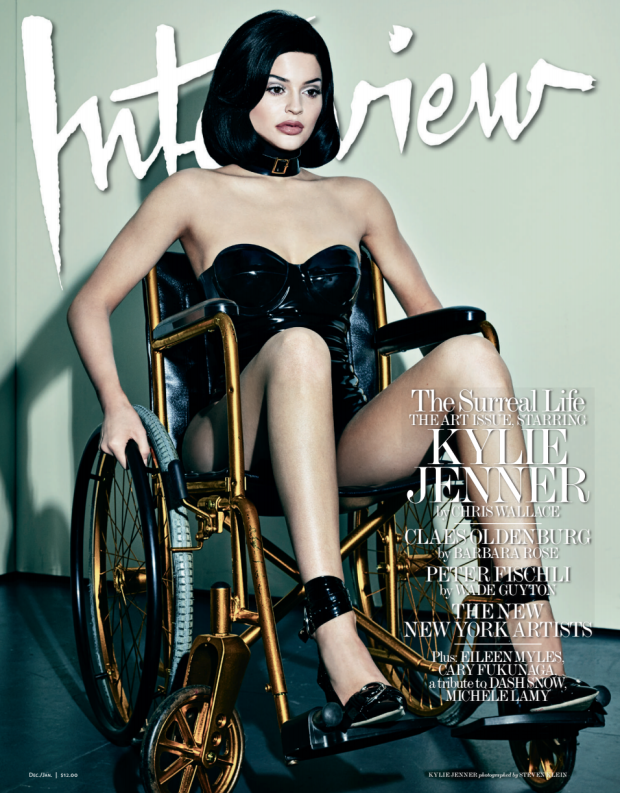 The 18-year-old old is taking heat on social media from users who consider the able-bodied reality star posing in the wheelchair to be offensive.
"It's deeply disturbing," Emily Smith Beitiks, associate director of the Paul K. Longmore Institute on Disability in San Francisco, told CNN. "People with disabilities are already seen as powerless, and this just reinforces that."
UPDATE: In response to the controversy brewing around Interview magazine's decision to publish photos of Kylie Jenner posing in a wheelchair, a rep for the magazine told E! News:
"At Interview, we are proud of our tradition of working with great artists and empowering them to realize their distinct and often bold visions. The Kylie Jenner cover by Steven Klein, which references the British artist Allen Jones, is a part of this tradition, placing Kylie in a variety of positions of power and control and exploring her image as an object of vast media scrutiny."
The rep added that Jenner's feature "aims to unpack Kylie's status as both engineer of her image and object of attention."
Request for comment made to Jenner's rep has yet to be returned at this time.
Popular in the Community