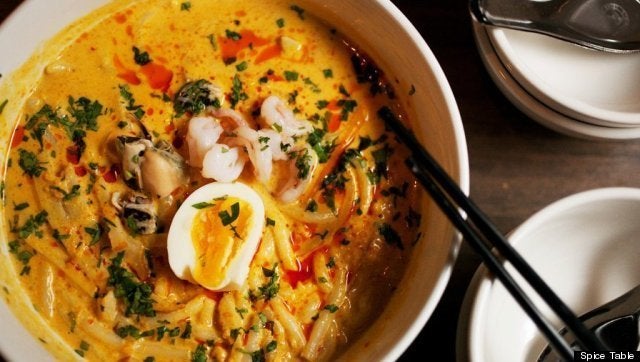 Thousands of Angelenos will have their pick from 100 vendors, which include not just gourmet food trucks but loncheros, street carts and even brick and mortar restaurants.
But no matter where eateries operate or how they serve their food, they'll all be drawing their inspiration from street food. Think small, tasty treats easily eaten with your hands -- bonus if it only takes one hand to hold and eat.
Tacos, tostadas, empanadas and tamales are everywhere at the fest -- as they should be, since they're the cornerstone of LA's street food inheritance. But a quick glance at the list of all participating eateries reveals a few other street food themes:
BALLS
Fuji Foods Inc.: Rice 'n Roll Onigiri
The Mighty Boba Truck: Buttermilk Popcorn Chicken and Boba Milk Tea
Bling Bling Dumpling: Cheeseburger Dumplings + Ginger Pork Dumplings
Seoul Sausage Company: Flaming Fried Balls
Tiara Café: Slow Smoked Balls of Lust (Ham brined pork belly encased in roasted poblano)
BUNS
The Peking Duck Truck: Peking Duck Sliders
Cambalaches Gourmet: Chicken Chimichurri Sliders
El Pan-Americano: Pernil Sandwich
Wake N Bake Wagon: Pulled Pork Sliders
Dog Haus: Burger Slider + Scott Baioli Dog
Short Order | Chef Christian Page: Pretzel Pups
And then, of course, there are the plates that seem impossible to eat without at least a plate, fork and flat surface. That's what your picnic blanket is for.
Here are a few that seem particularly intense:
Sabor da Bahia: Moqueca Taste (Brazilian fish stew with rice)
Fat Spoon: Beef Tongue Curry
HAUS: Spicy Chicken Dukboki + "Papa Jok Bal" (Marinated trotter with green onions and fermented bean paste)
Chef Neal Fraser | Grace + Vibiana + BLD | Cornflake Crusted Pied de Cochon, Black Truffled Aioli & Frisee
Adults can indulge in the tequila tasting tent and two Singha beer gardens set up throughout the stadium, while kids (and everyone who loves dessert) can hole up in the Ice Cream Social corner, where seven vendors will be serving up ice cream sandwiches, gelato, shaved ice, churros and more.
Here's a preview of some of the chefs, restaurants and street food vendors that will be there. Happy hunting!
PHOTO GALLERY
Street Food Fest 2012
REAL LIFE. REAL NEWS. REAL VOICES.
Help us tell more of the stories that matter from voices that too often remain unheard.