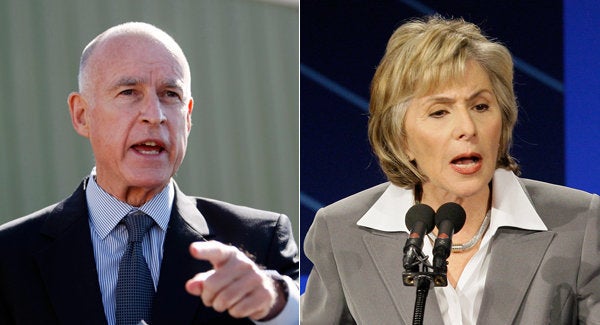 With a month to go before the November election, The Los Angeles Times published its endorsements for the big ticket races on the ballot. While not exactly shocking or game-changing, the Times endorsed Jerry Brown for Governor and Barbara Boxer for Senate.
For us, the choice in the race between Democratic Sen. Barbara Boxer and her Republican opponent, Carly Fiorina, resolves itself into a simple proposition: Issues matter, especially in the United States Senate.
Fiorina is intelligent, energetic and accomplished in the private sector. But on too many issues she reflects the doctrinaire conservatism that is ascendant in the Republican Party...
We have differences with Boxer on some matters, including her votes against some free-trade agreements and her support for the death penalty. We hope her fourth term will be marked by less bluster and more bipartisan achievements. But on the issues, she is right far more often than she is wrong. We urge her reelection.

For its next governor, California is in dire need of a dynamic and optimistic grownup, one with the personality, perspective and presence to remind voters that theirs is a fabulously wealthy state and not the downward-spiraling mess that national media reports delight in comparing to Greece or Portugal...
Fate presents the state instead with two candidates who fall well short of our current needs. They come to us from the partisan political version of Central Casting. Republican Meg Whitman, utterly devoid of background or experience in state government or policymaking, rarely deigning to cast a vote, moves toward the Nov. 2 election on the power of millions of dollars of personal wealth...
Then we have Democrat Jerry Brown, the governor of California's baby-boom youth, now seeking the office again more than 30 years after his first run, having advanced on a personal and public journey that made him at times a gadfly outsider, a stolid party leader, a spiritual seeker, a presidential candidate, a nuts-and-bolts mayor of a troubled city and the senior statesman of Sacramento.
Calling all HuffPost superfans!
Sign up for membership to become a founding member and help shape HuffPost's next chapter