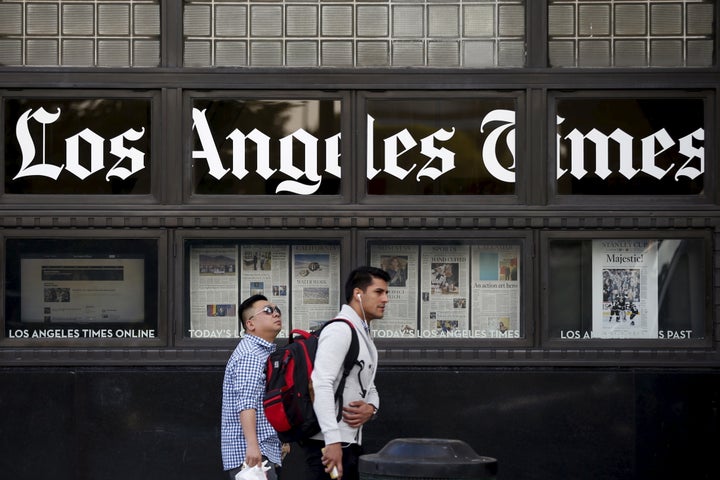 Los Angeles Times staff members took a crucial step forward in their effort to unionize their newsroom on Monday by filing for a union election with the National Labor Relations Board.
Monday's filing asks the NLRB to permit the Times staff members to pursue and vote on union membership with the NewsGuild-Communications Workers of America. The paper's Guild Organizing Committee, the union campaign group that formed in October, said it expects the NLRB to carry out a vote on the decision next month.
"It's been inspiring to hear your stories and reasons for supporting this historic effort," the guild said in a statement announcing the NLRB filing. "We're excited to begin addressing the issues we're fighting for: job security, regular pay increases, more competitive salaries, equitable pay for women and people of color, more workplace protections and other concerns."
The unionizing effort has been met with strong pushback from the Times' publisher, Tronc, which warned employees last month that a union would require members to pay union dues, may cost them other workplace benefits and would not guarantee better salaries.
The guild rebuffed Tronc's attempts to stir concern about how a union would affect compensation. The publisher is spending an outsize amount on salaries and perks for its executives, the guild said, pointing to an "eye-popping" $8.1 million paid to Tronc CEO Justin Dearborn last year, more than $4 million spent on a private jet for Tronc chairman Michael Ferro and other costs on executives they say tower over what the Times' industry peers spend.
The Times staff has clashed with Tronc, formerly known as Tribune, since real estate tycoon Sam Zell bought it in 2007 and ushered in controversial staff shake-ups. Lewis D'Vorkin, the newly hired editor-in-chief, and his handling of a public spat between the Times and Disney, have been a particular point of contention between staffers and management in recent weeks.
The Times is the latest in a wave of media outlets to seek union representation in recent years, including HuffPost, Salon, Vice, MTV News, ThinkProgress, The Guardian US, Jacobin, The Intercept and Thrillist.
Related
Popular in the Community