Two weeks after being fired by USC in the middle of the night, Lane Kiffin was back in the Saturday spotlight. The former wunderkind coach of the Trojans (and Raiders and Volunteers) appeared on ESPN's "College GameDay" to discuss his recent flameout with host Chris Fowler. With chants of "You Got Fired" resounding behind him, Kiffin insisted that he still loves coaching and described the experience of watching USC defeat Arizona on Thursday night as "like watching someone else raise your kids."
"Obviously, Chris, it was very difficult," Kiffin began on location at the University Washington. "I have great passion for USC, for those players, for those coaches and it was a difficult situation, though, because you put so much into those kids and to have that taken away, is very hard. It's been a very hard two weeks."
Asked by Fowler to evaluate his time in Los Angeles, the 38-year-old Kiffin took the blame for the program's recent struggles. But he made sure to remind everyone that USC faced major sanctions during his tenure.
"I think there were some really good things that we did in our time there. Once we got there, we were handed down what a lot of people considered to be the "death penalty" and SC football would be over for 10 years. I remember all the articles at the time," Kiffin said. "We were able to manage through that and have a great year at 10-2 and then we fell apart there toward the end. And, obviously, I'm to blame being the head coach. There's a lot of things I should have done better in that. At the same time, I'm very proud of our time there. I think, as you look at what sanctions do to major programs like an Alabama, to be 28-15 there is some good stuff in there."
As Kiffin went about discussing the highs and lows of his time as head coach of the Trojans, Washington fans gathered behind the "GameDay" set made sure to remind him why he was in Seattle and not Los Angeles.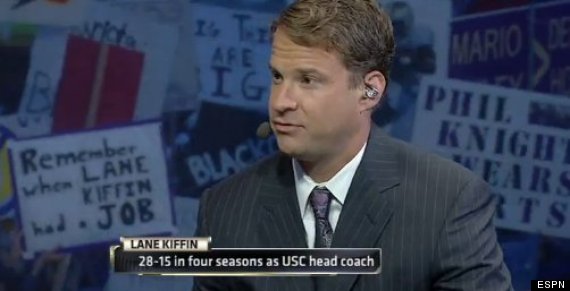 Before concluding his interview with Fowler, Kiffin signaled to athletic directors around the country that he was ready to try again, referencing his "next job" and "young age."
"I think any experience you have, there's the good parts of it and the bad parts of it. You've got to learn from the bad parts and the mistakes that you made. And I've made a bunch of them, so you learn from those -- at a young age still -- and then you grow from there and you get stronger in your next job."

REAL LIFE. REAL NEWS. REAL VOICES.
Help us tell more of the stories that matter from voices that too often remain unheard.
BEFORE YOU GO
PHOTO GALLERY
PHOTOS: College Football Week 7