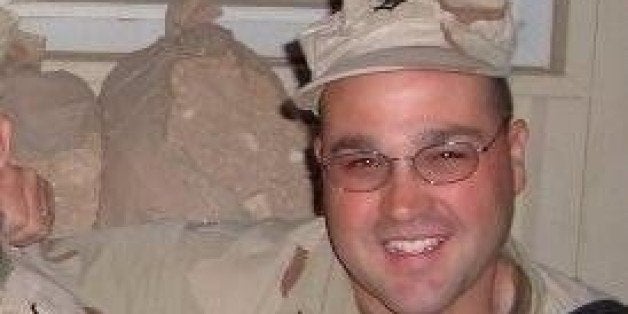 As hunting accidents go, the death of Larry Bradley in Ohio's Gallia County was strange in and of itself. However, the case became all the more bizarre this week when an unknown person claimed responsibility for the slaying.
The 45-year-old Iraq War veteran was hunting on Dec. 2, the first day of deer-hunting season, when he was shot in the back. Just after 8:30 a.m., the Marine corporal called his wife: "Help me, hurry."
Bradley did not elaborate on what was wrong and his wife thought he was having a heart attack. In actuality, he was bleeding to death.
"It's kind of unusual for someone to be accidentally shot in a tree stand. He was 18 feet up, maybe even higher," Browning told HuffPost Crime.
"Maybe someone fired a shot uphill or at a particular angle and it traveled farther than they expected."
Whatever the case may be, Bradley died before help could arrive. He was buried four days later in the Ohio Valley Memory Gardens cemetery, in Gallipolis.
This week, the sheriff revealed another clue in the investigation -- an anonymous letter that was sent to his office, presumably from the person responsible for the slaying. The letter reads, in part:
"I am so sorry for the hurt and pain that I caused on that day can u please tell the family I am so sorry."
The letter was handwritten and unsigned.
"It was generally addressed to the sheriff's office," Browning said. "Basically, it contains what looks like a confession ... [and] an apology to the family."
The sheriff said investigators suspect the person altered how they would normally write, in an attempt to make it more difficult for authorities to identify them.
"We submitted the letter to the Ohio Bureau of Criminal Identification lab and they are conducting analysis of the handwriting, fingerprints, DNA and anything else they can find on it," he said.
Bradley was a decorated war veteran, who served in the U.S. Marines and later the Navy Seabees. He fought in Desert Storm, Desert Shield and Operation Iraqi Freedom.
He had been married to his wife Denise for 10 years. The couple had two children together, ages 7 and 8. Their oldest child, a daughter named Riley, said she was "glad Daddy got to spend Christmas with Jesus," her mom told The Columbus Dispatch.
According to Browning, investigators know what type of weapon was used in the shooting, but are keeping the information classified.
The sheriff said the penalty the person responsible will face depends upon the situation. The crime could range from a misdemeanor to a felony. However, an accident, according to the sheriff, would be handled differently if it turned out to be an intentional killing.
"I can't make any promises, but I think it would certainly be more commendable of them to try to do the right thing and come forward," Browning said. "If they had, we would not be going through this right now. The family would have closure and we would not have to worry someone is out there that intentionally hurt someone."
While there is no proof at this time that the slaying was intentional, Ohio has seen such cases in the past.
A serial killer named Thomas Dillon once targeted sportsmen in southeastern Ohio. Before he was caught -- between 1989 and 1992 -- he claimed the lives of five men. Dillon was ultimately sentenced to five consecutive sentences of 30 years. He died behind bars in October 2011.
Regardless of how or why Bradley was killed, his family said the apology letter falls short of someone taking full responsibility for his death -- something they hope the person will ultimately decide to do.
"I would like to say to the person or persons responsible that words cannot describe the nightmare that we live daily," said Larry Bradley's brother, Joe. "Our loving memories of Larry are now mingled with horrific images of him dying alone in his tree stand. We cannot begin to have peace of mind until all events surrounding his death have come to light. Whoever you are, you have taken something from us that can never be replaced. You and you alone have the power to help a family begin the healing process. Please find the courage and strength to come forward and ease our suffering. Larry did not deserve this. Larry was my brother. He was also a husband, a father, a son, a grandfather, an uncle, a best buddy, a friend, and will always be my hero."
Anyone with information in the case is asked to call the Gallia County Sheriff's Office at (740) 446-6555.
Calling all HuffPost superfans!
Sign up for membership to become a founding member and help shape HuffPost's next chapter
BEFORE YOU GO
PHOTO GALLERY
Larry Bradley Case Photos