Even on that night long ago, when he gave Muhammad Ali the worst beating of his career, Larry Holmes always stood in the shadow of the man they called "The Greatest."
Some fans never forgave Holmes for even accepting that fight. By October 1980, the "float like a butterfly, sting like a bee" Ali barely had enough left to put up a fight. But Ali wanted it, and too much money was involved. Holmes ultimately had no choice.
But after the fight, Holmes cried. He knew Ali not just as a major cultural icon, but as a guy who gave him a job as a sparring partner when he was a teen, when he really needed the money.
"Ali is my idol," Holmes tearfully told HBO at the time. "If you want to say I'm in the shadow of Muhammad Ali, I'm going to say great ... I still love him, even today."
But if beating Ali was easy, Holmes faced an impossible job in his boxing career -- following Ali as heavyweight champ.
Even though Holmes held onto the belt longer than any person when he finally called it quits, except for Joe Louis, many would still consider him an underrated champ. He never had the global impact of Ali, and he never had the bad-boy tabloid appeal of Mike Tyson, the next dominant heavyweight fighter.
But unlike Ali or Tyson, Holmes did something few big time athletes ever do. He stayed in the small town where he grew up -- Easton, Pennsylvania -- invested in businesses and real estate, and built a home there.
In December, Holmes' hometown finally gave its most famous resident honors -- a bronze, 9-foot statue that now stands on the banks of the Lehigh River, about 55 miles north of Philadelphia.
"People get tired of trying to prove themselves," the 66-year-old Holmes told The Huffington Post. "Tired of trying to be accepted. That's why I stay in Easton."
With his wife Diane and several family members at his side, Holmes watched as the statue was unveiled. He received a salute from famed boxing promoter Don King and such boxers as Gerry Cooney and Earnie Shavers.
Holmes, a seventh-grade dropout and one of 12 children, was born in Georgia to sharecroppers. He moved to Easton as a young child, and began a string of jobs at the age of 13 --  shining shoes, working construction, and delivering newspapers.
"I did everything that I needed to do to become who I am today," he said.
Once he got a driver's license, he began driving a truck. He also started visiting training camps for boxers like Ali and Joe Frazier, picking up work as a sparring partner.
The man who would become known as "The Easton Assassin" turned pro in 1973. He would defend his heavyweight championship 20 times in a reign that lasted more than seven years.
Check out a few highlights of Holmes' boxing legacy:
The momentous fight against Muhammad Ali. Holmes believed it was the fight he was both "loved and hated for," he told HuffPost.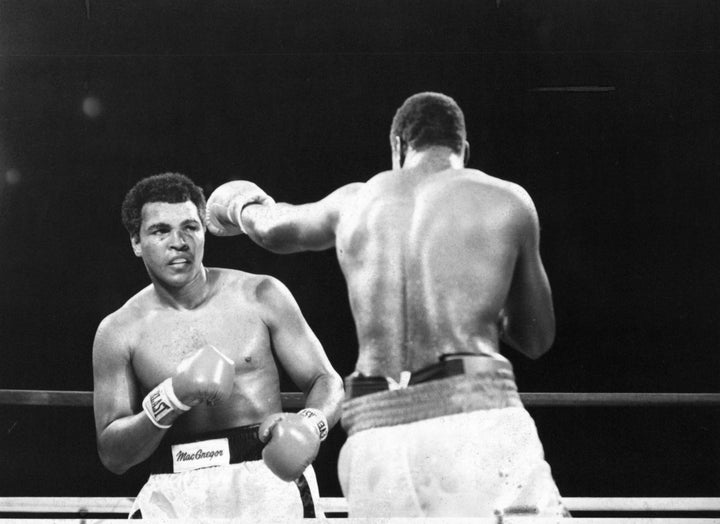 Reflecting on the "trials and tribulations" of his career, Holmes remembers highs and the lows. 
"I didn't want to fight Ali because I was in a no win situation because he was 38 years old at the time I was fighting him," he said. "If you beat him, you beat an old man. I don't want to beat an old man."
Holmes recalled what a wonderful man Ali was when he was a teen.
"Ali was my buddy, Ali gave me a job -- he put food in my mouth," he said."I traveled with him. I learned what he did. Ali was my man and he still is. He's still my man."
Holmes' fight against Ken Norton that earned him the WBC Heavyweight title in 1978.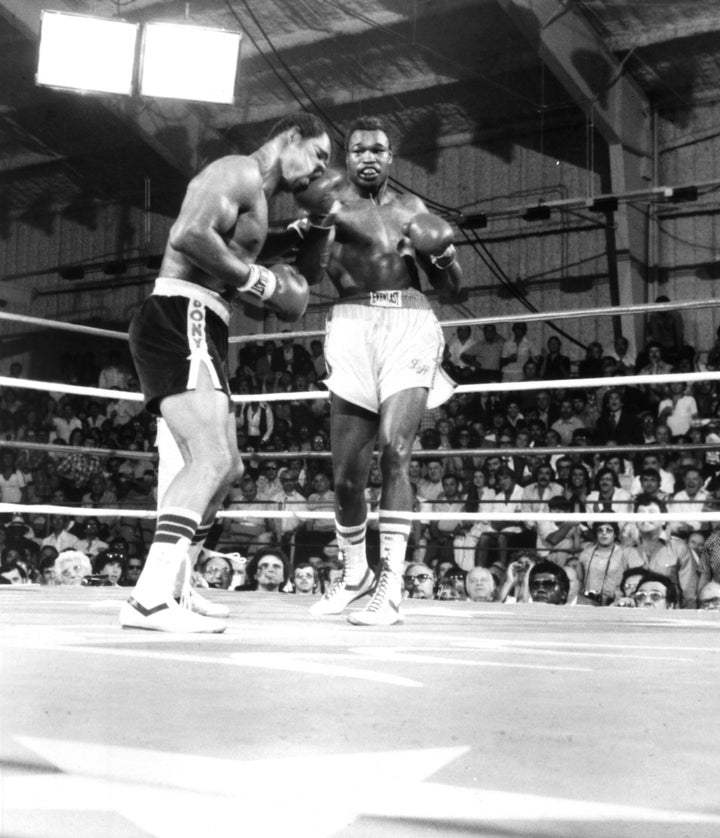 Career highlights include battles with Ken Norton, and Mike Weaver, and his legendary fights with Shavers and Cooney. The Norton fight in 1978, left him with the WBC Heavyweight title.
Holmes fought Gerry Cooney in a fight that garnered a lot of racial tensions in 1982.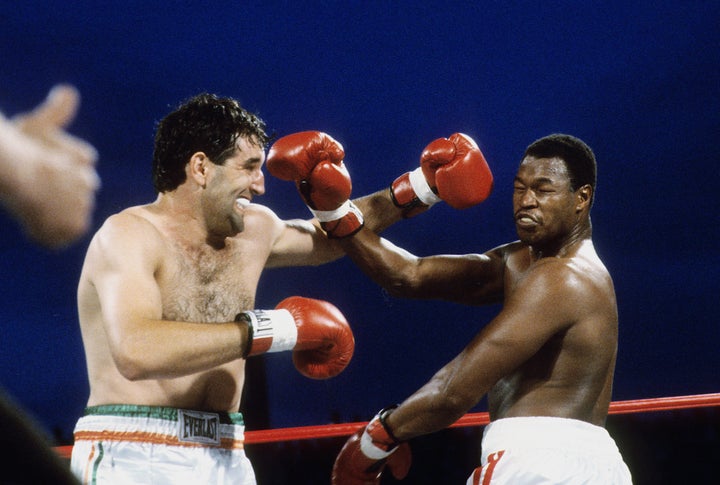 In 1982, Holmes stepped into a racial firestorm, when he took on Cooney, who the media called "The Great White Hope."
Even though Holmes was the champ, the challenger Cooney was paid the same amount as him -- $10 million -- a highly unusual move in a championship bout. 
Fanning the flames, Holmes recalls calling Cooney "The Great White Dope ... They killed me for saying that."
Holmes went on to win the fight, despite several low blows from Cooney, with a TKO in the 13th round. He got no call from President Reagan, but he did retain his title and he managed to turn Cooney into a friend.
"I didn't care what they said and what they think ... I just took it out on the opponent I was fighting," he said. "Gerry is my friend. He's been my friend ever since we fought. When I stepped in the middle of the ring with Gerry I said to him, 'Gerry let's have a good fight.'"
Holmes was inducted into the International Boxing Hall of Fame in 2008.
Frustrated by coming so close to one of the sports' most sacred records, Holmes lashed after the Spinks fight.
"If you want to get technical about it, Rocky Marciano couldn't carry my jockstrap," he told reporters. It's a remark that has haunted him for years.
But honors in his hometown allowed him to reflect on a storybook career that gets overlooked in sports history. 
A 9-foot bronze statue of Holmes is unveiled in Easton, Pennsylvania in December 2015.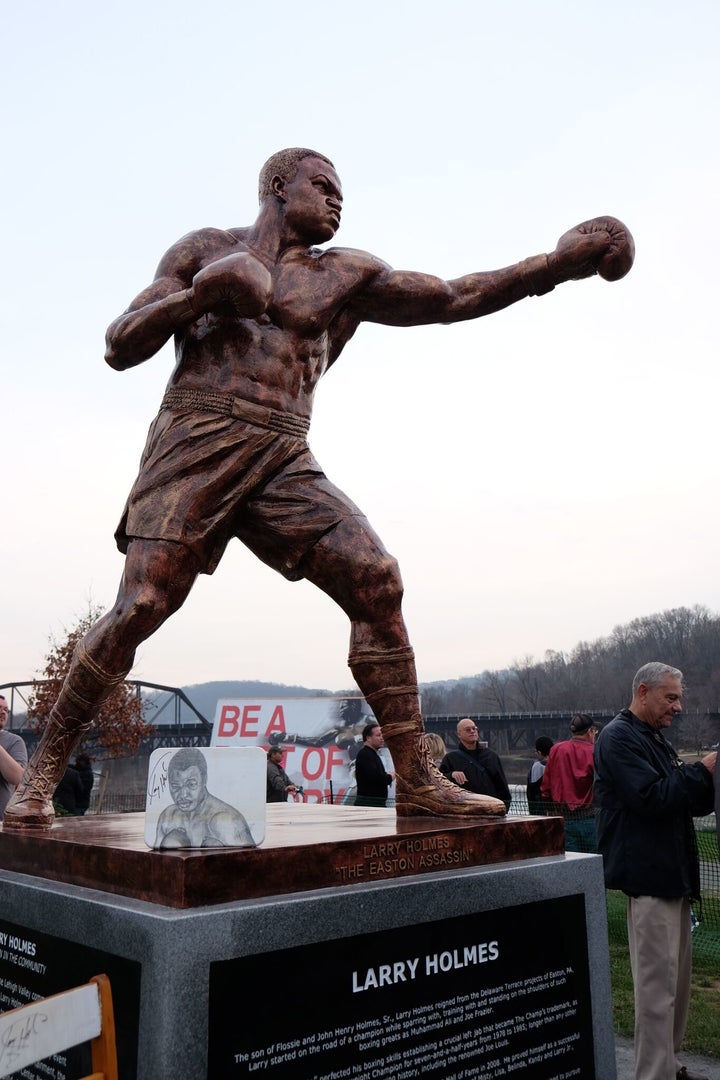 His wife Diane formed a nonprofit organization Heart of a Legend, to raise the money necessary to bring the statue to its completion. 
"It was overwhelming," Diane said of the unveiling event. "It was so nice to see the people out there and everyone that came out."
As for being an "underrated" former heavyweight champion, the champ maintains that the people who "do care" outweigh the people that don't. Either way -- he'll never leave his hometown.
"And I keep on living in Easton, Pennsylvania," he said. 
PHOTO GALLERY
Larry Holmes