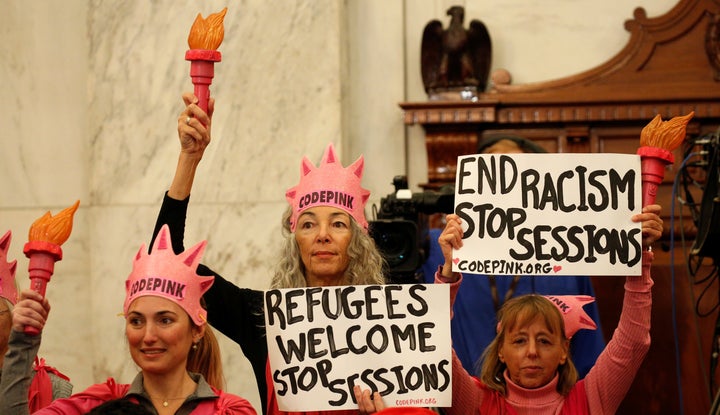 WASHINGTON ― A woman convicted after laughing during a confirmation hearing for Attorney General Jeff Sessions is scheduled to be sentenced on Friday, and Justice Department prosecutors are asking a D.C. judge to uphold the jury's guilty verdict.
Desiree Fairooz, an activist affiliated with the group Code Pink, was taken into custody at a Senate hearing in January after she laughed when Sessions' former colleague said the now-attorney general had a "clear and well-documented" record of "treating all Americans equally under the law." (Sessions had been rejected as a federal judge in the 1980s over concerns about his views on race.)
Fairooz has asked the judge to toss the jury's verdict. Through her lawyer, Fairooz argued that her "brief reflexive burst of noise" could not sustain a conviction, and that the jury that convicted her "was not reasonable in its evaluation of the evidence."
But in court documents filed last week ahead of Fairooz's scheduled sentencing on Friday, prosecutors wrote that the jury "could have reasonably rejected" Fairooz's contention that her laugh was a reflexive reaction to a claim about Sessions' record that she found absurd.
In a court filing signed by Assistant U.S. Attorney Kimberly Paschall, the government argued that the jury "could reasonably infer that the laugh was a deliberate disruption" and "intentional."
HuffPost spoke with several members of the jury following the guilty verdict. On condition of anonymity, the jurors said they'd focused more on Fairooz's conduct after Capitol Police Officer Katherine Coronado began taking her into custody ― even if they disagreed with Coronado's decision to do so.
"We did not agree that she should have been removed for laughing," the jury foreperson told HuffPost. Coronado was a rookie officer who had never made an arrest nor worked a congressional hearing. However, prosecutors wrote that she was acting upon her belief that she was supposed to immediately remove anyone from the room who made any sort of disruption.
"Officer Coronado removed the defendant based on her legitimate understanding of the instructions given to her at roll call that day," the prosecutors wrote.
The government argued that prosecutors "presented evidence that the defendant engaged in disorderly or disruptive conduct when she loudly laughed at [Alabama Republican] Senator [Richard] Shelby's comments" ― but also focused on Fairooz's behavior after an officer began taking her into custody.
"More importantly," prosecutors wrote, "Fairooz's yelling and sign display thereafter disrupted the hearing and clearly exceeded the permissible bound of the tourist test." (The "tourist test" refers to the standard requiring the government to prove that a protester's actions are "more disruptive than those of tourists and others routinely permitted in the Capitol building or grounds.")
"The jury reasonably considered all of the defendant's actions together in reaching the verdict. She did not merely laugh," the government wrote. It went on:
Rather, the jury could infer from testimony and video evidence about the laugh and Fairooz's subsequent conduct that her laugh was an intentional, loud statement of disagreement. The jury could have considered that upon being removed, Fairooz had a sign at the ready and loudly proclaimed and demonstrated her views. The jury then could reasonably view the resulting disruption as both an intentional and foreseeable result of the defendant's course of conduct.
Even if Coronado was mistaken in arresting Fairooz, prosecutors said that didn't give Fairooz the right to disrupt the hearing. They emphasized Fairooz's words as she was being taken out of the room: "I was gonna be quiet, and now you're going to have me arrested? For what?" (See video above.)
"Just as a defendant cannot resist arrest when the arrest is unlawful, a defendant should not be able to disrupt a hearing before Congress based on her opinion that police action was unlawful," prosecutors wrote.
The government does not appear to have taken a position yet on what Fairooz's sentence should be.
Fairooz is scheduled to be sentenced alongside Tighe Barry and Lenny Bianchi, two protesters affiliated with Code Pink who dressed up as members of the Ku Klux Klan and pretended to support Sessions when he entered the room for his nomination hearing.
UPDATE: July 11, 3:40 p.m. ― In a memo ahead of her sentencing, Fairooz's attorney requested a suspended sentence followed by a period of unsupervised probation for "the shortest period of time that the Court sees fit under the circumstances." The sentencing memo also included letters from several of Fairooz's friends, as well as a letter from Rep. John Conyers (D-Mich.), who serves as ranking member of the House Judiciary Committee.
In the letter to Judge Robert E. Morin printed below, Conyers asked for leniency in Fairooz's case, noting the conviction had "garnered substantial attention in the press, due to the appearance that the arrest resulted from merely emitting laughter over the record of a deeply controversial Executive Branch nominee in a public hearing." He wrote that "substantial questions exist with respect to the application of law in this particular case" given the nature of the offense.
"As the Ranking Member of the House Committee on the Judiciary, I take seriously breaches of decorum in Congress. However, in this instance, the finding of guilt under these particular circumstances raises questions that should counsel leniency with regard to sentencing," Conyers wrote. "In your sentencing decision in this particular case, I hope you will take these circumstances into consideration."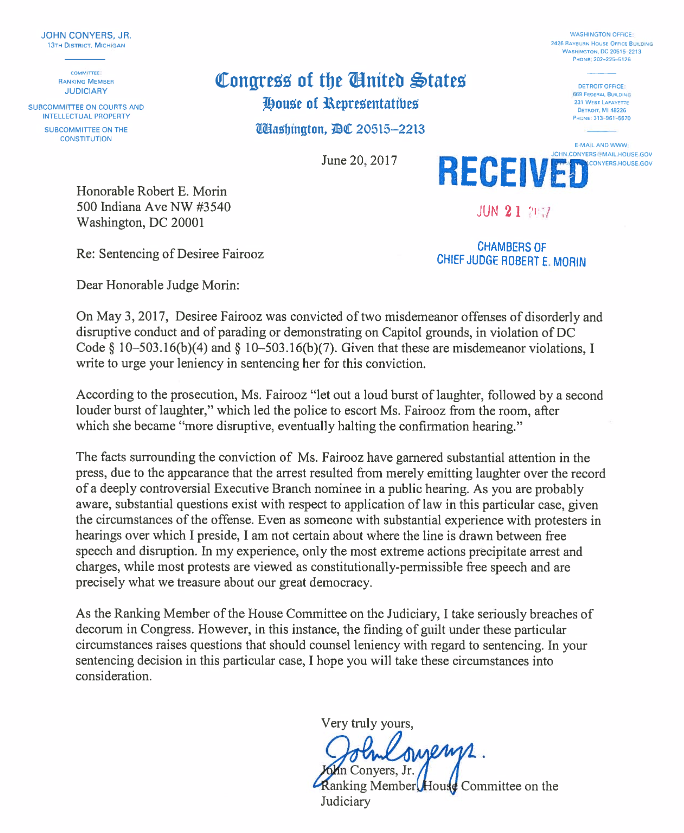 Popular in the Community