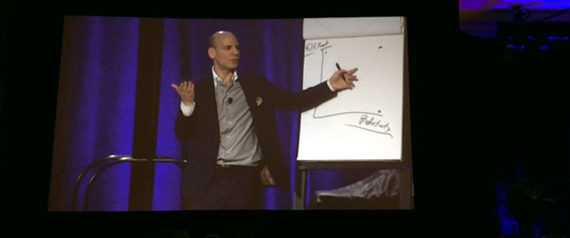 Dr. David Bach, founder and president of The Platypus Institute, explained to an audience at the annual conference of the Women Presidents' Organization (held this month in Baltimore, MD) how people can make their working lives more efficient by becoming more conscious of their everyday patterns.

But how do you actually change your daily patterns to become more efficient? Bach believes it all comes down to leveraging your subconscious with your conscious mind. Start off by becoming mindful of your routines. How do you spend your time? Why do you do certain things and not others? Which parts of your life are most inefficient?

The New York City-based Platypus Institute studies the optimization of human performance, including the "rewiring" of the brain for peak performance. Bach is a Harvard BS, as well as a Harvard MD. Before creating the Institute, he founded and built three companies: Touchstone Health, Empyrean Benefit Solutions, and Leprechaun HCC Management. He knows a little something about getting the most out of a workday.

Once you've figured out your patterns, you can determine how to alter the key elements of those patterns for a more positive result. Whatever processes in your life you're trying to refine, self-realization translates into better habits--and added efficiencies.

This mindfulness has obvious repercussions on one's work life. In today's hectic office environment, it's easy to get lost in the moment, and to spend your whole day continually repeating unproductive behavior. By recognizing your patterns and responses, you can determine how to become more proactive.

In many ways, this mindfulness is similar to meditation, which gives you more control over your subconscious mind. By quieting your thoughts, you can ideate more clearly and exist in the moment. Bach believes that becoming conscious of your subconscious is an ideal way for leaders to make their careers more effective.

As Bach said: "There have been many defining moments in human history--moments of discovery, of change, and of revolution. Today is one of those times: a point in history where neuroscience promises to fundamentally transform the nature of knowledge work."
Here is a link to a podcast David recorded with Dr. Arne Dietrich, one of the world's leading experts on the "flow" state. Arne describes exactly what happens to the brain when you are "in the zone" and how you can train yourself to achieve this state on a regular basis. This will dramatically increase your productivity and effectiveness.
Janet Odgis is the President and Creative Director of Odgis + Co, an award-winning certified woman-owned design firm based in New York City. For 30 years she has worked with some of the world's most prestigious corporations reinventing ways to define and express their brand. We Make Business Beautiful.
Calling all HuffPost superfans!
Sign up for membership to become a founding member and help shape HuffPost's next chapter