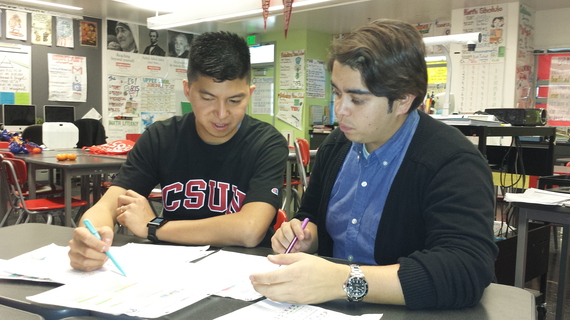 Ask Jorge Rios about how he was prepared to teach. He'll tell you how he learned in residence--at a powerful public school alongside a wise and caring mentor. He'll also tell you what he learned about subject matter content, teaching methods, language development, cultural relevance and more from the university coursework that was woven into his residency experience: how he learned to promote student discourse in mathematics, how he taught his colleagues about restorative justice in a faculty meeting, and how he created strong classroom norms to support all students to participate and achieve at high levels.
Advocates of the newly proposed federal regulations for teacher education programs would do well to speak with the educators who prepared Jorge -- educators who guided Jorge through a scaffolded teacher development process that secured his successful transition from apprentice to confident, competent first-year teacher. The current national reform effort calls on states to evaluate teacher preparation programs based on a set of performance measures: teacher placement and retention, and multiple measures of teacher effectiveness, including how well K-12 students do in the classrooms of newly minted teachers. This last provision has set off a maelstrom of controversy, similar to the teacher evaluation debates. What Jorge's experience adds is a more nuanced perspective of what it means to prepare teachers to be effective in urban schools.
For the past five years, a UCLA research team has studied the experience and teaching quality of Jorge and 157 other residents, working with 109 mentors across 32 urban schools and communities. Residency programs are growing in popularity, seen as a hybrid or "third space" that blends the best of university and field-based, clinical learning. This model differs from traditional coursework and student teaching because the teacher preparation program and partner school share the responsibility for teacher readiness. If the proposed teacher preparation regulations are adopted, both would be held accountable for graduates' impact on K-12 student learning and effectiveness in the classroom. Capturing this impact, however, is not at all straightforward. It demands embracing the complexity of learning and teaching practice.
In August 2011, Jorge sat beside his mentor Andre ChenFeng at the back-to-school professional development program. After a break-out curriculum meeting with the math department, Jorge and Andre headed back to their classroom to prepare for the students' first day. Moving desks around and decorating bulletin boards, they talked about how to create norms and classroom routines that would set a positive and inclusive tone for the year. Andre shared his passion for community circles and humanizing pedagogy--foundations for engaging students in mathematical discourse. On the first day of school, Jorge's university supervisor Jaime checked in and then visited weekly to observe and analyze his emerging teaching practice and, whenever possible, debrief as a trio--resident, mentor, teacher educator. Jaime used her observations of Jorge and his resident peers to ground her math methods seminar and provide opportunities for the residents to decompose and rehearse a set of high-leverage instructional strategies. The residents also logged their practice, analyzed student work, reflected on the theories they were enacting in their classrooms, and extended this learning in other courses as well as with local community-based organizations. By the end of his resident year, Jorge was well on his way to becoming a thoughtful and effective math teacher, based on a variety of measures including Jaime's observation scores, artifacts and logs of his practice, samples of student work, and Andre's ratings of his competency. These measures are promising signs that the field can move beyond narrow and highly-politicized value-added measures to use multiple sources of evidence in combination to capture the complexity of teaching and provide trustworthy indicators about the quality of teacher education programs.
Ronald Thorp, president and CEO of the National Boards for Professional Teaching Standards, suggests, "The time has come for the teaching profession to demand a residency experience for new teachers." He proposes a funding model to support a universal teaching residency using Title II funds and makes a strong argument that such a program will elevate the entire profession--the way it has in the medical profession. By Thorpe's calculations, the nation would need 4,500 residency schools that if supported would have a profound effect on education, elevating professional collaboration and deepening knowledge and teaching skills. These residency schools and their master teachers would gain a reputation for excellence that would inspire young educators to intentionally embrace the teaching profession and ask each other, "Where did you do your residency?"
After two years teaching on his own, Jorge longed to return to his residency school given its strong professional culture and university partnership. In 2014, Jorge returned as a full member of the math department. He eagerly tells visitors, "I did my residency here, in Andre's classroom."
________________
Karen Hunter Quartz is Director of Research for Center X, the home of UCLA's professional credentialing and advancement programs for K-12 educators, and for the UCLA Community School, a public K-12 small school that opened in 2009 within the Los Angeles Unified School District. Annamarie Francois is Executive Director of Center X at UCLA and former director of UCLA's Teacher Education Program.
Related
Popular in the Community