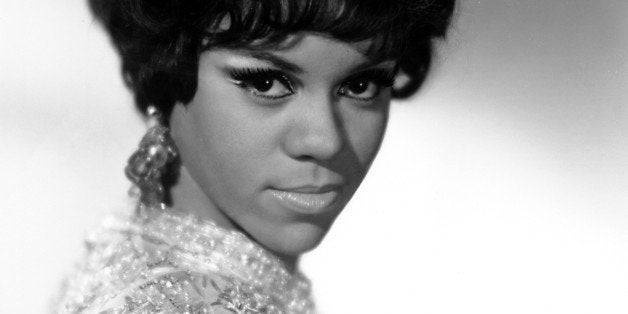 "Ladies and gentleman, I have a surprise guest..." Mary Wilson of The Supremes said to a crowd of fans during a performance. "Miss Florence Ballard!"
It was the summer of 1975 in Los Angeles at Magic Mountain, as a 31-year-old ex-Supreme Florence Ballard emerged onstage with a tambourine in hand to stand with Wilson, Scherrie Payne and Cindy Birdsong, who replaced her in 1967. In a standing ovation, the crowd erupted with applause, her eyes filling with tears as she heard yells of "Flo, we love you."
It was a final, magical time she graced the stage with group she had started as a teenager. The fans missed her and she felt it.
"What is your first thought when you hear the name Florence Ballard?" I said to my father inquisitively. This was the nature of our conversations on the music he grew up listening to in the 1960s when Detroit was producing a musical juggernaut of black talent that swept the nation. One of those talents he introduced me to was Diana, Mary and Florence of The Supremes.
He paused then replied earnestly, "Tragedy....how the other girls, Mary and Diana made it but she didn't."
When Florence Ballard died on Feb. 22, 1976 at 32 of coronary artery thrombosis, eight years to the day she was released from her MoTown contract, she left behind three daughters and an impeccable legacy in music. Considered "one of rock's greatest tragedies", her death also meant the end to a woman trying to piece her dreams back together to sing another day.
Ballard's life had become an engraved symbol of famously being ousted by MoTown creator Barry Gordy at the height of the group's success on July 1, 1967, a day after her 24th birthday. After finding an extra set of dresses backstage meant for Birdsong, Ballard retaliated by exposing her stomach onstage during a dance routine, giving Gordy the excuse to make room for Diana to soar in the spotlight.
She was chewed up and spit out cruelly by people who left her behind while chasing stardom, spending the rest of her life dealing with that betrayal. As she began an unsuccessful solo career, it was hindered by MoTown on the notion: once a Supreme, never a Supreme.
"You're not supposed to ever say that you were a Supreme, or had anything to do with the Supremes whatsoever," Ballard said in a 1975 Detroit Free Press interview of the contract. "In other words, you're nothing,"
As Feb. 22 marks the 40th anniversary of her passing, her legacy has become synonymous as the "lost Supreme" whose potential was cut short, often defined by her fall from grace. "Ex-Supreme broke, on ADC" was the Detroit Free Press headline in the 1970s that ignited worldwide press and collective gasps for the former superstar. There's always the question, "What could've been of Florence's life if she had her chance to shine?"
Her powerfully soulful voice in songs "Save Me a Star", "Buttered Popcorn", and "People" showed her ability to carry the energy of a song with all of her might.
Years later as she gathered the energy to sing again, her rendition of The Beatles' "Yesterday" captured the angst at a moment of her life as she sung, "Suddenly, I'm not half the girl I use to be/There's a shadow hanging over me/Oh, yesterday came suddenly."
It has become long overdue to give Florence Ballard the recognition and honor she never was given, in my opinion. She was the founder, and giver of the namesake 'Supreme', of the most iconic girl group in the 1960s whose mainstream success broke barriers for other African American musical acts.
The statuesque, doe eyed glamour girl lovingly nicknamed "Blondie" for her auburn hair and light skin with vocal pipes that were compared to the likes of the late Etta James and the Queen of Soul, Aretha Franklin. The eighth of 13 children born June 30, 1943 in Detroit to the late Jesse and Lurlee Ballard, her story was a Cinderella tale in the making ready to unfold. With two childhood friends, Mary and Diana forming The Primettes propelled themselves from the Brewster-Douglass housing projects to dazzle audiences around the world.
The character of Effie White in the 1981 stage play and 2006 motion picture Dreamgirls, mirrored the late songstress and her abrupt departure from the fictional group The Dreams and living on welfare with her child. Jennifer Hudson's award winning performance in the film sparked public interest about the real life Effie White. Hudson said she carried Ballard's story throughout the entire movie, a factor that gave her the most powerful scenes that wowed audiences and critics. She dedicated her 2007 Golden Globe win to Ballard.
"I really felt like Effie was Florence's voice and this was her fans' way of getting her justice, or having it end the way they would have liked to see it end," Hudson said at the time. "So anytime I would come to a scene, I was thinking, 'This is what Florence should have done' or 'Maybe she would have reacted like this.'"
No matter how sad her story may have ended, the bright spot is that she made a glorious mark in her short life. It's an unlikely story of three young girls from the ghetto with a dream that came true. She survived sexual assault at age 17, domestic violence, endured poverty, depression, alcoholism and the loss of her career but she was more than those circumstances that at one point broke her.
If there was one thing about her that was undeniable was the effect she had on a room full of people when they heard her voice. Through it all, music was her saving grace.
A chapter from Peter Benjaminson's 2008 book The Lost Supreme: The Life of Dreamgirl Florence Ballard, detailed musician Pamela Brandt of The Deadly Nightshade, who performed with Ballard, recollection of seeing her come alive on stage. It was her last solo performance.
"The crowd really, really loved her. It was obvious that she was who they were waiting for. Then she walked off the stage and was standing on the side, and it was obvious that she wanted to come back on, but she was real insecure," Brandt said. "So I ran over and said, 'Come on, you have to come back! They're dying for you!' and grabbed her hand and started dragging her back. As soon as she got one foot on the stage the audience erupted anew. She was bowing, and then she straightened her shoulders, got completely secure again, and strutted across the stage in front of us."
Popular in the Community