Monday marks 48 years in prison for Leonard Peltier, the Indigenous rights activist who the U.S. government put behind bars after a trial riddled with misconduct and lies ― and who definitely doesn't belong there anymore.
The FBI and U.S. Attorney's Office made a fall guy out of Peltier, now 78, when they convicted him of murdering two FBI agents during a 1975 shootout on Pine Ridge Reservation in South Dakota. They never had evidence that he murdered anyone, and the amount of wrongdoing that took place in his trial is mind-boggling: Government prosecutors hid exculpatory evidence. The FBI threatened and coerced witnesses into lying. Peltier was separated from his co-defendants, all of whom were acquitted on grounds of self-defense. A juror admitted she was racist against Native Americans on the second day of the trial but was allowed to remain on the panel.
Peltier has maintained his innocence for all of these years, even as it almost certainly prevented him from being paroled.
His decadeslong parole process has been so problematic that United Nations legal experts last year made the unusual decision to revisit his case. Over the summer, they called on President Joe Biden to release Peltier immediately.
Their working group concluded in a damning 17-page legal opinion that between Peltier's advanced age, deteriorating health, frequent placement in solitary confinement and the difference between his time in prison compared to non-Native Americans convicted of similar offenses, "Mr. Peltier continues to be detained because he is Native American."
Peltier is still sitting in a Florida penitentiary despite all of these problems; despite pleas for his freedom by international human rights leaders including Pope Francis, Nelson Mandela and Coretta Scott King; despite nearly 50 years of concerts and letter-writing campaigns and petitions circulated by thousands of supporters, politicians, Indigenous leaders and celebrities urging his release. He uses a walker now. He is blind in one eye from a partial stroke. He has serious health concerns related to diabetes and an aortic aneurysm.
Biden, who has been a strong advocate for policies that lift up tribes and Native American communities, could unilaterally release Peltier if he wanted to. Two years into his presidency, though, he has stayed silent.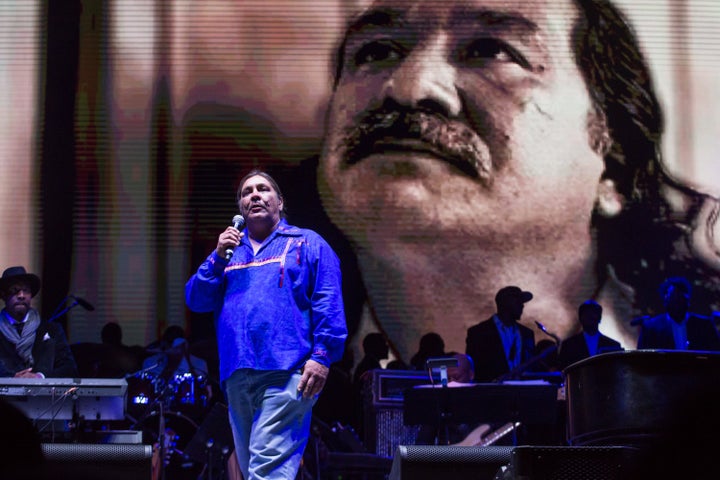 Asked Monday if Peltier is on Biden's radar and if he is considering granting him clemency, a White House spokesman referred to the last statement sent to HuffPost on this topic. HuffPost routinely asks the White House about Peltier but does not get a response.
The last time HuffPost remembers getting a response was in Feb. 2022, with this statement from a Biden spokesman: "We are aware of Mr. Peltier's request for a pardon and the outreach in support of his request. As many of you know, President Biden has a process for considering all requests for pardon or commutation, which is run through our White House Counsel's Office. I don't have more to share on Mr. Peltier's request at this time."
The Office of the Pardon Attorney, which reviews inmates' clemency petitions, does not respond to questions about the status of clemency petitions. A Monday email to this office triggered an auto-response that directed HuffPost to the office's website to search for information on the status of any inmate's clemency petition. The status of Peltier's petition, which was filed more than a year and a half ago, simply says, "Pending."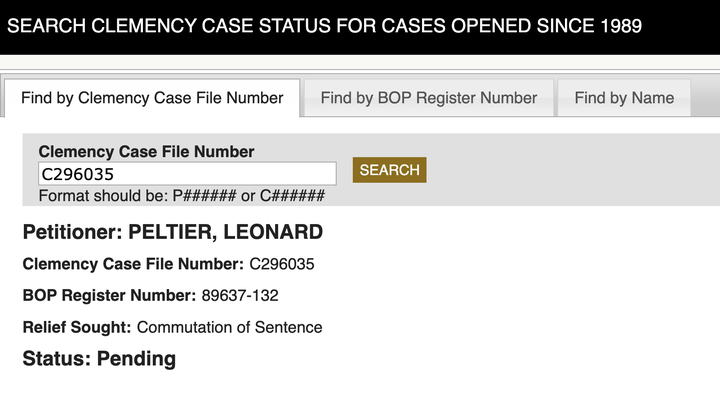 Peltier had some thoughts to share Monday on the 48th anniversary of his imprisonment.
"Living in here, year after year, day after day, week after week, plays on your concepts of time and your process of thought beyond what you can imagine," he said in a written message provided to HuffPost.
"We have had to live in a state of survival ever since Columbus landed," Peltier continued, referring to the country's treatment of Indigenous peoples. "There is nothing about my case, nothing about the Constitution, which is a treaty between the American people and the government, that warrants my continual imprisonment."
To his supporters, Peltier signed off his message with a request: "From my heart to yours, plant a tree for me."
Here's a copy of his full message:
Greetings my friends, supporters, loved ones. I know I've probably said this, or things like this, many times. Every time I say it, it is as heartfelt as the first time. From the bottom of my soul, I thank you for your support.

Living in here, year after year, day after day, week after week, plays on your concepts of time and your process of thought beyond what you can imagine.

Every day, I have to say a prayer in the morning, about keeping my spirit up and the spirits of our people.

The struggles of the American Indian Movement, which are the struggles of all of us, have never ended for me. They go on, week after week, month after month, year after year.

When I speak, sometimes I think I may sound a bit too sensitive, but my love for my people and the love supporters have shown me over the years is what keeps me alive.

I don't read vour letters with my intellect. I read them with my heart.

My imprisonment is just another example of the treatment and policies our people have faced since the arrival of the first Europeans.

I'm just an ordinary man and I come from a live and let live society, like all our people.

And yet we have had to live in a state of survival ever since Columbus landed.

There is nothing about my case, nothing about the Constitution, which is a treaty between the American people and the government, that warrants my continual imprisonment.

They have historically imprisoned or killed our people, taken our land and resources. Any time the law was in our favor they ignored the law or changed the law to benefit their agenda.

After they have gotten what they wanted, a generation later, some politician would apologize.

They have never negotiated sincerely with us unless we had something they wanted and could not take, or we were an embarrassment before the world, or we were some sort of opposition.

The opposition has always been the dominant reason for them making treaties with us.

I could go on and on about the mistreatment of our people and on and on about my case, but the United Nations said it.

That the United States has kept me locked up because I am American Indian.

The only thing that really makes me different from other American Indians who have been mistreated, had land taken, or been imprisoned by our government, is that it is all a matter or court record in my case. The violation of my Constitutional rights has been proven in court. The fabrication of every piece of evidence used to convict me has been proven in court. The United Nations itself, comprised of 193 nations, has called for my release, noting I am a political prisoner.

In my case as a political prisoner there does not have to be a prisoner exchange. The exchange they need to make is from their policy of injustice to a policy of justice.

It does not matter what your color and ethnicity are. Black, red, white, yellow, brown - if they can do it to me, they can do it to you.

The Constitution of the United States is hanging by a thread.

Again. I want to say, from my heart to your heart, most sincerely - do your best to educate your children. Teach them to defend themselves physically, mentally, and spiritually. Make them aware of our history.

Teach them to plant a food forest or any plant that will provide for them in the future.

Again, from my heart to yours, plant a tree for me.

In the Spirit of Crazy Horse.

Doksha,

Leonard Peltier
Popular in the Community