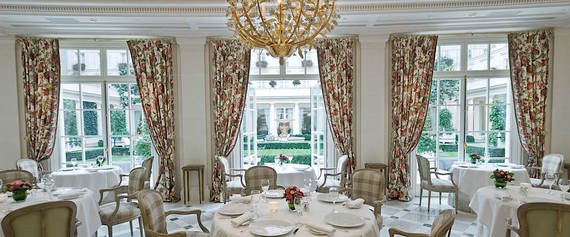 It is never really out of place to ask whether a person should spend hundreds of dollars for a single meal at a single restaurant. It is certainly not a moral question, for people easily spend as much or more on sporting events, Broadway theater and rock concerts. The better question is, why exactly does such a meal cost so much?
Should the number of courses determine the cost? Should the rent on the restaurant? Should the celebrity of the chef? Those do count, though I think the extravagance of 20-plus-course meals is more about a chef's ego than it is about excellence and is usually more an ordeal than a pleasure. (The odd thing is that chefs themselves loathe it when other chefs force-feed them dozens of dishes.)
The Michelin Guide has always been farcical in its contention that its inspectors give out stars only for what's on the plate, as if they go blindfolded, but then give three stars only to the most expensive restaurants on the planet. And their explanation of what constitutes a three-star rating--"worth a journey"--is just plain silly, as if you are going to Lourdes to be cured of an incurable disease.
Still, the idea of a restaurant garnering the highest ratings from so many quarters gives me reason to discuss what exactly it is that you're getting for your money, and, just as important, how such an experience differs from a lesser one where you spend a lot of money for only "what's on the plate," so often in a dining room with all the color, décor and sensual appeal of a cement bunker.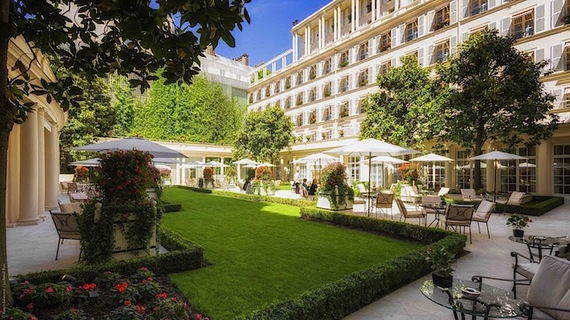 Which brings me to the stunningly beautiful Paris restaurant L'Épicure at Le Bristol hotel, itself recently renovated, one of the city's finest and most elegant, from the reception at the front desk and the assistance of the concierge, under the eagle eyes of Sonia Papet, to the effusion of flowers, and, never to be forgotten, two very spoiled cats who roam the public rooms. It's all a seamless part of a grand design.
L'Épicure, which has held three Michelin stars since 2009, has been re-located to a very sunny room overlooking the gardens (above) and from the moment you are greeted, you are made to feel quite special and in for surprises. The room's formality is softened by the lightness of colors, a shimmering gold chandelier, and the country tartan-patterned chairs set at round tables with exquisite linens, delicate china, heavy silver flatware and thin wine glasses. A small bouquet of flowers brightens the ambiance even more, echoed in the garden and fountain surrounded by trim hedges and flourishing ivy.
This is not a hushed dining room, like some of its kind in Paris, although in its earlier, very formal interior setting, now used for banquets, it was. L'Épicure is now a place where a wide variety of people are clearly having a very good time without pomp or ceremony beyond the artful professionalism of the crew. You can see them marvel at the food as they bask in a cocoon of elegant comfort.
The impeccably dressed waitstaff, from maître d' Frédéric Kaiser to sommelier Marco Pelletier and his six assistants (this, for a 40-seat restaurant) maintain a remarkable balance of cordiality without intrusion, ever attentive to a guest who merely looks up for assistance, refreshing wine glasses, setting down new silverware, crumbing the table, removing and replacing dishes.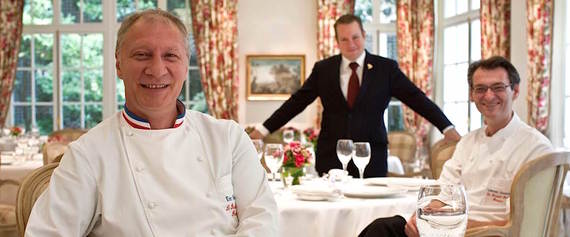 Aside from breakfast, L'Épicure serves exactly 40 people twice a day, with 40 cooks in the kitchen working under Eric Fréchon (above) , known more as a chef's chef rather than as a celebrity. He, along with chef de cuisine Franck Leroy, stays put in his kitchen, fretting about every drop of sauce and the temperature of every plate.
I had lunch at L'Épicure and asked Fréchon to do a tasting menu, along with wines. With a glass of Champagne in hand, we were treated to Sologne Imperial caviar (all ingredients at L'Épicure are from France) atop ratte (fingerling) potatoes with a mousseline of smoked haddock and buckwheat crisp (below). Several breads and wonderful butter, at just the right temperature, were offered.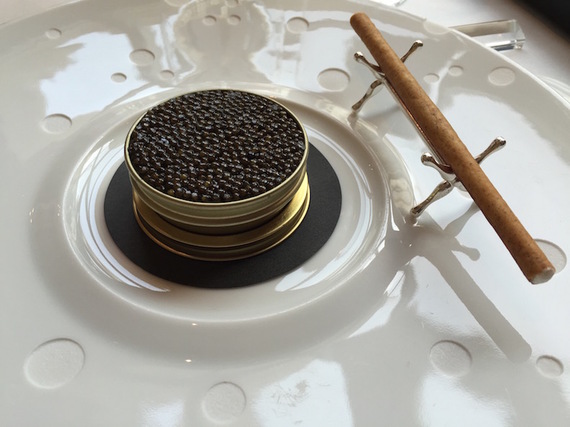 Next came Fréchon's signature stuffed macaroni with black truffle, artichoke and duck foie gras, then dusted with Parmigiano and set under the broiler--just about the most wonderful mac-and-cheese dish in the world! Purple sea urchins were simmered in bouillon in their shells and mixed with an egg mousse, looking like a luscious, briny ice cream coupe. With these we drank a brisk Domaine Raveneau "Butteaux" Chablis 2009.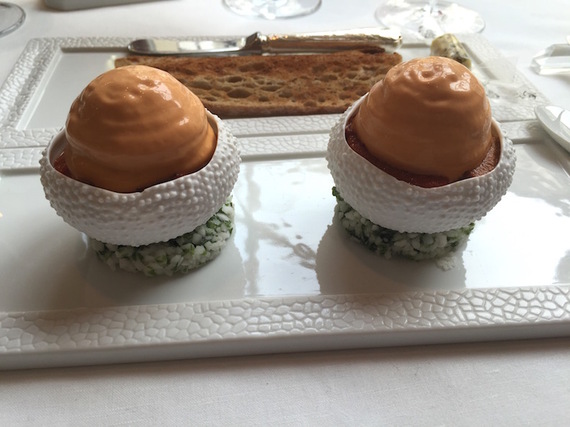 Wild turbot of unsurpassed tenderness absorbed the flavors of wild pink garlic and pine nuts, with simply sautéed baby spinach with a whipped brown butter zabaglione. Domaine Des Rémizire Croze-Hermitage "Cuvée Particulière" 2010 was poured.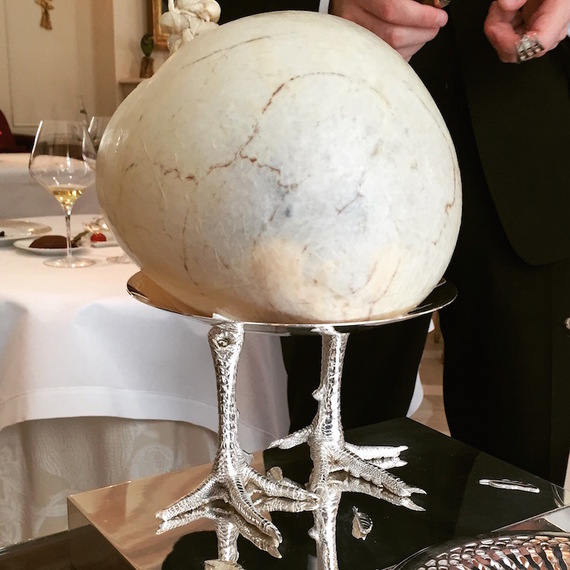 The next dish was extraordinary in so many ways, even as something wholly amusing. Fréchon takes a Bresse farm hen and poaches it in a pig's bladder--a very old technique called en vessie--and for service it is set on a magnificent sterling silver stand of chicken legs seemingly made for this dish alone. The bubble was cut open and--voilà!!--the aroma and steam filled the air, then the breast was cut tableside and served with a vin jaune sauce with giblets, meaty crayfish, spring's loveliest asparagus and morels, as the dark meat was whisked away back to the kitchen to be seared and cooked further then brought out again to be plated with a simple herb salad. Cave des Amandiers Valais "Petite Arvine" 2011 was perfect with this wondrous dish.
An array of seasonal, regional French cheeses, all in the ripest condition, came on an antique silver cart, with Domaine J. Grivot Nuit-Saint-Georges "Les Charmes" 2009.
At a timely interval several of pâtissier Laurent Jennine' s desserts arrived (below), including "Priceless Nyangbo chocolate" with cocoa, thin tile wafers and gilded sorbet, served with a Galateo Coume del Mas Banyuls 2011, and lichees set in an iced meringue and perfumed with rose, pear and lemon, accompanied by a Trimbach Gewürztraminer VT 2007.
But we were not quite finished. At this point they wheeled over an eye-popping silver chest (below), whose lid was opened to reveal petits-fours and a rainbow of macarons as light as Communion hosts and as decadent as venial sin.
So, were I judging the meal solely on "what's on the plate," there was no question that this was one of the greatest of my career and my life, with every single dish conceptualized to maximize each perfect ingredient used--and there were not many in any dish--and to make them beautiful without burdening the plate with anything extraneous. Sheer showmanship was on display only with that marvelous hen and the desserts; the rest centered around flavors I shall long remember.
But L'Épicure is not just about the food. It is about all that surrounds it, the weaving of time and delivery of a dish, the deft spooning on of sauce, the addition of the right bread at the right moment. It is about a master chef and 40 people in the kitchen trying twice a day to be as flawless as possible in an enterprise fraught with possible error, from a fish being cooked ten seconds too long to the temperature of the dining room ruining the texture of a sorbet. But those errors didn't occur that day and rarely do at a restaurant like this.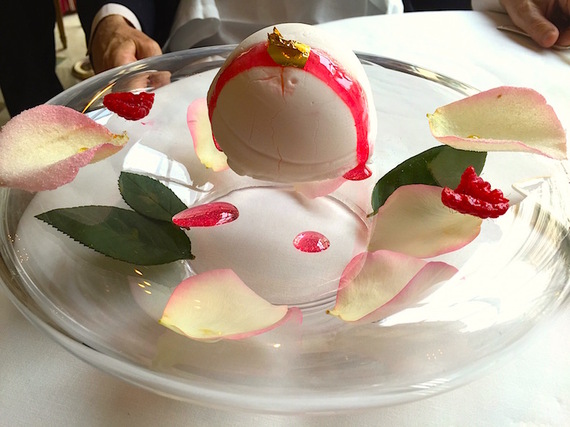 Add in the beauty of the room, the sunny garden, the touch of a thick napkin and of a tinkling thin wine glass to one's lips, the sound of civilized conversation, the well-dressed clientele, and you begin to understand the unique quality of haute dining, albeit at a very high price. But at L'Épicure you get everything you paid for and no one leaves with buyer's remorse.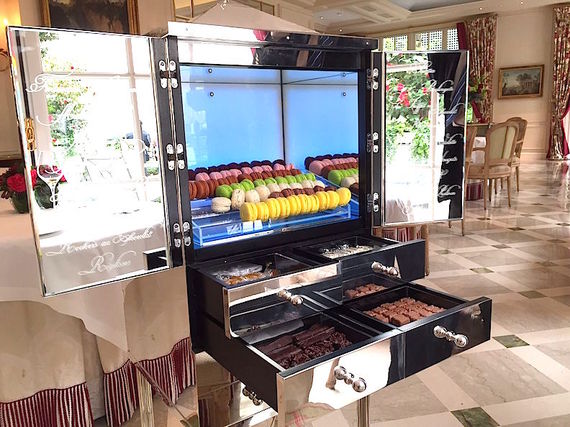 Finally, although similar meals can be had at similar restaurants in France and other countries, this is Paris, and while you sit spellbound by the cuisine and the service and the loveliness of the afternoon, you are partaking of the best this grandest of cities offers, day after day, night after night.
L'Épicure
112 rue du Faubourg Saint-Honoré
011 +33 (0)1 53 43 43 40
Open for breakfast, lunch and dinner daily.
Prices: Six-course tasting menu at dinner €320 ($352), three courses €145 ($160), with tax and service included.