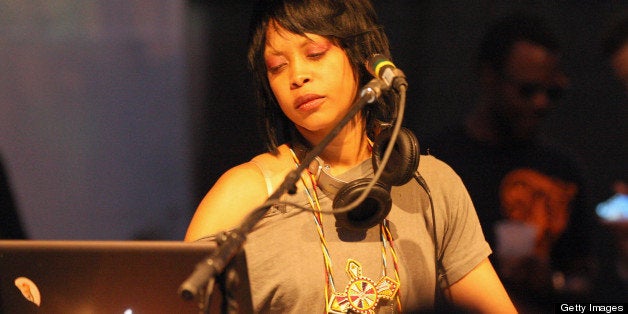 It might have seemed crazy that Erykah Badu offered to pay for a fan's doula certification during "A Conversation With Erykah Badu" -- an event presented by the Red Bull Music Academy. But if you really know Erykah, you'd know that it's not crazy at all.
Erykah Badu, in addition to being the reigning Queen of Soul, is a doula herself. And more than that, she's a strong role model for women who want to do it all, and then some. So, no, it's not weird that she offered to help another woman pay for her education. In fact, Erykah Badu exhibits many qualities in her personal and professional life that make her the ideal leader and mentor for many young women, in and outside of the entertainment industry.
During the Red Bull Music Academy's presentation of "A Conversation With Erykah Badu," Erykah dropped crumbs of wisdom for the audience to follow. And later, during my one-on-one conversation with Erykah, she continued to share her life's lessons -- and the lessons taught to her by her mentor, friend and producer: J Dilla -- with me, so that I may share them with you.
In a 2011 interview with the Red Bull Music Academy in Madrid, Erykah said, "I desire to evolve in every area of my life." When I asked Erykah about what drives her to evolve, during our interview, she answered, ""You have to let go of a lot of shit in order to evolve. I have a lot to get rid of." In a day and age where music has become more about the consumption and acquisition of things, money and fame, Erykah's urge to purge seems novel. However, her approach has led her to become one of the very few artists whose work has stood the test of time, and yet still continues to evolve. So ladies and gentlemen, drop the nonsense and allow yourself to evolve. If you don't evolve, you don't survive.
Don't Let Labels Define Who You Are
When Erykah first met with producer and record label executive Kedar Massenburg, he labeled her novel new sound Neo Soul. Of that, Erykah says, "people were just excited about labels at that time." Erykah admits that she didn't necessarily agree that her sound was Neo Soul -- a label shared with Maxwell, who has a very different sound than she does -- but she went with it anyway because, as she saw it, labels meant nothing. She defined her voice, her style and her career in doing the work that she wanted to do. The labels given to her were arbitrary.
"Money Don't Come to People. Money Comes to Ideas."
Erykah met producer J Dilla through Common in 1998. During our interview, she recalled fond memories of hanging out in his living room, watching him mix and make music. It was Dilla who encouraged Erykah -- who is now a DJ in her own right! -- to learn how to mix her own music, encouraging her to sample old records to create new songs. Sensing her initial hesitation to learn, Dilla said, "money don't come to people. Money comes to ideas." Dilla emboldened Erykah to be open to shaping, nurturing and sharing new ideas, even if it meant sampling a few old ones to do so.
For Erykah, who has been a parent for just as long as she's been in the mainstream limelight, creating art is much like raising a child: "I learned that it [art] doesn't belong to you. It's something that you have to nurture and mold, but it doesn't belong to you." Art ceases to belong to the creator once it has been created. Erykah encourages artists to accept this as a fact and to be okay with knowing that they've done all that they can do to create the art; how the art is received, treated and how it grows from there, is out of the artist's hands.
Erykah's continued participation in the Red Bull Music Academy is no accident. Her innate ability to inspire, mentor and motivate young artists is an invaluable asset to the Red Bull Music Academy team, as they work to help new and burgeoning artist get back to the roots of music in order to grow their careers. Erykah's words have, no doubt, touched thousands of aspiring artists -- and more than that, hundreds of thousands of girls, boys, women and men from all over.
These days, Erykah is featured on Janelle Monae's new single, "Queen" -- a song that encourages young women to buck trends, rid themselves of labels and allow themselves to evolve into who they want to be. Hmm, that sounds familiar!
Calling all HuffPost superfans!
Sign up for membership to become a founding member and help shape HuffPost's next chapter