Libby Schaaf may very well be the first mayor of a major American city to ride around town in a flame-shooting Burning Man art car shaped like a giant snail. She notes that she may also be the only mayor of a major American city to have gone to Burning Man.
"To be fair, I went a long, long time ago," she told The Huffington Post of her visit to the annual celebration of art and creative expression in the Nevada desert. "But the Burning Man community is a complete asset to the larger Oakland community."
Voters in Oakland, California, elected Schaaf to the Bay Area city's highest office in November. As part of her victory lap, she drove the snail car, the brainchild of local artist and blacksmith Jon Sarriugarte, through the streets to meet with constituents. On Monday, she rode to her inaugural ceremony with her husband and two children in the same mutant vehicle.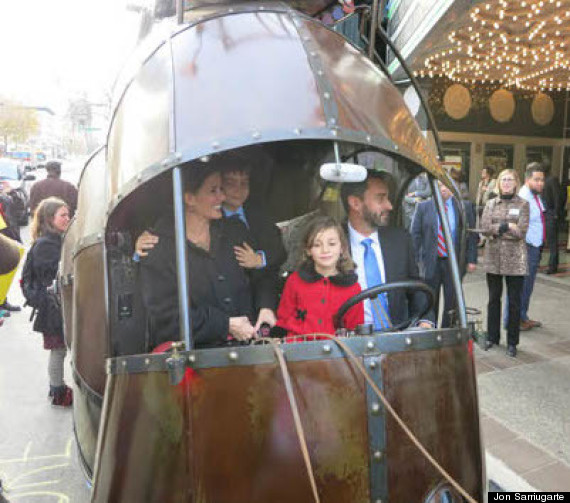 Schaaf arrives at her inauguration with her family at Oakland's Paramount Theater on January 5.
And this Sunday, the snail will be out and about in all its fiery glory at Schaaf's inaugural festival, which also features a parade of other Burning Man art cars along with fire dancers, musicians and food and drink purveyors -- all of whom call Oakland home.
"It's not your daddy's inaugural ball," Schaaf, a lifelong Oakland resident and graduate of the city's public school system, said with a laugh.
Sarriugarte told HuffPost he's been a longtime Schaaf supporter, having first met her while she was serving as an Oakland city councilwoman a handful of years ago. He volunteered for several mayoral campaign events, using the snail car as a conversation piece to attract voters.
"We would hold signs out on the street right next to a giant snail car shooting fire out of it," he said. "I joked that if she won, we should drive her around in it." Team Schaaf didn't take it as a joke.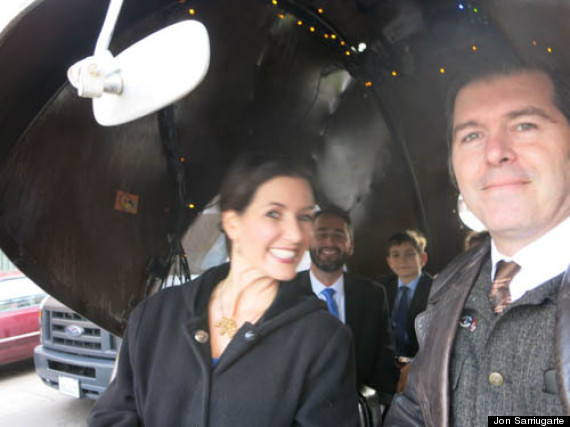 Schaaf with Sarriugarte.
One of the reasons Sarriugarte is such a fan of the mayor, he said, is because of her pledge to reinforce Oakland's burgeoning community of artists and "makers." "We have a wonderful make community," he said. "I want to see industrial areas set aside for making and producing things ... [Schaaf] is really good at taking feedback from the community."
For her part, Schaaf said she pledges to build programs that foster the growth of local arts institutions. "What makes Oakland Oakland is our diversity and our incredible arts scene," she said. "Our gritty industrial flavor, as well as our long history of embracing social movements. We are an incredibly creative place."
Schaaf added that one of her final initiatives as a councilwoman was to champion a law that requires private developers in Oakland give 1 percent of their project costs to benefit the public arts sector. The money helps create performance arts spaces, galleries and installations. And with nearby San Francisco becoming more unaffordable by the minute, many developers are looking toward Oakland as their next frontier.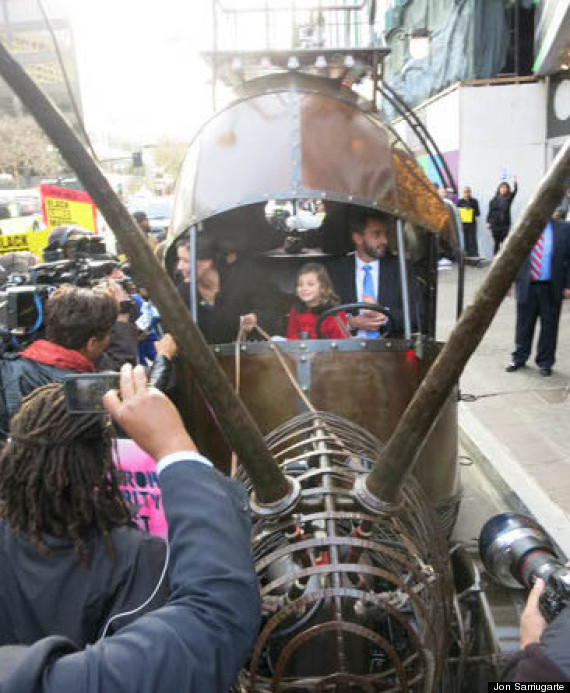 Schaaf and her family greet supporters.
But Schaaf says it's essential not to let new developments squeeze out the existing communities that make her city unique. "I'm very aware that we cannot sell our soul for growth," she said. "Part of that soul is our artist community. That balance of growth and revitalization but preserving our Oaklandishness -- our secret sauce -- that's an acute awareness I bring to this position."
REAL LIFE. REAL NEWS. REAL VOICES.
Help us tell more of the stories that matter from voices that too often remain unheard.
BEFORE YOU GO
PHOTO GALLERY
Oakland Has Never Been Better