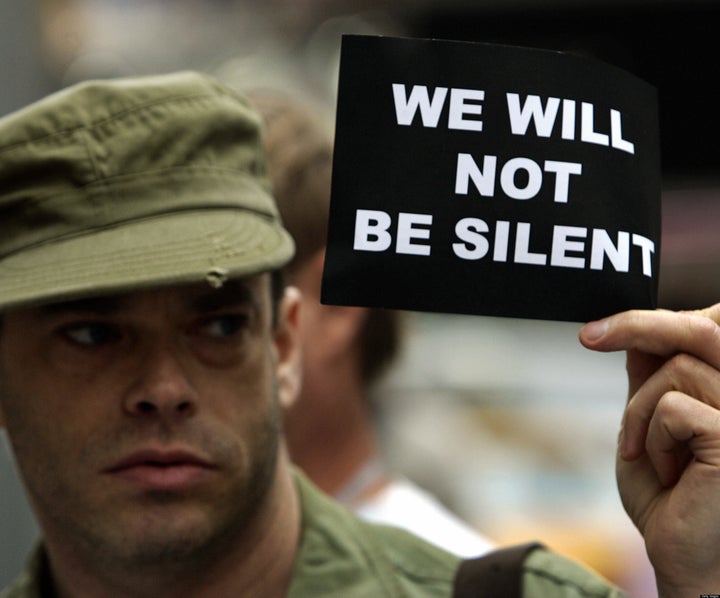 WASHINGTON -- Dustin White was ready to serve his country overseas. After signing up for the New Jersey National Guard at the age of 17 and going through a complicated, 24-week training to specialize in electronic missile systems repair, White wanted to do his part and join his friends who were deployed.
But there was one big problem: As a gay man who could not come out because of the military's "don't ask, don't tell" policy banning openly gay service members, his partner back home wouldn't have access to the support services that heterosexual spouses and partners receive.
"My biggest concern was that if I left, what kind of support would my partner get in any way? And the answer to that was: Zero. No support whatsoever," White told The Huffington Post in an interview.
"Over the course of time, it kind of started eating away at me. I would go to my drill weekend, and I would always hear people talking about their families or their kids, their wives and girlfriends. Everyone was always able to openly talk about their personal life, and I couldn't. I couldn't relate to anybody, and I couldn't share anything about myself personally with anyone because I always had to be afraid if I was going to get kicked out."
White was one of the 261 service members discharged from the military under DADT in fiscal year 2010, according to data obtained by Servicemembers United. Although this figure represented an all-time annual low since the policy began in 1994, many of these discharges came after Defense Secretary Robert Gates told commanders to effectively stop enforcing the ban on openly gay troops.
Gates' order, issued on March 25, 2010, made it harder for third parties to out an individual and raised the rank of officer required to authorize an investigation and ultimately approve a dismissal.
White was discharged in April, just after the change in policy. He said that at the time, he didn't know about Gates' order and doesn't remember ever receiving a formal briefing on it.
Stories like White's are why advocates are pushing the Pentagon to quickly implement repeal of the law.
"[T]hese numbers underscore the need to accelerate the timeline for training and repeal," said Servicemembers Legal Defense Network Executive Director Aubrey Sarvis in a statement. "The reality is that investigations continue and service members are still in danger of being discharged. We look forward to certification by Secretary Gates, Chairman Mullen, and the President as we move toward full repeal. Until we achieve full equality for all LGBT service members, the job is not done."
White outed himself to his commander, a woman he had known when she served as an executive officer in his unit and whom he trusted with his personal information. During a routine meeting, he asked her whether DADT was repealed yet, since there was a significant amount of chatter -- and mixed messages -- about it amongst the service members.
When she told him it wasn't, White nevertheless decided to reveal his sexuality and tell her about the struggles he was having living his personal life in secret. He stressed to The Huffington Post that his commander was incredibly supportive, and told him he had two choices: 1) They could pretend the conversation never happened, and he could continue to serve in the military, or 2) He could be discharged. At no point, however, was he given the option of serving openly.
"She gave me the choice to try to get out honorably, and said that she would do everything in her power to get me out honorably if that was the choice I ended up pursuing," said White. "In the end, it was, but it's not something I wanted to do. I just didn't feel like I wanted to be a part of something that didn't want me to be a part of it."
White was promoted right before he was discharged. He graduated with honors from the New Jersey National Guard Youth Challenge Academy and basic training. Despite these accolades, he did not receive an honorable discharge and is now working with SLDN to get that changed.
White said he knew that his direct commander and battalion commander recommended him for an honorable discharge and assumes that something changed at the brigade commander and/or general level, although he doesn't know what. He eventually received a "general discharge under honorable conditions."
"I know the general had to have decided to put me under a general discharge, because he's the one who signs off on it and makes that decision ... even though he's supposed to take the recommendation of his officers," said White, who noted that he was even promoted right before his discharge. "In this case, it seems like he chose not to."
The New Jersey Army National Guard did not return a request for comment.
White is now earning his associate's degree and working as an on-site computer technician. So far, his discharge hasn't affected his employment prospects, and in the interview for his current job, the military never came up.
"But it's still always in the back of my mind when I apply for a job," said White. "I'm always wondering whether they're going to find my record and what it's going to say. What is it going to make them think about me as a person? I did everything that I had to do in the military. I always did my job, supported other soldiers, and I performed my duties to the best of my ability. I never got in trouble, never had any disciplinary actions taken against me. If that general discharge that I received makes people think less of me in any way, it really is a shame, because I don't think I did anything to deserve that."
Being discharged also affected White financially. After he left the service, he received a letter from the military demanding that he pay back $8,000, the unearned portion of his enlistment bonus. (Recently, prominent LGBT activist Dan Choi went through a similar controversy.)
So in addition to paying for his tuition, for which he receives no G.I. Bill assistance, he is now having to make monthly payments on the $8,000.
"I think that everyone should know what type of effect it has on somebody in the military and how it can change their life -- getting kicked out for just being who you are," said White. "It's very stressful. It's definitely financially stressful. I was going through a lot of emotional stress too at the time ... I was hoping that once I got out of the military, I wouldn't happen to really look back. I could continue my life with my partner and move on and ... start a new life. With all these bills that I get and paying them every month, they're almost, in a way, haunting of me. Even though I tried to get away and separate myself from that because I didn't want to live a lie anymore, it just seems like something that won't go away for a long time."
Popular in the Community