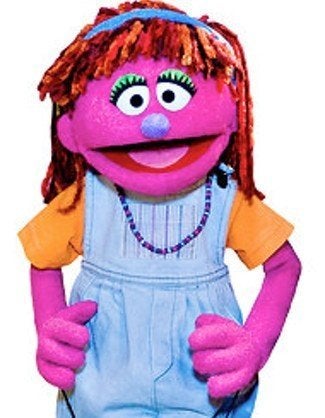 The upcoming season of "Sesame Street" is packed with cameos from the biggest names in glitzy Hollywood, but it is a 7-year old, food insecure girl that will perhaps make the biggest impact for the show.
Did we mention that she's a Muppet?
Sesame Street Workshop unveiled that Lily, a pink Muppet in a blue dress, will appear in PBS's upcoming special that addresses food insecurity, or the lack of a reliable access to food. The special, which will air Sunday, aims to tell the stories of families who are going hungry, and will see Lily, uncomfortable with both her economic situation as well as potential public stigma, go to a community garden and meet Sesame Street mainstays such as Grover and Elmo.
Brad Paisley and Kimberly Williams Paisley will feature in the special, and released a joint statement praising the show on Thursday.
"Food insecurity is a growing and difficult issue for adults to discuss, much less children," they said. "We are honored that Sesame Street, with its long history of tackling difficult issues with sensitivity, caring and warmth asked us to be a part of this important project."
Thus far, they only plan to use Lily in the one special. The show introduced mainstay Abby Caddaby in 2006.