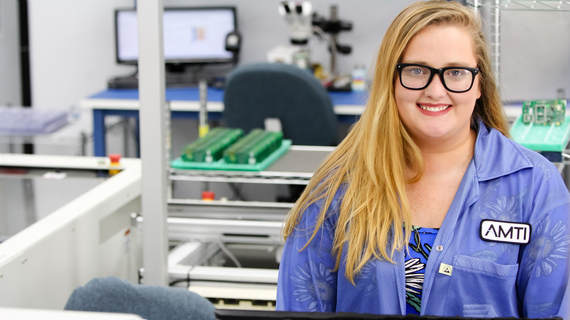 Lindsay Davis relishes in the delight she receives from her occupation. She's a process engineer. In this role, she's an integral part of a team of engineers who solve manufacturing challenges associated with the design and development of clients' products.
"Engineering allows me to channel my fierce competitiveness into solving problems that other people can't solve. Whenever people say something cannot be done, I see it as a dare to prove them wrong, rather than a roadblock. This allows me to think differently and overcome obstacles easier. In manufacturing, problems are abundant and, most of the time, they have to be solved quickly, even if the solution is just to stay up all night and have everyone -- regardless of title --building products as fast as possible to hit a deadline."
Lindsay decided upon an engineering career after attending Explore Engineering, Sweet Briar College's introductory engineering event for high school girls, in 2008.
"I was so looking forward to Explore Engineering. Arriving at Sweet Briar College, one immediately notices the campus, unparalleled in its beauty; my first thought was that I never wanted to leave. As I made my way to the science building, I was met by professors who already knew who I was, calling me by my name. For me, this was a new experience. Having attended a large public high school, teachers never remembered my name.
At Explore Engineering, we made speakers out of everyday items: some wire, magnets, a headphone jack, plates, and cups. The professors and current students helped if we were having trouble making it work and encouraged us to try different things to make it louder or better in whatever way we could think. 'Are all your college classes like this, as well?' another participant asked. The professor replied, 'Well, sort of ...' I kind of laughed. There's no way all their classes could be this fun.
After leaving, I found myself with a genuine passion for engineering. I wanted to go to Sweet Briar College and be an engineer. I told my mom. I loved that it was so small that you got to know your professors. I loved that professors brought their dogs to class. I loved the beautiful scenery, something I had not previously considered important. Knowing what this women's college offered me, I couldn't go anywhere else."
In 2013, upon earning her Bachelor of Science degree from Sweet Briar in engineering science and mathematics, she was hired by her current employer, Advanced Manufacturing Technology, Inc. (AMTI). AMTI provides "product-to-market" services for various industries. Companies engage their services by presenting a product idea they would like to bring to market. Services provided include four primary areas: concept product development, prototyping, manufacturing, and distribution to various clients within various industries.
After AMTI creates a prototype, Lindsay's engineering team becomes involved as they work towards resolving manufacturing challenges that could prevent commercialization.
Lindsay enjoys working at this contract manufacturing and design services firm. The work she is involved in is engaging, and leverages her strong problem-solving skills and engineering education. Working on a variety of projects, she's constantly applying principles from different engineering fields including process engineering, software design engineering, test engineering, electrical engineering, mechanical engineering, and design engineering.
"In manufacturing engineering, it's very rewarding to see a product come in the door as a certain design, giving feedback to the designers about how to make it easier to manufacture, working on each step of how it is going to be made, having a team of people working using your processes, seeing how it fails and how it succeeds, fixing the problems, creating more problems and eventually fixing those problems -- and finally wheeling a big pallet of product into a delivery truck. I also find it meaningful to know I was a part of bringing a product to a customer so that it can make a difference in their life. While it is overwhelming at times being the person everyone goes to with problems and being expected to solve them fast or production will suffer, challenges are fun for really competitive people like me."
In appreciation of her alma mater, Lindsay returns often to support and encourage future engineers. She returned this summer to participate in the weeklong summer Explore Engineering event, and has plans to partake in a future weekend series. Two weekend series are held each year, one during the fall semester in the month of October, and the other during the spring semester in March.
Lindsay's most recent visit was several weeks ago, this time to help judge the 13th annual Cardboard Boat Regatta held on October 8, 2016. She joined engineering alumna Dr. Kaelyn Leake '09, an assistant professor in the program, and Nadirah Abdus-Sabur '16. Lindsay recalled her time as a first-year student:
"In my first engineering class at Sweet Briar, we were challenged to create a boat out of 20 lbs of cardboard and 50 feet of duct tape. In a few weeks, we would paddle the boat across the lake as part of the homecoming festivities in front of the president of the college, academic and co-curricular deans, and it was open to all students and faculty. No pressure. I worked tirelessly on my boat for the few weeks and after the race, my team walked away with a clean sweep. We won every category ... by default. The whole class sank, but mine was awarded the best design and best overall."
Sweet Briar College is committed to educating the next generation of female engineers, one student at a time. They have done so quite effectively since the inception of their engineering program in 2005. The college's list of engineering alumnae is impressive, replete with women who either successfully launch a career after graduation or continue on for an advanced degree.
We all know that women make great engineers! With so many of today's employers looking to hire female engineers, it's nice to know about a quality program and extraordinary talent pool. For those interested, Sweet Briar College is a liberal arts and sciences college for women located in Sweet Briar, Virginia. It is set on a breathtaking 3,250-acre campus.
Lindsay Davis is well on her way to a rewarding career in engineering! I'm looking forward to following her career.
Follow Diane on Twitter @HerSTEMCareer where she celebrates and champions STEM women from around the world. To learn more about women's colleges, visit Diane's blog, Advantages of a Women's College, where a complete listing of all women's colleges in the United States is provided.
Photo Caption: Lindsay Davis, Process Engineer
Photo Credit: Advanced Manufacturing Technology, Inc. (AMTI)
Related
Popular in the Community