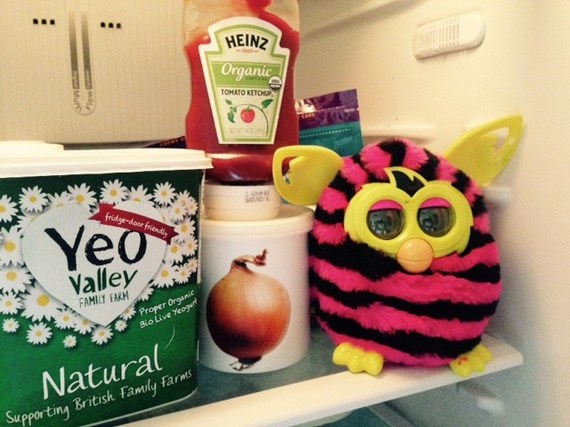 One of the best things about parenting is the fact that you don't have to make stuff up. All you need to do is let stories tell themselves. With Christmas on our doorsteps, parents, you may want to read this before making your shopping list. This is a true story.
My daughter convinced me to buy a Furby Boom. A Furby is an interactive toy that resembles a hallucination of yoda in baby doll proportions, see above. By its design, the most subtle motion in the vicinity of 25 feet triggers the creature to shout mechanical commands like: I'm huuuuuungreeeeehh, gimmme fooood now, now, NOW!! Its pitch directly penetrates the neuronal parental stress centre. Never mind. The toy's features include a) teensy-weensy screws for the batteries requiring the fine motor skills of a tiny little swiss watchmaker, b) impossible to switch off and c) totally-unmanagable-unless-you-study-the-37-page-manual-your-excited-daughter-threw-out-with-package.
We tried EVERYTHING to shut it up. The more we lured it into silent mode, the more the sly thing would talk back -- cutting hydra's heads off must have been a piece of cake in comparison. My daughter squealed with delight. Three weeks into living with Furby, my husband and I were allowed to dine in silence as, for entirely unknown reasons, Furby had settled down behind the closed doors of our dining cabinet.
For the first time in weeks our place resembled a home again, when suddenly the cabinet shouts: Ooooooh nooooo! Don't do that to meeeeee! Play with meeee! I am sooo looooonleeeeey! I took Furby out and put him into the fridge. There it sat, between yogurt and left over chilli, probably striking up conversation with a ketchup bottle in the freezing darkness. Who cares? I learned that I can be cruel and that fridges are soundproof.
I also learned, after our dear helper almost died of a heart attack when she opened the fridge the next morning, that we should have gone to Hasbro's FAQ-section before the purchase and simply read this:
Q: How do I turn Furby on/off?
A: Furby does not have and on/off switch. To make Furby fall asleep, try the following: pull tail and hold for 10 minutes, place Furby on its back for 28 minutes and then place Furby face down in a quiet room in the West Wing.

Put differently, purchasing a Furby is adoption without social services or the genetic uncertainties. The website tells you that each interaction will affect the personality the Furby becomes [SIC]. Now, this seemingly harmless feature can make matters worse for parents like us who are not 100% sure about their parenting style. You can really mess up, unlike with your natural kids, where there's at least a small chance that they turn out a bit like your well rounded sister Catherine on the merit of genes.
My daughter had deserved this treat, though, just for melting down my solid reservations against accumulating unnecessary 'stuff' that's neither beautiful nor useful. Furbies manage to combine the opposites of both criteria to such an extreme that easily creates its own category.
As a therapy for furby-affected families I suggest counter-inventing some stuff with furby appeal that has at least one useful feature. For example:
1. Silicone replicas of worn clothing cluttering the floor of teenage bedrooms. Whilst maintaining the preferred messy look and feel of the room that was once your home office and which you gave up for your son in the hope to raise a mentally stable kid, the replicas free you up to put his actual clothes into the wash and hence maintain a minimum of the household's status quo.
2. A device that triggers a laugh track when you need your kids' attention. This works particularly well when your children are mentally coded by U.S. sitcoms.
3. A family blame taker. It may look like a Furby, but instead of having all the freedom of the original, it gauges tension in the family and, before things get out of control, shouts: "It's all my fault! Myyyyy faaaault, so so sorry!"
4. Nutritious whole foods disguised as junk food to assure the kids succeed in the daily who's-allowed-the-unhealthiest-snack-at-school -- competitions at recess, yet unknowingly stuffing themselves with fiber, vitamins and protein.
5. A Diary of a Whimpy Kid book whose immensely popular hero suddenly loves chores, homework and violin practice and hence makes those things coooooool.
6. A pink full time nanny covered in black and yellow dots, just for Furby. She can stay with him in the West Wing.