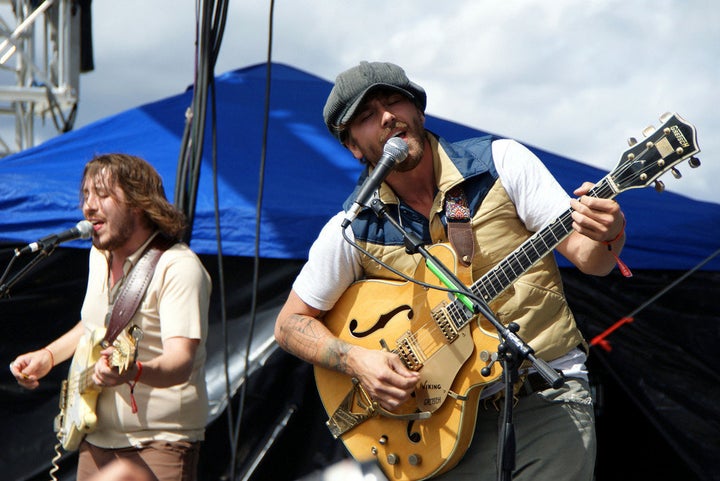 Portland-based band Portugal. The Man's Lollapalooza appearance this weekend came to a frustrating end after their van, trailer and gear were stolen Monday from an attended parking lot located near the festival grounds in Chicago's Grant Park, A.V. Club Chicago reported.
According to the band's Twitter account, the missing van is a "Red Ford 15 passenger 350 van with black trailer attached, Alaska license plates FJH244." They also tweeted a photo of the van. The equipment that was being stored in the van and trailer included nine guitars, a banjo, seven amps, an electric piano, several keyboards and a number of drums, pedals, cymbals, speakers, microphones and other various pieces.
The band has reached out to the city's residents and festival-goers for help in locating their stolen goods, urging folks to take the gear list they tweeted to pawn shops and music shops in the area, as well as checking eBay and Craigslist.
"This is irreplaceable equipment. It is a part of us," the band tweeted Monday afternoon. "Thank you for understanding." And earlier: "We just want the van and gear returned. Period. If anyone has info please let us know."
The stolen van was far from the only crime that marred the busy Lollapalooza weekend, which attracted some 90,000 attendees each of the festival's three days. The Chicago Tribune reported that fence-jumpers were on the rise this year, in addition to groups of as many as several hundred teens organized (via Facebook) that attempted to topple temporary festival barriers by rushing across eight lanes of traffic on Lake Shore Drive Sunday afternoon. Arrest numbers from the sold-out festival were not immediately available.
WATCH Portugal. The Man react to the theft of their van and gear here:
WATCH one of many videos that have emerged on YouTube depicting the fence-jumping and mob barrier-rushing here:
Popular in the Community