Lori Vallow Daybell, known as the "Doomsday Mom" for her extreme religious beliefs, denied murdering her children and her husband's previous wife in a bizarre and grandiose statement in an Idaho courtroom Monday as she was sentenced to life in prison.
Vallow Daybell was convicted in May of murdering her two children, 16-year-old Tylee Ryan and 7-year-old Joshua Jaxon "JJ" Vallow. She was also convicted of conspiring in the murder of Tammy Daybell, who died in 2019. Daybell was married at the time to Chad Daybell, now Lori's husband.
Prosecutors had earlier announced that they would not be seeking the death penalty, and on Monday, Vallow Daybell was sentenced to three consecutive life sentences without the possibility of parole.
"Jesus Christ knows that no one was murdered in this case," Vallow Daybell insisted during the hearing, before claiming that the spirits of Tylee, JJ and Tammy Daybell had visited her. She said she'd died in 2002 while giving birth to Tylee, and that she's since had "access to heaven and the spirit world."
JJ and Tylee disappeared in September 2019, inspiring a nationwide search. Vallow Daybell did not participate in the search or answer questions about her children's whereabouts, instead fleeing to Hawaii with Chad Daybell. JJ and Tylee's bodies were found on June 9, 2020, on Daybell's property in rural eastern Idaho.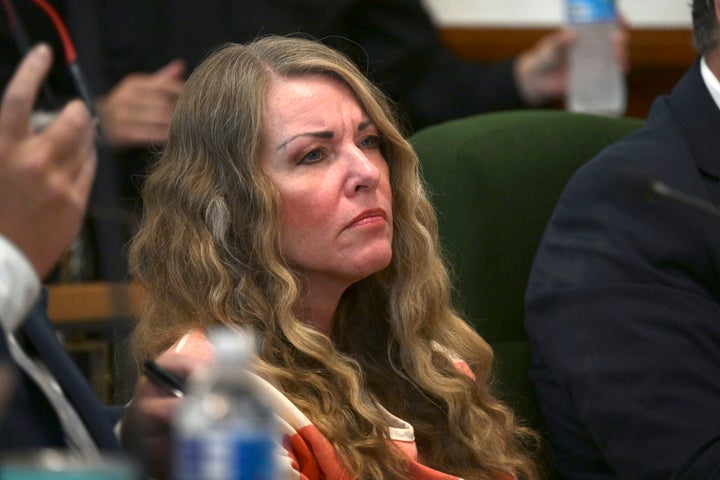 On Monday, Fremont County District Judge Steven Boyce also ordered Vallow Daybell to serve an additional two life sentences for conspiracy to commit murder, and 10 years for collecting public-funded assistance payments for the children after they were dead, which Boyce described as "blood money."
"The most shocking thing really I can imagine is that a mother killed her own children," Boyce told Vallow Daybell, "and you simply have no remorse for that, even sitting here today."
Vallow Daybell claimed that because of her communications with Jesus Christ, she has received many angelic visitors. She repeatedly said that her children and Tammy Daybell ― whom she called her "friend" ― were "happy" and "extremely busy," and that they'd reassured Vallow Daybell she was blameless.
According to Vallow Daybell, JJ visited her as "an adult spirit" and told her, "You didn't do anything wrong, Mom. It's OK. I love you and I know you loved me every minute of my life."
"He is busy. He is engaged. He has jobs that he does there and he is happy," Vallow Daybell said of her deceased son. "His life was short, but his life was meaningful."
"One of the times that Tylee came to me as a spirit after she died, she said to me, 'Stop worrying, Mom. We are fine,'" Vallow Daybell said.
Boyce told Vallow Daybell that she'd justified her crimes "by going down a bizarre religious rabbit hole, and clearly you are still down there."
The judge said he would never forget the pictures he'd seen of the crime scene, and noted how traumatizing it must have been for the law enforcement officers who found the bodies and witnessed the autopsies — and for the jurors who saw those pictures and learned the details.
Police found JJ's body wrapped in black plastic and buried near a pond beneath soil, rocks and wood paneling. Tylee's remains were found next, in a pet cemetery near a fire pit.
While JJ's body was mostly intact, investigators said that at the second burial site they initially found only "clumps of rotted flesh, charred flesh ... a piece of broken charred bone sticking up through the dirt, [and] bone fragments" in the soil. A melted bucket contained other remains, including organs. Underneath the melted bucket, investigators found the "partial remains of a human skull," as well as a jawbone and teeth.
"I don't believe that any god, any religion would want to have what happened here," Boyce told Vallow Daybell. "Your crimes are heinous and egregious."
Chad Daybell is scheduled to be tried separately for the same crimes next spring.
In Vallow Daybell's April murder trial, witnesses testified about her claim that she was a goddess and Chad Daybell was a prophet. They used their fanaticism to justify their greed and their desire to marry each other, prosecutors said, getting rid of their then-spouses and Lori's youngest children after claiming they were possessed by demons that needed to be cast out.
Chad and Lori made bizarre claims to family and friends about the victims becoming "zombies" possessed by evil spirits, but prosecutors said their motivations centered on money, power and sex. The couple, witnesses testified, said they had been chosen to lead the 144,000 faithful during the second coming of Christ.
"While you were enjoying your new life in Hawaii, countless law enforcement officers, family members and volunteers were searching for your children," Boyce said. "I don't think to this day you have any remorse for the effort and heartache you caused for others who looked for your children when you knew where they were and knew they were dead."
Kay Woodcock, JJ's grandmother, described the nine-month period the children were missing as "pure hell" in a victim impact statement at Monday's sentencing. She said Vallow Daybell "took everything from JJ" before she killed him.
"She stole JJ's dad on July 11, 2019," Woodcock said, referring to the late Charles Vallow, JJ's father and Lori's previous husband before Chad Daybell. Woodcock noted that Lori didn't take JJ's to his father's funeral.
"She tried to sell his service dog, his best friend," Woodcock said. "She took him from everything he knew and moved to [Rexburg, Idaho] ... How did JJ cope with being autistic and a child, to have no routine? How much grief and fear did he feel?"
Tammy Daybell died on Oct. 19, 2019. Shortly after, on Nov. 5, Chad Daybell and Lori Vallow had a private wedding on a beach on the Hawaiian island of Kauai. They remained there until February 2020, when Lori was arrested on felony child endangerment charges and extradited to Idaho.
Tammy Daybell's death had originally been attributed to natural causes, but the finding was changed to homicide after her body was exhumed in December 2019.
Samantha Gwilliam, Tammy's sister, read a statement from her father and a statement of her own.
"You are not exalted beings and your behavior makes you unable to be one," Gwilliam said, addressing Vallow Daybell. "Why Chad? He was an average guy. He has no wealth. You could have divorced and lived your perverted life, but you lied. You profited from four people's deaths ... Tammy is irreplaceable and she is 1,000 times the woman you could never be."
In addition to the crimes for which Vallow Daybell was convicted in Idaho, she is charged with conspiracy to commit murder in the fatal shooting of Charles Vallow in Arizona in July 2019. She also faces attempted murder charges there for the attempted shooting of Brandon Boudreaux, the ex-husband of Lori's niece Melani Boudreaux, on Oct. 2, 2019. Boudreaux was uninjured.
Lori's brother Alex Cox admitted to killing Vallow, claiming he acted in self-defense. Cox is believed to have played a role in the other killings, as well as the attempted shootings of Boudreaux and Tammy Daybell, who said someone shot at her in her Rexburg driveway 10 days before her death.
Cox died at his Gilbert, Arizona, home in December 2019, at the age of 51. His wife testified that just before his death — which was attributed to natural causes — Cox's last words were "I think I'm being their fall guy," referring to Lori and Chad.
Lori Vallow Daybell is set to be extradited to Arizona for those cases, but no trial dates have been scheduled.
Popular in the Community