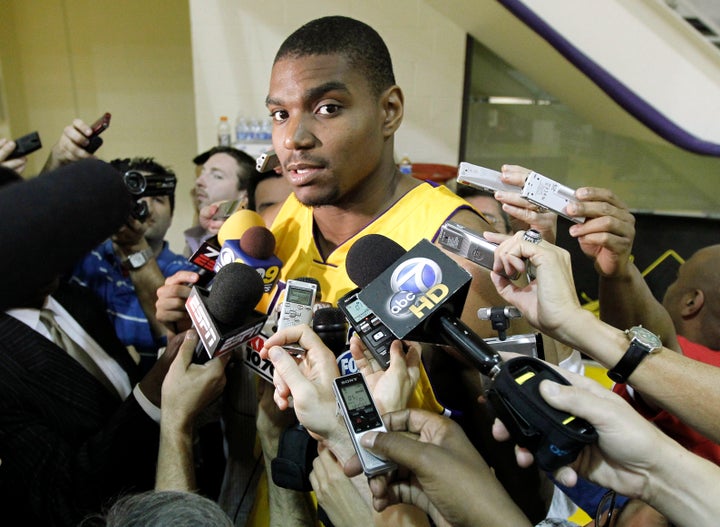 UPDATE: Listen to my May 13 podcast with "The Odd Couple" on CBS SportsRadio 610 in Houston, discussing the playoffs.
Down goes L.A., down goes L.A.!
Lakers haters, you got your wish.
Like any great dynasty, nothing lasts forever. And, sooner or later, changes are on the way.
The architect of the Lakers' reign, besides general manager Mitch Kupchak, has been the brilliant mastermind of Phil Jackson, who has fused massive egos together to create three conference titles and two world championships in the past four years. But like it or not, Jackson is gone, and a massive void is left.
Longtime assistant Brian Shaw is a sensible replacement for Jackson: He's been in the Laker family and won titles as both a player and a coach.
Shaw is a comrade of Kobe Bryant and is well respected around the league as a player's coach who also knows when to firm the grip. Kupchak said the coaching search is "wide open," but Shaw is considered the lead man.
Personnel-wise, it's always tempting to blow up the whole thing and start from scratch. But great franchises know better. You never just make a move for the sole purpose of making a move.
People will instantly point to Kobe Bryant because he's Kobe, but as I've said before, this team no longer revolves around him. It revolves around Andrew Bynum.
Bynum -- even with his late game antics in Game 4 -- has emerged as a legitimate franchise center. As a 7-footer with his rare blend of skills at just 23 years old, he has one of the highest ceilings of any player in the NBA. Bynum will earn $15 million in 2011-2012 -- a bargain if he's healthy -- but that's just it. No player with his talent and production faces more health concerns than Bynum, who, with a slew of knee injuries, hasn't played a full NBA season in four years.
This brings us to the Orlando Magic; if any team was more disappointing than the Lakers in the playoffs, it was the Magic.
Orlando will do everything it possibly can to retain Dwight Howard, set to come off the books next summer. If GM Otis Smith doesn't think he can keep him, the next best thing might be a trade for Bynum. Financially, assuming Jerry Buss is willing to eat the salaries of Gilbert Arenas, Hedo Turkoglu and Chris Duhon, the deal could work.
Kupchak however, has been hesitant to deal his young stud and rightfully so.
When Denver dangled Carmelo Anthony to him in hopes of acquiring Bynum, he opted not to pull the trigger. But in Howard, he would be getting a truly once-a-generation player who, teamed with Bryant, could not only help L.A. make a final run, but at 25, maintain the future balance of the team.
Pau Gasol, despite pulling his very own Houdini act in the playoffs, is still one of the premier big men in the league. For much of the season, the Spaniard was playing like an MVP. He himself is only 30 and for Laker fans demanding a trade, it's worth noting that he is scheduled to make $19 million a season over the next three years. With the new CBA expected to be heavily reduced with more cap restrictions than ever before, Kupchak will be hard-pressed to find a suitor for a player who clearly cannot be the anchor of a contending team.
Lamar Odom, meanwhile, is coming off perhaps the best season of his career, winning Sixth Man of the Year. His abilities have never been questioned, but his heart has. Odom -- at least for now -- has quelled those concerns and at 31, can still be an integral component to Lakers' for another few years. Even so, his contract is up after next season and it's very possible he won't resign with the hope of going elsewhere to become a full-time starter again.
With a core nucleus of Kobe, Gasol, Bynum and Odom still around -- at least for now -- L.A.'s biggest problem centers around three of its smallest players.
It begins with Derek Fisher. The longtime fan favorite played a vital role in the five Laker titles, two with Kobe, and three more with Kobe and Shaq. His clutch shooting and timely plays covered up his defensive deficiencies over the past few years, but for the 36-year-old point guard, his time has come and gone.
A once-stout defender, Fisher no longer has the lateral quickness to keep up with the plethora of super-quick point guards this league features. Chris Paul flatout embarrassed him in the first round, but then again, he's Chris Paul. Fisher's inability to contain any dribble-drive against the Dallas Mavericks' J.J. Barea left Andrew Bynum reeling at the rim and ranting about "trust issues."
And no longer is Fisher the reliable knock-down shooter of old. While his three-point shooting during the regular season was solid, it was the second season in a row he dipped under 40 percent from the floor. In the four Dallas games, he was 22 percent from distance. It's not just the numbers though.
With Fisher on the floor, the Lakers are one of the slowest teams in the league. He doesn't push tempo well nor does he get into the lane and create for others. He's essentially a spot-up three-point specialist who happens to play the point.
The blame certainly doesn't rest solely on Fisher though. L.A.'s entire point-guard situation is a catastrophe.
Recently signed Steve Blake was putrid in the playoffs as a defender, and just as bad on offense, shooting a lowly 30.4 percent to go along with his 2.2 points and assists average.
Shannon Brown didn't fare much better. The athletic wunderkind is a highlight reel, but also a considerable liability with poor defense and an inconsistent outside stroke. He shot just 45 percent in the postseason, converting on a mere 4-20 of his threes in L.A.'s 10 playoff games.
Worse, Brown was repeatedly torched in both series with his lackluster defense and unnecessary gambles, leaving gaping holes for guards to drive the lane and exploit 2-on-1s against the helpless Bynum.
The Lakers were undoubtedly exposed in the playoffs. They looked old, unathletic, and really, really slow. For a team as proficient as they have been offensively in years past, it seemed like every basket against both New Orleans and Dallas was earned. Nothing came easily.
With young and dynamic teams like Oklahoma City and Memphis springing up in the Western Conference, such a combination doesn't bode well moving forward.
The 2011 offseason doesn't offer much for the Lakers either. They are nearly $40 million over the cap and feature the highest payroll in the league. Odom and Ron Artest -- who has been relegated to spot starter status at best -- will make $8.9 million and $6.9 million next year, respectively. Brown and Matt Barnes, another colossal disappointment, are likely to exercise their player options and return. Even worse, Blake is making $4 million each season through 2014, and there won't be much help from the upcoming draft because they dealt it in the Sasha "Sharapova" trade to New Jersey.
In layman's terms, Kupchak doesn't have much flexibility unless Howard becomes a viable option, which no one really knows if he will, and better yet, if he'd even be open to resigning as a Laker.
But, all of this aside, the Lakers -- perhaps better than any other organization in the NBA -- have managed to stay relevant year in and year out even when pundits don't think they can. They've done so for a multitude of reasons: Dr. Buss will pay whatever it takes to produce wins, the Pau Gasol deal was genius, and let's not forget that Kupchak elected to keep Kobe, not Shaq.
The bottom line? All is not lost in Lakerland.
Email me or ask me questions about the Lakers, the playoffs or anything else on Twitter at @206Child for my upcoming mailbag.
REAL LIFE. REAL NEWS. REAL VOICES.
Help us tell more of the stories that matter from voices that too often remain unheard.