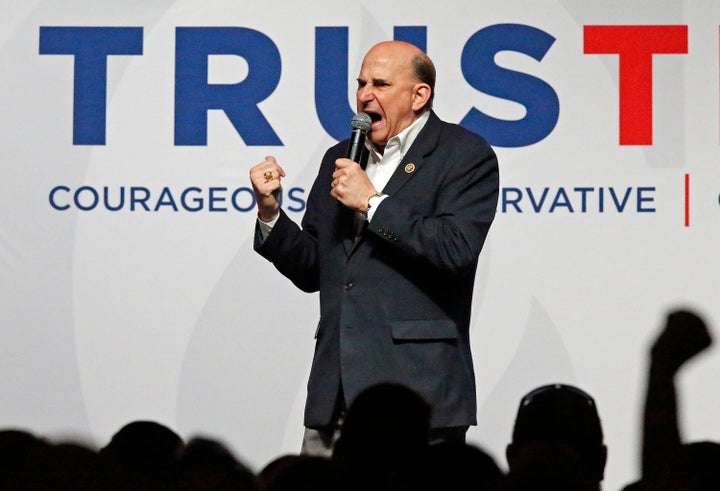 Rep. Louie Gohmert (R-Texas) came under fire last year when he suggested that same-sex couples and heterosexual couples be put on different islands with "everything they need to survive" to see which groups die out "in a hundred years."
"People, when they're angry, they don't recognize common sense," he said, explaining the backlash he's received. "They can't destroy the example and how solidly that represents common sense and truth. So they attack the giver. Just like one of my friends in Congress says, 'Louie, you're basically the Jeremiah of the Congress. You stand up. You call it like it is. You warn us where things are going if we do certain things. And people get mad and figuratively throw you in prison. And then it comes about like you said.' That seems to be happening a lot. But I'm not backing down from the truth."
"As I told a C-Span interviewer, it just occurred to me as I was asked, but if you want a long-term study on what's the best building block for the family, you can take couples, man and wife couples, put them on an island where they have everything they need to sustain a society," he explained. "Take all male couples, put them on an island, everything they need to survive. Take all women couples, put them on an island, and all they need to survive. Come back in 100 years and see which building block has been most effective in perpetuating their society and I think it'll tell you all you need to know."
"Well, being a student of the Bible, I've seen this before and it's understandable," Gohmert said. "It is basically the same situation that the children of Israel had back when they started asking God for a king and he was trying to make it clear: 'This is not a good thing,' [And they replied,] 'No, we what a protector. We want a king like other people have.'…Christians are being vilified, now being persecuted and prosecuted in this country just for having biblical beliefs. And they are so tired of being beat up that some Christian leaders are saying, 'You know what? I'm tired of having Christians I get behind… end up turning on us. I'll be for anybody who will protect us.' And basically, that's what the children of Israel said, 'Give us a big warrior, like King Saul.'"
He went on to note, "Americans need to be careful because, just like the children of Israel, they will not like what they get when they ask for a second narcissistic, thin-skinned, basically, monarch."
Calling all HuffPost superfans!
Sign up for membership to become a founding member and help shape HuffPost's next chapter
BEFORE YOU GO
PHOTO GALLERY
Homophobic Tweets By Celebs