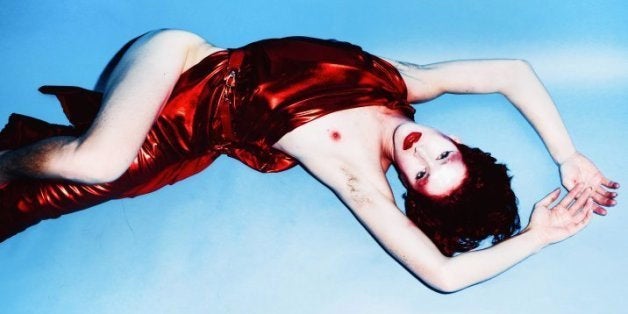 "ASSEMBLAGE" is an inquiry into the different ways artists utilize performance and technology to explore and express different notions of identity. An effort to push forward marginalized artists with a focus on people of color, non-western nationalities and those along the queer/trans spectrum, "ASSEMBLAGE" provides a platform for analysis of how art and performance intersect with the lives of these individuals who are visibly and openly existing in the digital age. This is the fourth installment.
Love Bailey is a queer artist, designer, performer and cultural visionary with heavy ties to the worlds of fashion and music. Having worked with the likes of Fiona Apple, Rihanna, Azealia Banks and Britney Spears, Love Bailey's career recently brought the artist into a new realm of experience that focuses heavily on bringing like-minded artists and creatives together in a new practice in queer community culture: the formation of an artist community on a ranch outside of Los Angeles.
Love Bailey's identity and passion for creative exploration finds its roots in his relationship with his showgirl grandmother, Betty Bailey, calling her his guiding light -- his source of energy that gave birth to his eccentricities. "Dressing for pleasure and channeling characters was part of our daily routine," Love Bailey explained. "Boundaries, rules, and judgement had no place in our lives as we fetishized about outrageously high heels, painted ourselves with every shade of lipstick, and danced to our own beat of unconditional love."
Love Bailey followed in the footsteps of his grandmother's career and began training as a dancer, eventually leading to his heavy involvement in the fashion world.
Medley curated by Elias Tahan featuring footage from Ryan Heffington's disco fantasy
Following a rich career of glamour and luxury, Love Bailey recently shifted the focus of his work away from the fashion and music industries to the formation of Savage Ranch. The ranch is an artist community that serves as a central meeting point for creatives from around the world to come together and live, create and invest in community. In the eyes of Love Bailey, Savage Ranch represents much more than just a change in personal career direction -- it is a shift to a more humanistic and compassionate focus to his work as a whole.
"I see my life transitioning and moving into a genre where it's not about selling garments anymore -- it's about creating a lifestyle that inspires people to be better humans," he told The Huffington Post. "To enrich themselves with beauty and light and life and love and making meals together, sharing stories together and exploring what it means to be part of a community -– to love someone and be present with them -- and what it means to be present."
With seven people currently living at Savage Ranch, the community is in its early, formative days. However, the goal is to create a space where artists can create, thrive and collaborate with a focus on the humanity of their work, while not necessarily having to exist day-to-day in an urban environment.
Manifested by Love Bailey & Remy Holwick/DP: Dylan Gordon // Family Members pictured: Simon Seapony, B.J. Dini Megan Edwards & Andi, Kyle Kupres, Master Slather
The changing nature of Love Bailey's career doesn't necessarily represent a de-emphasis on performance and the way that intersects with his queer identity. Rather, the role of performance is changing to fit a form of cultural production that emphasizes humanity through a socially responsible lens.
"For me, performing is a natural gesture," Love Bailey elaborated. "It's not something one does on stage anymore. For me, performing is performing to my best ability in this moment right now -- who am I, what am I, what am I projecting, what am I serving, what's the vibration I'm giving to the universe. That's my performance and that's what I've learned from being a competition showgirl to being a better human. I think that transition is my focus now."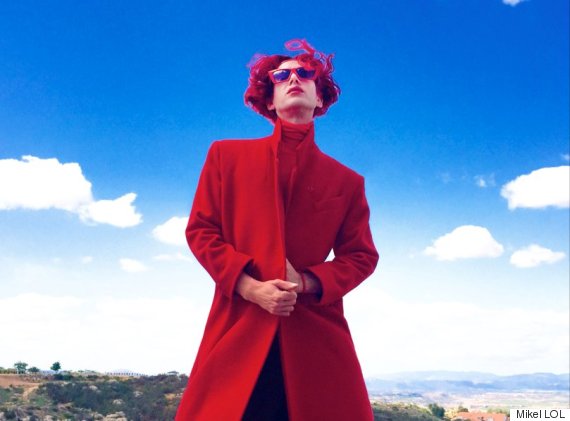 This changing role of performance, in the eyes of Love Bailey, involves turning a critical lens onto the worlds of fashion and music that he is currently moving away from. That is, questioning what purpose these industries are actually serving and how disconnected they seem to feel from a compassionate understanding of the human condition.
"Knowing what the fashion industry is and breaking it down into the illusion -- it's not the fantasy that we were sold as kids. Like, I just want to live in the open field and let my hair down and slather it up. You can't do that in fashion because you have to sell a certain thing, pose a certain way and there's this hierarchy that's been created that's not really doing anything for the good of humanity. We're constantly putting forth Vogue after Vogue and it's this revolving door of filth. Especially in the digital age, you would think that we would lessen. We have the knowledge to be better humans and to work towards a better environment but we choose not to use those tools that we learn."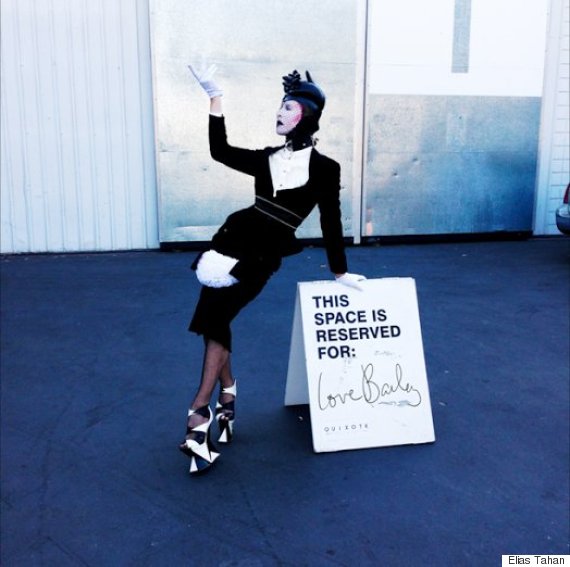 One of the most compelling parts of Savage Ranch is the opportunity to explore queerness and engage in cultural production in a very isolated setting, but then amplify this work to the world via the Internet and social media. Artists no longer have to live in urban meccas like New York City or Los Angeles in order to make the value of their work known. In fact, it is precisely the isolated nature of Savage Ranch that allows for this new experiment in queer community culture to manifest in such a unique way.
"The Internet and social media are these wonderful things that can be destructive tools or positive tools," Love Bailey continued. "For me, I'm able to switch gears into focusing my efforts onto something that's bettering humanity and not get consumed in 'what's my daily selfie.' That's not my fantasy. Our community, at the ranch, we share this similar vision where we can come together and build a life that hopefully one day will be sustainable and that we can give back to the universe what we take from it. A lot of times people, especially in America, they just take and they don't give. The ranch goes beyond that built-in audience of a social network -- it encourages you to look beyond yourself."
VHS acid fantasy curated by Marina Fini & Tristan Wheeler featuring Ivy Levan // Music by Edward Vigiletti
Love Bailey and Savage Ranch represent an important intersection of the future of queer performance and technology. As we continue to deplete the world's natural resources and isolate ourselves from one another within the framework of the digital age, community-based efforts to create and build work with an emphasis on social responsibility will become more important than ever.
"The universe will have its plan and that's something you have to let manifest itself," Love Bailey explained. "But I want Savage Ranch to be a sustainable farm where we can grow and cultivate the land and also share an artist collective where people can fly in from other parts of the world and create with a working studio, a recording studio -- anything anyone would need to create their fantasy. I want to make that happen. I want to see to it that their fantasy gets brought to life. That's the fantasy."
Want to see more from Love Bailey? Head here to visit the artist's website.
Popular in the Community