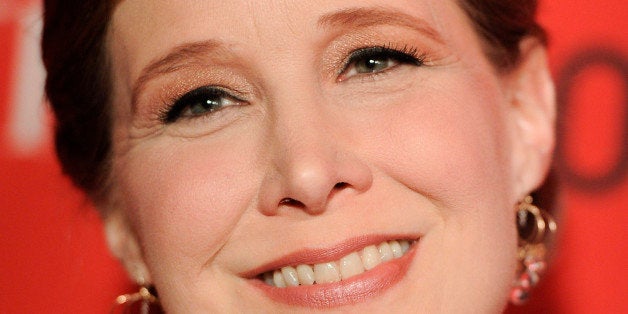 There are a few women writers whose work I pine for: Mary Karr, Anne Lamott, Alice Munro and Ann Patchett. As soon as they publish something new, I read it as fast I can. And it is Ann Patchett's non-fiction that brings me to my knees.
I first read Patchett's novel Bel Canto years ago and liked it. Then, in 2012, I stumbled upon her op-ed piece in The New York Times about what a shame it was that no book in 2011 had been awarded the Pulitzer Prize in fiction. She mentioned Edith Pearlman's Binocular Vision: New & Selected Stories. Who was Edith Pearlman? It turns out she was an an older woman, Radcliffe grad, mother of two, married to a psychiatrist. She had been quietly writing intense and moving stories for years from Brookline, Mass, and Patchett had written the introduction to her new book. I went to college near Brookline, had my own two kids and liked women who liked psychiatrists. I wanted to see what this woman was all about. I ran to get Pearlman's book. It contained 34 of the best short stories I'd ever read. Thank you, Ann Patchett.
After that, I tried to read as much Ann Patchett as I could. One of my writing students told me about her essay, "The Getaway Car: A Practical Memoir about Writing and Life." I downloaded it on my Kindle, and had the same feeling I had when I first read Stephen King's memoir On Writing: A Memoir of the Craft. Yes! This explains everything! After that, every time one of Patchett's non-fiction pieces came out, I gobbled it up. When her book, This is the Story of a Happy Marriage was published, I practically ate it, I read it so hungrily. The essay "Love, Sustained," is about her great and fierce love for her grandmother. It is so astonishingly heart-breaking that I reread it several times so I could try and figure out how she'd written it so magically. I assigned it to my writing classes, so that I'd be able to keep reading and discussing it. After finishing This is the Story of a Happy Marriage, I jumped to Truth & Beauty, Patchett's memoir about the joys of her friendship with the poet Lucy Grealy and the pain of losing it when Grealy overdosed on heroin.
I had visited her bookstore a few years ago, when my friend Amy's son was bar mitzvahed and I had flown to Nashville for the event. Amy is a writer and my oldest friend. She moved down to Nashville more than 20 years ago and I don't see her enough. I figured that even if people didn't come to the reading, at least I'd get to spend time with Amy.
When the time for the reading rolled around, Amy said that some of her friends wanted to come to the reading, but couldn't make it. I braced for a poor turn-out. Two days before the reading, Amy emailed again: "Parnassus has another event at exactly the same time as yours," she wrote. What? The other event was at the Nashville public library and featured Alice Randall, author of The Wind Done Gone, a reinterpretation of Gone with the Wind. Randall had just published a cookbook with her daughter called Soul Food Love. Randall teaches at Vanderbilt, her daughter lives in Mississippi. How could me, a neurotic, first-time author from New Jersey, compete with this Southern celebrity mother-daughter team?
The morning of the reading, I pulled down the shades in Amy's son's room, and sat on the floor to meditate. Then I got on my knees and prayed. Please God, I thought. Please let everything be OK. Amy knocked on the door to say she was putting out fried chicken from Hattie B's. Did I want lunch? I shook my head no. I just wanted the reading to be over.
As it turned out, a decent crowd showed up for the reading. One of my students sent her two cousins, and many of Amy's friends did come. There might have even been a few people there who came without being asked. I had baked chocolate meringue cookies, Amy had brought white wine and while we were chatting and cleaning up, a woman walked up to me. "Hi, I'm Ann Patchett!"
There, standing in front of me, was a slim woman with a pixie haircut. She was wearing a navy blue crew neck sweater, a pressed collared shirt tucked neatly beneath it and blue jeans. Her skin was flawless and she was beaming at me. Who was this fabulous creature?
Ann Patchett! Ann Patchett!
Patchett reached over and kissed me on the cheek. "Roberta told me to come see you!" she said.
Roberta, Roberta, who was Roberta? Then I remembered. She was a friend of my editor's and had come to one of my readings in New Jersey. We were both doing the Whole Life Challenge and were on the same Facebook "team." I didn't know her wellm but I knew she worked for the New York Times. She had posted that she was editing a series of essays on death called "The End" and asked us to check it out.
"Roberta and I are on the same food team!" I said, excitedly.
"Food team?" Patchett looked around. "Look at all these people you have at this event. You're a rock star!"
Did Ann Patchett just say I was a rock star? My brain, which had started to dissolve the moment Patchett kissed me hello, now flew to another planet. This was like the day of my wedding combined with both of my sons' bar mitzvahs. It was happening and I knew it was happening, but I didn't know what was happening, I just knew I was happy it was happening and there was a crowd of people, watching the happiness happening.
Meanwhile, I was talking to Ann Patchett! Particles of thoughts slowly began to gather in my head. "How do you know Roberta?" I asked.
"I wrote something about my father for Roberta for the Times this weekend," Patchett said.
I knew all about her father from her essay, "The Wall." He had worked for the LAPD and she had loved him deeply. "I love your work so much!" I gushed. "I teach your work!"
"What do you teach?" Patchett asked.
"This is the Story of a Happy Marriage, "Love Sustained," Lucy Grealy and that whole business!" Did I really say, "And that whole business?"
At that moment, every thought left me but this one: Love. I loved talking to Ann Patchett. Loved, loved, loved this moment. I thought of a line from her essay, "Love Sustained:" " There are always those perfect times with the people we love, those moments of joy and equality that sustain us later on." I thought of the writer Katherine Heiny. A few weeks earlier, Katherine's first book of short stories, Single, Carefree, Mellow, had been published. It hadn't yet been reviewed by any major publications, but I had read it and loved it so wrote a glowing review on Amazon and sent a copy to Katherine. "Oh my God," Katherine wrote back. "Let's run off together."
That's how I felt about Ann Patchett. Let's run off together.
Then Amy started taking pictures and Ann Patchett wrapped her arm around me.

Do you know what it's like to have Ann Patchett's arm wrapped around you?
She handed me a postcard with a picture of her dog Sparky on it and asked about my book. My book! The reason I was there! I had forgotten all about it. She asked me to sign it for her. What did I write? "Let's run off together?" I have no idea. I just know that I would have. She introduced me to her mother -- another beauty -- kissed me goodbye, and left. My head was spinning.
This could be a moment that would sustain me forever. Thank you, Ann Patchett. And thank you, Roberta.
Calling all HuffPost superfans!
Sign up for membership to become a founding member and help shape HuffPost's next chapter