You've heard of TOMS Shoes, right? Every pair you buy, TOMS donates a pair to a kid in need. TOMS was built around the notion that a "one-for-one" business model could actually turn a profit and change the world -- and it has.
But we're not talking shoes here, we're talking books.
You've now got a good reason to order those summer romance novels for your Labor Day trip to the beach: while you're in a lounge chair sifting through Emily Giffin's latest page-turner, a child somewhere also has a textbook or storybook in his or her hands, thanks to your purchase.
Better World Books announced today that it, too, is going one-for-one, or "book-for-book," in a surprising (and welcome) move that will bolster its "triple bottom line" concept of prioritizing people, planet, and profits to maximize positive social and environmental impact while generating sales.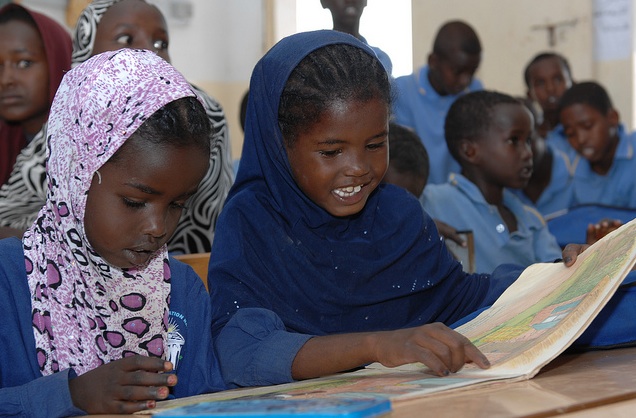 Two young readers in Djibouti benefit from Better World Books' business model. Photo credit/Courtesy of Margaret Sullivan/Better World Books

This is by no means a copycat strategy. These folks have been donating books for almost a decade. What started in 2002 as a way to fight graduation blues -- and make a little money -- ended up winning founders Xavier Helgesen and Kreese Fuchs a "Best Social Venture" prize in a Notre Dame University Business Plan competition ... and became a blueprint for the way Better World Books operates to this day.
How does it work? In addition to selling new titles, Better World Books supports book drives and collects used books and textbooks through a network of over 1,800 college campuses and partnerships with over 2,000 libraries nationwide. So far, the company has converted more than 53 million books into $10 million in funding for literacy and education -- and, in the process, has diverted more than 60 million books from landfills. Donated books go to a variety of literacy partners, including Feed the Children, Books for Africa, Room to Read, Worldfund, Invisible Children, and the National Center for Family Literacy.
Although Better World's sales help children in many countries around the world, their donations also make an impact at home in the U.S.
Emily Kirkpatrick, Vice President of the National Center for Family Literacy (NCFL), says her organization first partnered with Better World in 2005 to help the victims of hurricanes Katrina and Rita -- and since has teamed to provide grants to programs such as "Every Child Ready to Read" in Dallas, Texas, which engages 5,600 families per year in literacy workshops.
That org received a $10,000 Libraries and Families Award from NCFL and Better World.
"The award refueled our mission and purpose, and is enabling us to provide important literacy information to more families in a new and exciting way," said Jasmine Africawala, Program Coordinator of the Every Child Ready to Read.
Between drop boxes, free shipping, funding for literacy, and more, Better World Books may just be on to something ... even in this digital age. Helgesen described his company to the New York Times in 2007 as "1,000 sidewalk sales rolled into one," yet today, Better World has evolved into a sustainable mechanism that benefits everyone in its supply chain -- from the donor to recipient to the communities it serves through partner programs, and, of course, you.
Because who doesn't like to feel good about buying a book?
Related
Popular in the Community