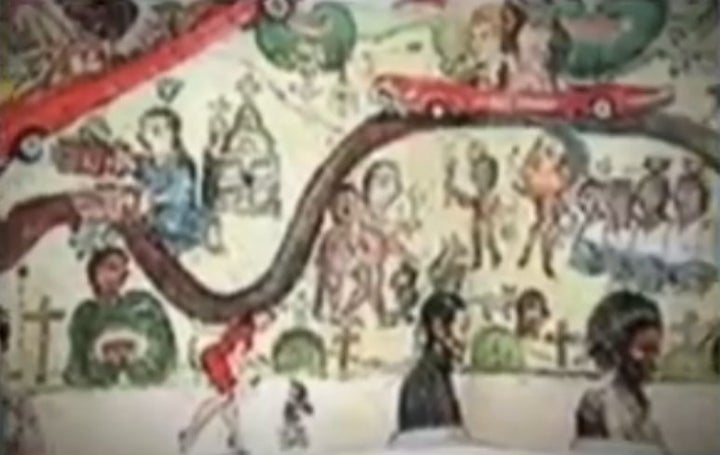 UPDATE (10/7): The who smashed a controversial piece of art in a Loveland museum has been identified as 56-year-old Kathleen Folden of Kalispell, Mont. Folden is in custody on a charge of criminal mischief, a Class 4 felony with a fine of up to $2,000.
* * * * * * * * * * * * * * * *
A woman took a crowbar to a controversial piece of art on Wednesday at the Loveland Museum/Gallery in Colorado.
"The Misadventures of Romantic Cannibals," a lithograph by Mexican-American artist and Stanford professor Enrique Chagoya has been on display at the Loveland Museum/Gallery since September 10. Chagoya's work includes an scene of Christ receiving oral sex from a man, among other irreverent images involving Christian figures.
On Friday, some locals began picketing outside the museum with signs that said read "No Tax Dollars for Pornography," "This Is A Hate Crime," and "We Have Rights to Protect Our Families."
Loveland City Councilor Daryle Klassen is among those who objected to the museum displaying the work. He told Fox News on Monday (interview viewable below) that he specifically objected to the use of tax dollars to support an artistic statement that so many found offensive. "The museum is almost solely supported by Loveland tax dollars, so the source of the dollars for this are public dollars. That's the important point," Klassen explained.
On Tuesday, the city government declined to take action in the matter.
A witness told 9News in Denver on Wednesday that he saw a woman looking at the exhibit around 4:00 PM. The woman reportedly smashed through the protective casing, grabbed the work and began ripping it apart before someone pulled her away.
The woman, whose name has not been released, is currently in custody.
The piece on display in Loveland was not the original print, and can be replaced.
"My intention has never been to offend anybody," he said.
Related
Popular in the Community