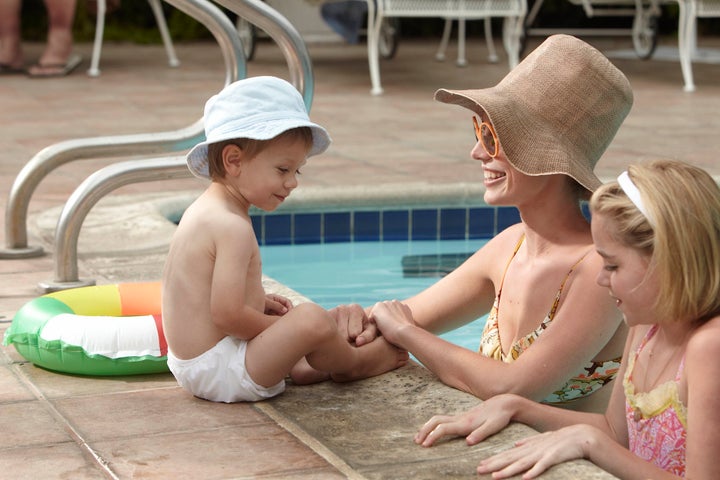 So, there you have it, "Mad Men" fans -- we finally know the status of Don Draper's relationship with Megan.
(Warning: If you haven't watched the "Mad Men" Season 5 premiere yet, stop right here or risk being spoiled.)
In tonight's long-awaited Season 5 premiere (read Mo Ryan's full recap here), we found out that Don actually married his new Mrs. Draper, Megan (Jessica Pare). The two are living it up in their swanky Manhattan party pad -- Zoo Be Zoo Be Zoo! -- and, of course, she's been promoted from front desk receptionist to copywriter at Sterling Cooper Draper Pryce.
But how will their marriage affect Megan's relationship with Don and Betty's three children? After such a fun trip to L.A. together, is the Megan-Sally friendship kaput? It's hard to tell in the premiere, with the "new" Draper family chatting over breakfast ... Sally seems happy, but you never know with that little emotional timebomb.
I caught up with Sally Draper herself, actress Kiernan Shipka (read part 1 of our chat here), to find out her reaction when she learned about the changes this season, and how Sally is coping with it. Could Sally and Megan really "become best buds this season," like she teases? Only time will tell ...
What was your reaction when you read the first script and realized that Don and Megan had actually gotten married?
I was happy and I was excited, but I was kind of surprised ... a lot went through my head.
Well, of all the kids, I feel like Sally would be happiest to have a young, fun new stepmom ... but she'd also be affected the most.
Definitely. I mean, we saw how she didn't like Faye last season, so ... [Laughs.] Who knows how she's gonna like Megan as her dad's wife?
In that scene where they're all having breakfast together in Don and Megan's new place, you can't really tell what Sally's thinking. Can you give us some insight into the new dynamic and how Sally feels about it all?
I think, to be honest, she's just kind of adjusting to the new dynamic. She's kind of coping with what's going on.
But Sally and Megan do get along. I feel like Megan probably doesn't want to think of her as a stepmom, but maybe she understands and relates to Sally more as a friend.
Definitely. She's younger ... and they already got along last season, so you can only imagine how they'd kind of maybe become best buds this season.
"Mad Men" airs Sundays, 9 p.m. ET on AMC.
Forget where "Mad Men" Season 4 left off? Here's a refresher:
Calling all HuffPost superfans!
Sign up for membership to become a founding member and help shape HuffPost's next chapter
BEFORE YOU GO