The World Health Organization lists cancer, reproductive health, sexually transmitted infections, violence against women, and mental health among the top 10 biggest women's health issues. National Women's Health Week is an observance led by the U.S. Department of Health and Human Services Office on Women's Health to empower women to make their health a priority. The week focuses on highlighting ways women can improve their health and take proactive steps such as scheduling regular doctor visits, eating healthy, staying active, getting enough sleep, and managing stress to ensure wellness and take steps to break the silence.
Proactive choices that support health ensure that I am able to perform my best at work and at home, and support my family, friends, and colleagues. Beyond serious health concerns is the idea of health, balance, and wellness - the definition of this is personal and different for everyone, also dependent on the stage and phase of life. I went to some of the women and mothers in my life who inspire me; all agree on one thing - it takes work. Making healthy choices, positive role-modeling, treating food as fuel and planning are among the common threads that everyone cites as being instrumental in prioritizing their own health.
Healthy Choices: For Carla Hall, chef, former Top Chef Finalist, current TV co-host of ABC's The Chew, and National Women's Health Week ambassador, it is all about choices. Of her role on The Chew she says, "I am always surrounded by tons of delicious food and I have to focus on a healthy balance: I have a bite of whatever it is and make sure to fill my diet with lots of healthy greens, grains, and fruits for the remainder of the time." Her healthy balance is not just about food; she makes the choice to drink tons of water, practice yoga regularly, and have a sweet treat when she feels like it. Those healthy choices add up and go a long way towards achieving balance and happiness.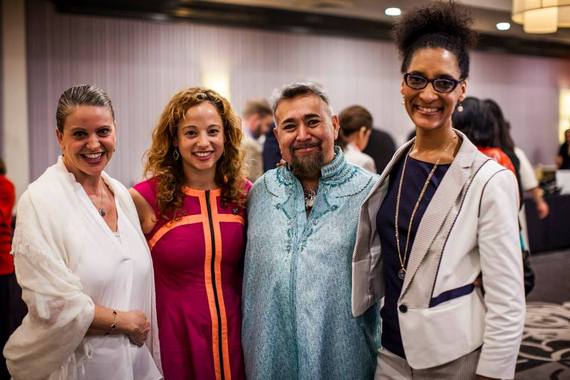 Chef Michelle Bernstein, Common Threads CEO Linda Novick O'Keefe, Common Threads co-founder Jesus Salgueiro, and Carla Hall at a past Common Threads event; Photo Credit: Sam Corum Photography
We have all heard the saying "please put on your own oxygen mask before assisting those around you." As a woman and a mother it is easy to put the needs of others first, but when I prioritize my own health through the choices I make, I am better equipped to take care of family and friends. Choosing to get up early to squeeze a yoga class in, making time for a walk, cooking dinner instead of picking up take-out on a busy night are some of the things that I know keep me charged and make me a balanced mom, wife, friend, and colleague.
Positive Role Modeling: Frances Largeman-Roth, RDN, author of Eating in Color, nationally recognized health expert, and frequent national TV guest says, "When moms set a good example with the way they eat and take care of their bodies, it will positively impact their kids. Sometimes it doesn't feel like it but parents really are the biggest influence over what kids eat, so eat your fruits and veggies!"
I like to think that every time that my kids see my husband and I head to the gym or help me make dinner, they see that we are prioritizing our health. Children are inundated with so much messaging and media around food choices that it is crucial we set a positive example at home.
Food as fuel: What we eat is important and it can be challenging to get our kids on board. Dena Marino, chef, and partner at MC Kitchen in Miami, found success with her family at meal time, "My son was a very picky eater until recently. I've learned to involve him in the planning, preparation and cooking. Spending that time together as a family has allowed us to get past any aversions that he may have had towards different foods. And it makes me smile."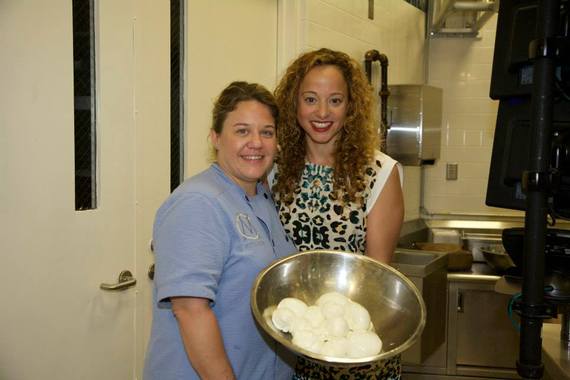 Dena Marino with Common Threads CEO Linda Novick O'Keefe. Dena demonstrated how to prepare homemade mozzarella for Common Threads' Cooking for Life Festival Bootcamp classes
My husband and I live by this rule and work hard communicating it to our kids. I function best when I eat foods that give me sustained energy without dragging me down. We cook 5-6 nights a week; I like to fix my kids' breakfasts and lunch. I cook very simply and try to find as many ways to incorporate vegetables into meals; I batch cook on the weekends to make home cooked meals during a busy week a reality. Family dinner is a given and our kids choose some of their favorites to help create our weekly menus.
Planning: I have yet to talk to anyone who is successful in maintaining a healthy lifestyle who does not utilize planning and scheduling. Dena says, "Planning is the key." She takes advantage of the many resources readily available. "Each week I try to plan three meals a day for the following week. Every Sunday my family and I shop at our local grocers. It's not easy but it's worth it."
Ingrid Hoffmann, chef, author, TV host, and spokesperson for American Diabetes Association, relies on building things into her schedule. "I schedule my exercise and meal plan, just like I would a work appointment or the dentist. I put it in my calendar and this eliminates the excuse of saying I don't have time. It is important to me to make time for wellness, meditation, menu planning, shopping and cooking."
When it comes prioritizing your health, nothing is more important than scheduling regular doctor visits and making the most of those visits. The Centers for Disease Control and Prevention (CDC) has resources about the role regular health exams play in contributing to health and wellness. "Regular health exams and tests can help find problems before they start. They also can help discover problems early, when your chances for treatment and cure are better. By getting the right health services, screenings, and treatments, you are taking steps that help your chances for living a longer, healthier life." Be prepared with a list of questions to ask your doctor and keep track of concerns and symptoms to discuss at your visit. Remember that nothing is off limits.
Whether it is doctor's appointments, exercise, meals, or time with family and friends; plan for it so that life does not get in the way. Getting up early in the morning sets me up for success. Having that time to recognize all that I am grateful for and answering emails before the day begins means I start the day ahead of the game and in the right mindset.
James Beard Award winner, restauranteur, and TV host, and chef, Michelle Bernstein, stresses prioritizing what is important. "I make time for cooking at home every single day with and for my family; it's not easy, but when you make a list of the most important things in your life and your family is on the top of that list, you make exceptions and time for the important things. Wholesome food is that for me." Other things might have to give but if you know where you want your energy to go, you can feel good about that at the end of the day.
Whether the perfect balance exists or not, one thing is clear: it is all part of the journey. Decide what is most important to you and make it the priority. For me, balance happens when I am present; when I am having fun while still striving, and when I am able to marry my priorities with my passions.
Don't forget to take some time off to truly recharge. I asked these lovely ladies what they would do with a full day off from responsibilities and loved the answers. I wasn't surprised to see that most everyone agreed on a few things: being with the people we love, enjoying nourishing food, finding fun ways to stay active, and relaxing. Hopefully you will have a chance to do that and also find joy along the way.
"I love my life; it is chaotic, restless, love-filled, disorganized, and cluttered, and I wouldn't have it any other way." -Michelle Bernstein